Over 40% of the world's Monastrell is located in Spain. That equates to 50,000 hectares of grapes.
That's great, you may say… but what exactly is Monastrell?
Monastrell is a grape variety perhaps better known by its French name of Mourvèdre. It happens to be a staple in Spain. And in the vineyards of Bodegas Castaño, in the Southeastern part of the country, there are over 300 hectares of Monastrell being tended to by the Castaño family.
The 2007 Solanera is a bottling imported by European Cellars and is a red blend of Monastrell (65%), Cabernet Sauvignon (20%) and Tintorera (15%). I scouted the bottle on the shelves of a New Hampshire liquor store on sale for $12 and decided to give it a try. I was pleasantly surprised.
Solanera is 14.5% ABV, a medium-dark ruby red wine with bursting aromatics. There is smoke for days, with beef jerky, plums, flowers and dark juicy red berries. I've never put ripe fruit on a barbecue but I can imagine the result of which smelling somewhat like this wine. Gamey, earthy and mouth watering!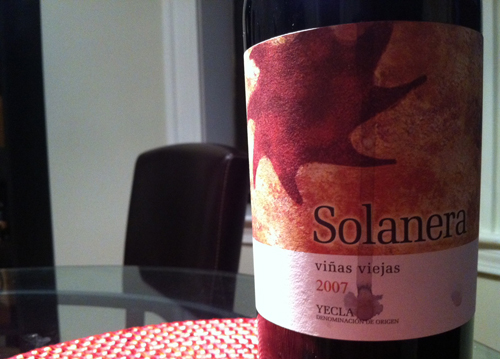 In the mouth this wine does not disappoint. The Solanera is medium body, spicy, plump and pleasantly sweet but not without a supple tannin backbone that keeps the balance. Overall, a great value wine for $12.
89+ points.
Also rated 90 by Josh Raynolds (Stephen Tanzer's International Wine Cellar).
What was the last memorable Mourvèdre you had?