Go ahead, it's Tuesday night… do it up right.
This weekday pairing is relatively inexpensive, very easy, quite adaptable and absolutely delicious! And best of all, the wine is the star of the show.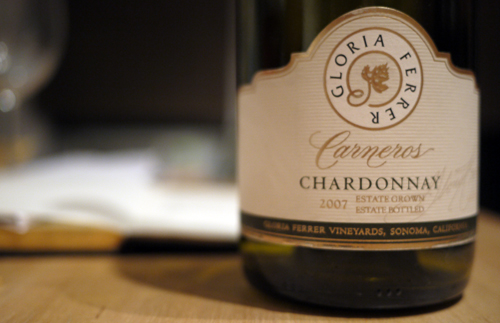 Start with the 2007 Gloria Ferrer Estate Chardonnay. A spicy, medium to full body white wine from the Carneros region of California. Of course, you don't have to use this specific wine for this dish, but it happens to be a good fit and the acidity definitely makes the pairing friendly. More and more I've been enjoying white wines out of Carneros. This is a relatively cooler climate appellation nestled between the lower tips of Napa and Sonoma. Effected by the Pacific Ocean, summer fog, coastal mountain ranges and the San Francisco Bay, these unique growing conditions lend themselves quite nicely to producing some terrific, higher acidity Chardonnays and some interesting Pinot Noir's.
The Gloria Ferrer pours a wonderfully bold and deep yellowish-gold. On the nose, a beautiful bouquet of peach, lemon zest, tropical fruit, coconut and pears swirl together to wet the palate. In the mouth these flavors blend in a wonderful harmony. There is a very enticing oaky spice to this wine, complimented by a sharp acidity and bit of butter on the finish to round it out. This is a really nice, fresh and beautifully balanced wine that is perfect for summer, food and at under $20 (you can probably find it around $15-$18) quite a good buy. 90 points (DI).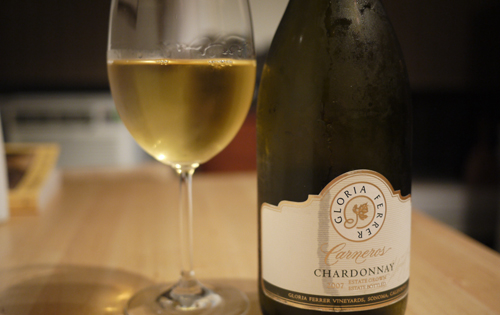 Now, on to the food. A lovely chicken with tomatoes, white wine, mushrooms and onions.
There's nothing fancy or difficult about this dish. It's just a delicious base recipe that truly brings the white wine to the forefront. You can edit, adapt, and make your own. I tend to mix it up a bit every time I make it. Start with skin-on, bone-in chicken. Salt and pepper your chicken, coat in flour, and cook up in a fry pan with about 2 tablespoons of butter and a tablespoon of olive oil. Get the chicken nice and crispy – about 7-10 minutes in total. Put the chicken off to the side in a bowl.
Next, add white onions and mushrooms. You can use pearl onions instead which definitely adds a nice touch to the dish and is actually a little better in my opinion. If you are using cooked pearl onions, add them in with the tomatoes. Add some garlic when the onions and mushrooms are just about ready. Cook the garlic for a minute or two then add a small can (14oz) of crushed tomatoes and a cup and a half of your white wine. Add the chicken back in and let simmer for about 20 minutes. Salt and pepper to taste.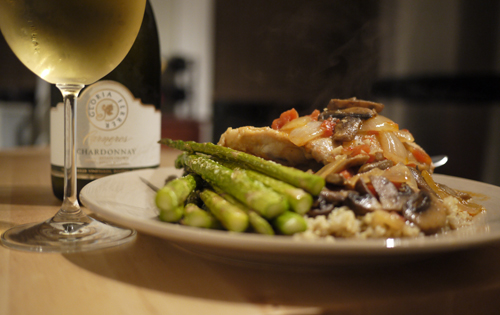 I love this dish on a fluffy bed of quinoa and a side of asparagus. All in, you should be done in about 45 minutes and only about $30 out of pocket (including wine). Not bad at all.
Enjoy.