Is it the slow drip in which Bruichladdich's whisky falls from its stills? Is it the quiver in Jim McEwan's voice when he talks about the future generation of Islay? Is it the way that the impossibly peaty Octomore and the other-worldly Black Art hit your tongue as they fall from glass? Or, perhaps, it is the way that this once defunct distillery has bounced back from its quiet days, dusted off the cobwebs and emerged anew – as one of Scotland's most original, energetic and exciting distilleries.
I think it's a bit of all of the above that has, frankly, made me a true believer in this wonderful distillery, Bruichladdich.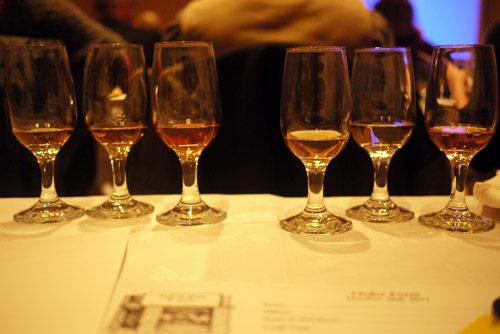 This past Friday, Federal Wine and Spirits in downtown Boston hosted a masterclass with Bruichladdich's master distiller and legendary whisky personality Jim McEwan. I was there to witness all of the passion and whiskies that Jim had to share.
Born and raised in Islay, McEwan has been a soldier in the Scotch trade since age 15. He spent decades working up the ranks at Bowmore – from Apprentice Cooper to warehouse manager, blender and manager. He has traveled the world over as whisky ambassador, educating Scotch lovers in every country across the globe about the art and passion that makes the spirit they love. And, when I tell you that he still bleeds this passion today, consider it an understatement.
In 2000, Jim McEwan left Bowmore to re-open Bruichladdich, a then small and out-of-operation distillery on the rocky banks of Islay. Built in 1881 by the Harvey brothers, Bruichladdich served for over a half century under Harvey ownership until it went into a forty-year tail spin of ownership changes and take-overs. In 1994, the doors were shut for six years before Jim and his partners in crime – including Mark Reynier of Murray McDavid – purchased the distillery and brought it back to life. The new team completely overhauled the facilities in 2001, but they kept the magic – including the oldest working still in Scotland (130-year-old six meter wash still).
"It was like entering a bomb site," Jim McEwan said as he reminisced fondly back to the first time he walked into the old site. "It was all sadness and ghosts."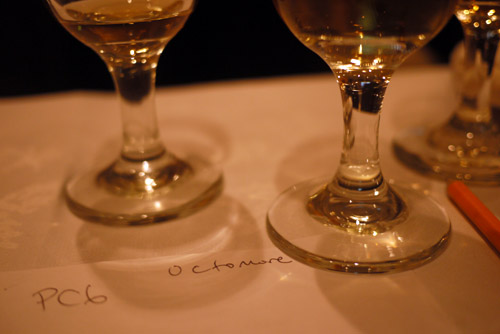 But Jim and team have done a tremendous job over the past 10 years bringing this distillery back to life and turning it into one of the most unique and daring examples of whisky-making in Scotland today. Bruichladdich is an artisan, local and back to the roots operation. "We know the farmers names and we know their wives names," Jim said proudly. "We still use equipment from 1881. We don't use computers. We're the slowest distillers in the world. We don't sell a goddamn tear drop to blenders!" Yes, Jim and team have gone through great lengths to create a work of art – a distillery that bleeds passion, that does things the old fashioned way, that creates quality over everything else.
Their products do the talking for them. And, thus the tasting began.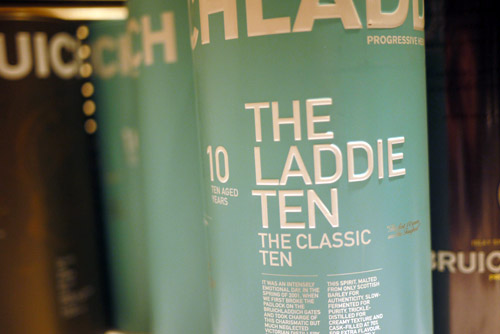 I get the feeling that this is a special time for Jim. 2011 is a milestone year. 10 years after this journey began Bruichladdich is releasing its first true 10 year whisky. As Jim put it, "10 years symbolizes the mountains we have climbed to get here – and the future is bright." To him, this 10 year is "Cinderella in a glass."
And to me, this 10 year is absolutely wonderful.
10 year "The Laddie Ten"
As the bottle notes, "The first 10 years are the toughest" – thankfully, they have this to drink after. Aged in 85% bourbon casks and 15% Pedro Ximenez, on the nose the 10 brings salty ocean, honeycomb, lemon, chocolate and baking spices. On the mouth, smooth and comforting, creamy and spicy, brown sugar, tangerine and banana bread. Long, satisfying finish. This is an unpretentious, and terrific addition to the Bruichladdich line. Hardly 10 years, and like many of the younger Bruichladdich expressions, wise beyond its years. And I must say, I love the packaging – unusually simple for Bruichladdich.
91 points (Drink Insider)
21 Year
Aged in Olorosso Sherry butts, the 21 year was produced from a batch of whisky that was at the distillery when Jim and team bought Bruichladdich. This beauty has copper-golden highlights and is baked in caramel, tangerine, vanilla, chocolate and melon. It's medium body in the mouth with sea smoke and chocolate. The sherry flavors come through in an absolutely rich and decadent finish.
90 points (Drink Insider)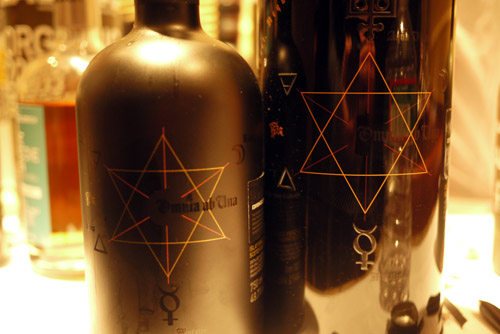 Black Art 2 – 21 Year
This is a different kind of 21 year. It's the opitomy of small, boutique, designer whisky. The packaging is not shy. It's black, devilish, other-worldly. The whisky is dark, voluptuous and rosy with bursts of fruit and flowers, honey and oak. The color is a haunting shade of deep red rose. Jim is very tight-lipped about what goes into making Black Art, but it's definitely conceived of multiple casks. Perhaps like some of its siblings – from great First Growth wine casks from Bordeaux. On the mouth, sweet fruits intertwine with vanilla, wood, chocolate and spice. This is, indeed, a sexy, devious creature.
90 points (Drink Insider)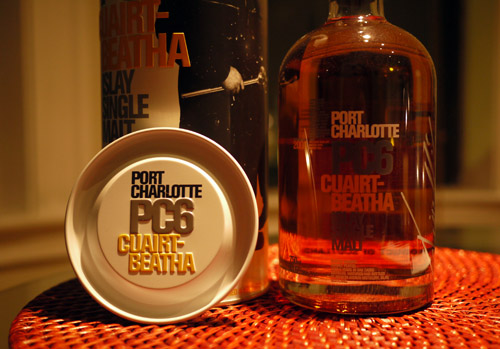 Port Charlotte 6
…and in comes the peat! After being eased in with the first three, the PC6 shoots in like a smoking arrow into the heart of a fiery target. Whisky writer and critic, Jim Murray says that the PC6 is essentially a peat orgasm. He literally moans sounds of joy through his review (and I must say that Jim McEwan did a – if not somewhat creepily – pretty spot on reading of the review during the event). For me, the PC6 is a big, bad wolf. It's a young, fresh spirit – and although I don't like it as much as the PC5 – it's a pretty bad ass mother f&*#ker. On the nose, malt, peat, green apple and vanilla. A little clove and earth spice as well. Drop a little water in this one to tame the beast and the whisky may not light your mouth on fire. But, this is what I'd like to call a full-mouth experience. From the moment the spirit hits your tongue it takes over. Peat smoke and spice, creamy citrus notes and some of the rich dried fruit flavors of the Madiera cask it came from. This whisky takes no prisoners.
93 points (Drink Insider)
Octomore 2
The 2 was the first Octomore of the evening. This is a beast in the glass. A peat monster of epic proportion. Smoked for days, literally. 140 phenols of powerful, young spirit wise beyond its years. The youth shows in the light, straw yellow liquid. Burnt grass and char, sweet fruit, ocean tides, cereal… wafts of complex intoxication come out in the aroma. In the mouth, the 62.55% whisky hits you like winter waves crashing on a rocky, Islay coastline. Iodine and mint, pine needles and birch, massive quantities of peat smoke. As Jim says, "Face the monster! This is for the peatophiles."
91 points (Drink Insider)
Octomore Orpheus
The Orpheus was the last dram of the night. And what a wonderful whisky to end on. The Orpheus is a bit darker than the 2.0. Just as peaty (140PPM) and just as strong (62.5%). This Octomore is finished in Petrus casks and the result is an exciting blend of Bordeaux aged peat. The nose is softer and more mellow than the 2.0, perhaps a result of the Bordeaux barrel aging. The red fruit of the grapes come through, along with a heaping of forrest floor. An amazing complexity for a 6 year whisky.
89 points (Drink Insider)
At the end of the evening, Jim had everyone stand with one foot on a chair and one foot on the table. We all held our glasses up high and Jim lead us through an old Scottish battle/drinking chant. I don't know if this was legit, or just a fun game he likes to play with Americans, but I thought it was absolutely brilliant and an amazing way to end the night.
Big thanks to Bruichladdich, Jim McEwan and Joe and Nate at Federal Wine and Spirits. Can't wait to do it again.