Last weekend, Whisky Live came to Boston for the first time and I was on a quest to find the new releases and standout bottles. I've boiled down eight of my favorites for you here.
But first, a quick shout out to the phenomenal bartenders who were whipping up some mighty tasty cocktails. They edged me one step closer to believing that there is, indeed, life beyond whisky served neat.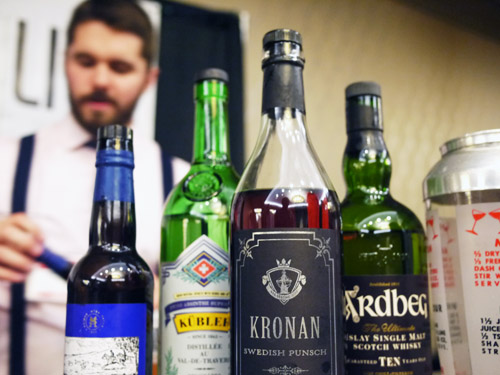 Ted Kilpatrick from No. 9 Park was serving up something he called Burning Ice, involving Ardbeg Ten, Pedro Ximenez Sherry and, well… you had me at Ardbeg Ten. Ted managed to keep the smokiness of the Ardbeg and bring in a truly remarkable bouquet of flavors. Who knew you could create something so delicious from a highly peated whisky. Also, Emmet Kelty from Upstairs on the Square was pouring the Schofield Clover – which included Makers 46, Allspice Dram and orgeat syrup which together made the perfect almond-citrus cocktail for the beginning of fall.
But, back to whisky neat…
8. Tied for the eight-spot, Kilchoman Sherry Cask Release and BenRiach 1995 Pedro Ximinez Finish: Joe and Nate from Federal Wine & Spirits (one of the best whisky retailers in Massachusetts) brought a couple really interesting bottles from their expansive stash. They had a BenRiach release from 2010 – the 1995 Pedro Ximinez Finish, which had a really interesting peated sherry style. And, the new Kilchoman Sherry Cask release. I've have mixed reviews on Kilchoman over the past few years, but I quite enjoyed this 3-4 year old spirit. It is dark, rich and sexy with lots of buttered popcorn on the nose, well-balanced sherry and "classic" Kilchoman iodine.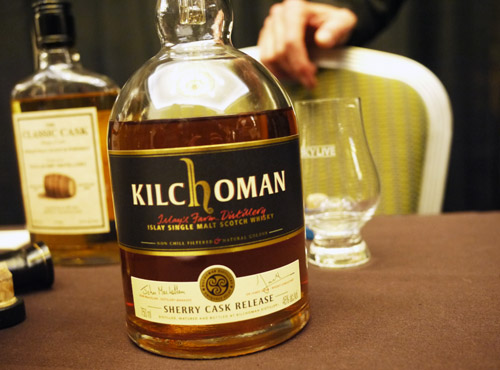 7. Amrut Intermediate Sherry: This Amrut release is not new, but it deserves a place on the list of stand outs. I've never been shy about my enjoyment of Amrut, and I think they make some great stuff. Two Continents is a wonderful single malt from Amrut worth seeking out (which wasn't featured at the event). But, the Intermediate Sherry… I dig this stuff. Started in new fill bourbon casks, moved into Sherry casks, and finished off back in bourbon, you really get this nice end product that has a perfect amount of sherry, spice and sweet. Amrut got this one right.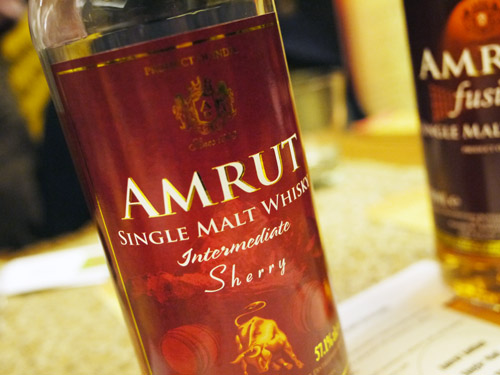 6. Glenglassaugh 26: Glenglassaugh is one of a number of distilleries that went out of commission in the 1980s (1986 to be exact) and has recently been brought back to life by a new ownership group. It's an interesting scenario because not only does the whisky drinking public get offered some of the old stock that has been sitting around for decades (which we've seen quite a bit with Bruichladdich over the past years), but we also get to follow along as the new distillery owners find their way and start pumping out/aging new spirit.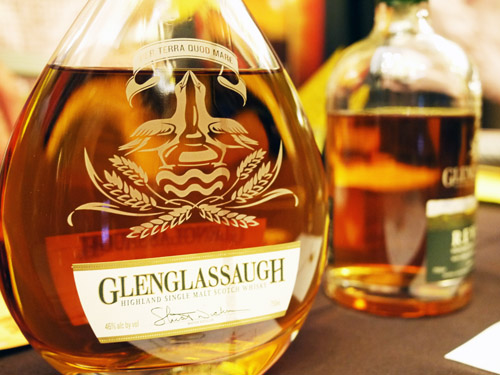 For these reasons, I was quite excited to try both the 26 year release and the first widely available new release from new spirit – Revival. Both whiskies had a unique character. The Revival, however, was perhaps a little too young and wild for my taste. I think given a few more years, this could be a really exciting product. The 26 year, on the other hand, was a bit more my speed (though, well out of my price range). Wood spice, burnt orange, vanilla, nutty and oily. Quite a unique dram.
5. Mortlach 21 (Gordon & MacPhail): This was a great find – smokey and fruity with a hint of sherry, honey, Christmas spices. I've had some other Mortlach's in the past – Mortlach 16 most recently – but this 21 year stood out for me. This Mortlach is a great example of where independent bottlers can bring value to the line. You don't see too much Mortlach around – perhaps because they're owned by Diageo and (I believe) a good amount of their spirit goes into Johnnie Walker. But, that unfortunate bit of business aside, thanks to independent bottlers like Gordon & MacPhail, whisky drinkers can get their hands on otherwise hard-to-find whisky from distilleries like Mortlach. And, for well under $100, G&M makes this 21 year quite accessible.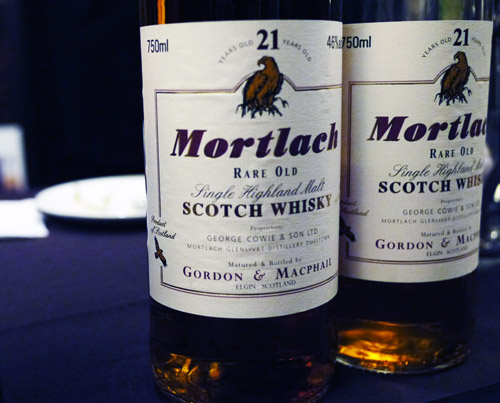 4. Four Roses Limited Edition 2012: I'm not going to spoil my full review of the new Four Roses limited edition releases (both small batch and single barrel), so you'll just have to check back for that review shortly. But, I'll say this. Four Roses does not disappoint. Of course, they just won Whisky Magazine's Whisky Distiller of the Year for the 3rd year in row so you wouldn't expect anything different.
3. Arbeg Galileo: Here's my take on Galileo. Is it really good? Yes. Have all of Ardbeg's regular releases in the past five years been really good? Yes. Let's be honest here, Ardbeg makes some damn fine whisky. But is Galileo that much of a leap from Uigeadail or Corryvreckan or Alligator that you need to run out immediately and buy it? I don't know. If you're an Ardbeg-head, yes. If not and you have a few other bottles of Ardbeg sitting around, maybe, maybe not. It's definitely a bit more buttoned up and not as bombastic as some of these previously releases. It's got a whole lot of style and sippability – but I want something new from Ardbeg. I want something that throws me for a loop. Perhaps I'll have to wait for the whisky from space.
2. Elijah Craig 20: Whisky Advocate made a lot of whiskey fans angry when they named Elijah Craig 20 the 2011 American Whiskey of the year and then proceeded to say, oh yeah and by the way this was only released at the distillery and was sourced from one single barrel. Thankfully the folks at Heaven Hill saw the popularity and demand for the 20 year and decided to release it in a larger quantity to the open market. I don't know how long this product is going to be available, but if you've been a fan of EC 12 and 18, you're going to love the 20. (As a side note, 20 is replacing 18, so if you love 18, better get out to the store).
1. Parker's Heritage 6th Edition: How did Heaven Hill claim the number one and number two spot on my top eight list from an event that featured some of the best Single Malt Scotch and international whiskies on the market? Because this sh*t is freakin' delicious! I'll have a full review for you on this one shortly (it just arrived on shelves in Massachusetts), but if you liked the 2011 Cognac finish Parker's, or any before that, or if you just like really spicy, dry and powerful whiskies, you're going to love Parker's 2012 release. It's that good.
Did you go? What else did you find that was on your list of top drams?