I'm going to make this short and sweet. Happy Bloody Valentine's Day.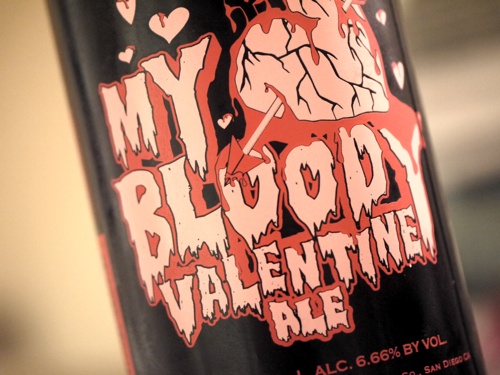 How are you celebrating Cupid's holiday? Hopefully, with something as delicious as this AleSmith My Bloody Valentine Ale. A deep red, viscous, sharp amber with a hint of bitter. Roasty, caramel malt and laser-pointed, floral hops. Rich and earthy, with fresh berry and orange zest, ground spices and dark chocolate. Everything your Valentine needs.
I'm digging this bloody heart, and I'd be just fine if this 6.66% ale (nice touch, AleSmith) made its way to market more often. I've been a fan of AleSmith ever since they first made their way to Boston a number of years ago. And now that their full line of products is readily available, we're spoiled. My Bloody Valentine Ale is a welcome addition to the lineup. 90 Points.
Enjoy your Valentine's… And please bring us more of this Valentine Ale next year.