Last fall, at the Scotch Malt Whisky Society Extravaganza in Boston, the SMWSA team was showcasing a number of their Fall 2012 releases. One of the releases, Cask No. 31.20 was a 21-year cask strength release from Isle of Jura. I thought it was absolutely intriguing and it was one of the first times that a Jura whisky stopped me in my tracks. I had sampled a number of Jura's standard releases at past events, but nothing had really captured my attention like it had on this particular evening.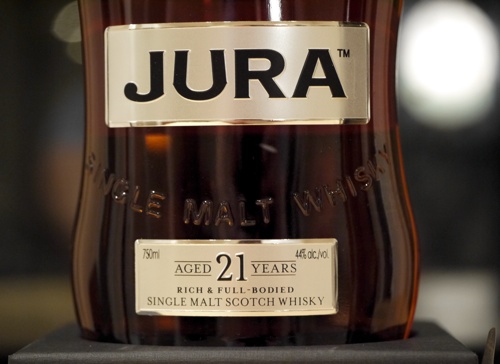 A few weeks ago I came across a sample box of the Jura 10, 16 and Superstition for $10. I figured what the hell, let's go back and give these standard releases a try again. Maybe I missed something. Obviously Jura is capable of producing some great whisky as witnessed by SMWS cask no. 31.20.
As I was doing research for this post, I also learned that Jura had just recently released their 21-year expression in the US. So, I of course had to get a sample of this as well to complete the round.
If you take a look at all of the distilleries in Scotland there are only a few that can call a single piece of land their own. Highland Park and Talisker are two, Jura is another. That's pretty elite company to find yourself in. The Isle of Jura, just off the west coast of Scotland, is seven miles wide, thirty miles long and boasts only one road, one pub and, of course, one distillery. It's part of the Islands sub-region and its closest neighbor is Islay. Jura's whiskies are just as unique as their place – a range of rich, seafaring whiskies – some lightly peated, others carrying a heavier peated profile.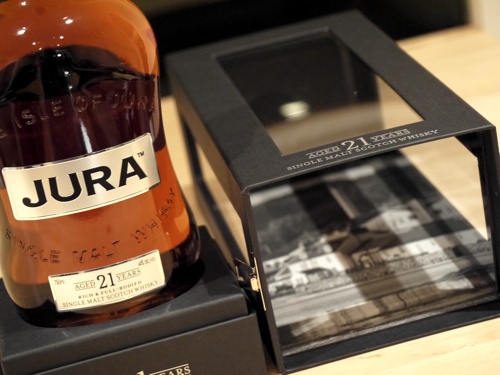 The Tastings

I'm starting with the 21-year release, because frankly I've become rather enamored with this whisky over the past few weeks as I've gotten to know it. First of all, it's hard not to notice the beautiful bottle and package that this whisky comes in. It's elegant and sets a high bar for what's inside the bottle. The nose on this whisky is absolutely decadent and intoxicating. Really, I could sit around for hours nosing this whisky. Rich, woody fudge, light vanilla and honey, sweet, nutty and a wave of oceany brine. I almost get a little tawny port-like thing going on, but a lot nuttier and Scottish.
The palate on the 21 is very full and round. It's got a lot of thickness to it, but the dry woody notes, and the sharp spice cuts through making it balanced in the mouth. Dried fruit and marzipan and more of those rich nutty fudge notes come out, but the sweet is complimented well by a building spice on the long finish. This whisky gets better and better as you get to know it. It's the essence of Jura, and it really is something special. I can't think of another whisky that fits into its niche and I highly recommend you not only give it a try, but really get to know it. This whisky will reward you for your friendship. $140. 90 points.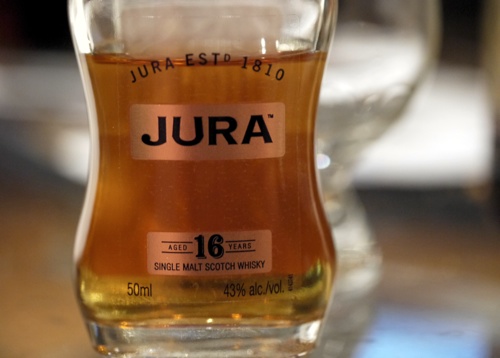 Moving on from the 21, we'll track back down the lineup to the 16-year expression. This whisky has a lot of similarities to Jura's entry-level 10 year (which I'm not reviewing in this post), but it also gets at some of the complexity and full-flavored richness showcased in the 21. The nose is woody and earthy, and there's a little smokiness, nutty notes, orange citrus, apple, and a little oceany brine. On the palate, I get creamy cocoa, vanilla, honey orange, a little espresso and dry wood. A lot of rich flavors that marry well together. It's a nice whisky, sultry and mellow, and for $65 a fair price. 87 Points.
On this last stop, we'll move on from two decadently rich whiskies to one of Jura's peaty releases, Superstition. Mind you, this is not a hit-you-over-the-head peat bomb by any means. If you want peat bomb, take a boat over to Islay and go for some Laphroaig or Ardbeg. In the Superistion, the mellow, integrated peat allows for a lot of the rich Jura notes to come through, which I think results in a really intriguing blend of flavors. For a fairly entry-level whisky, the nose has a lot going on – mellow peat, salty ocean brine, date, orange, cinnamon and moss. The whisky is creamy, balanced and constrained. Vanilla, honey and carmel, grass and peat moss – all blended together nicely. This is my favorite of the entry-level Jura whiskies and for $45, it's a solid buy. 87 Points.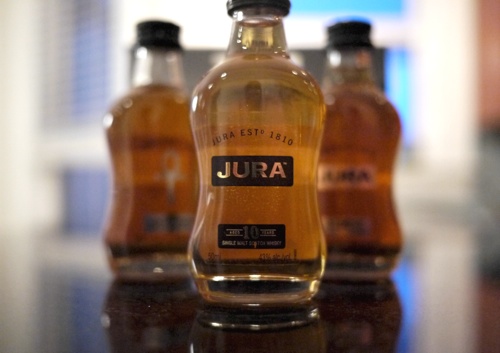 I'm glad I went back and revisited Jura. And I'm also glad that I took some time to really get to know these whiskies. There's a lot more here than I think comes off at first dance. The definitive style and profile of these different expressions make a statement about who this distillery is – and it is indeed a distillery that's both unique and worthy of your attention. I hope you'll take the time to get to know Jura a bit more (if you already aren't well acquainted). I think you'll find something special here as well.
A big THANK YOU to Dawn at Whyte & Mackay.
Also, as of the publish date of this post, both the SMWS Cask No. 31.20 and the sample pack of Jura's standard expressions (found at Julio's Liquors) were both available.