In Boston's Old City Hall – once home to the workplace and schooling of one Benjamin Franklin – a dimly lit staircase descends into a dark and cavernous restaurant. As Sinatra plays overhead, I am escorted down a long hallway that weaves in and out of stately dining areas and private rooms. The hallway makes a final pass and opens into a large area filled with elegant tables and basement windows that look up onto one of Boston's most historic graveyards. It's all too perfect a setting for a dinner featuring the wines of the man who directed The Godfather.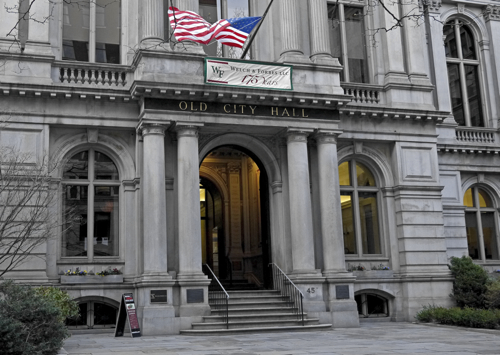 Francis Ford Coppola has been in the wine business since 1975, which for you film buffs, equates to just one year after the famed director released The Godfather II. Coppola's first vintage, under the Niebaum-Coppola name, was in 1977; just two years prior to the release of Apocalypse Now. So, in short, while Mr. Coppola was off making some of the most epic crime and war films of all time, he managed to pursue a lifelong passion and open up a family wine business in Napa Valley that is now almost 40 years in the making.
On this particular evening in early spring, I joined fellow media and a number of representatives from the Francis Ford Coppola Winery for a wine dinner at Ruth's Chris, one of the country's classic steak house chains. The evening was lead by Coppola's Director of Winemaking, Corey Beck, and featured a four-course pairing highlighting a number of Coppola's latest selections from his arsenal of labels, and a finely prepared meal that could have easily satisfied the Godfather himself.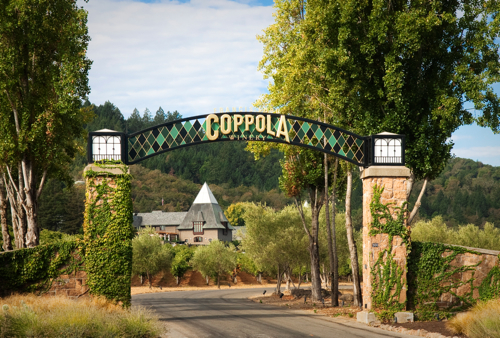 Like Coppola, winemaker Corey Beck's history in the Napa Valley has some serious roots. Beck grew up in the area and spent summer vacations working alongside his grandfather at Chateau Montelena. He later earned a full-time gig at the historic winery before eventually joining Coppola's team at Inglenook (formerly Rubicon Estate, Niebaum-Coppola) in 1998. Together, Coppola and Beck have been at the helm of driving the wine vision forward and in 2010 they launched the impressive Francis Ford Coppola Winery in Alexander Valley. Although I haven't been, this winery resort sounds and looks nearly as epic as some of Coppola's films from the 1970s.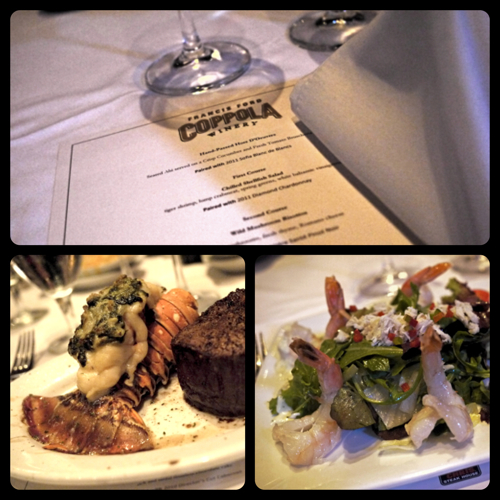 The evening at Ruth's Chris Steak House started off with casual conversation accompanied by Sophia, a light and fruity Prosecco-style Blanc de Blanc made with a blend of Pinot Blanc, Muscat, and Riesling. The wine was originally made in 1998 for Francis' daughter Sophia's wedding. They made just enough for the family and the festivities, but found the wine to be so well recieved that Sophia became a staple of the Coppola collection. Like all of Coppola's wines, Sophia is packaged with its own unique touch, in this case a pink cellophane wrapper that adorns the bottle like a woman's dress. According to Cory, it's one of Francis' niches. "All of our packaging has something different," he mentioned. "All of the labels have a meaning and they're all designed by Francis. It's either about a family member or paying homage to Gustave Niebaum (the founder of the original Inglenook Winery Estate). There's always a story behind it."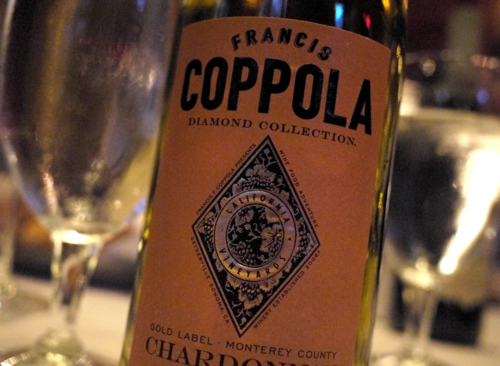 The first wine pairing featured the Coppola Diamond Chardonnay and a chilled shellfish salad with tiger shrimp, lump crab meat, spring greens, and white balsamic vinaigrette. Beck created this wine during his first year with the winery and modeled it after the work he had been doing at Chateau Montelena – "Burgundian in style, not a lot of wood, good acidity." Although I wasn't overtaken by this "Burgundian" comparison, I did enjoy the wine as a fresh and bright pairing to the salad. There was a nice smokey element to the wine which was quite nice paired with its fresh fruit and I thought the lively acidity was a nice contrast to the creaminess of the wine. The Diamond Chardonnay retails for under $15.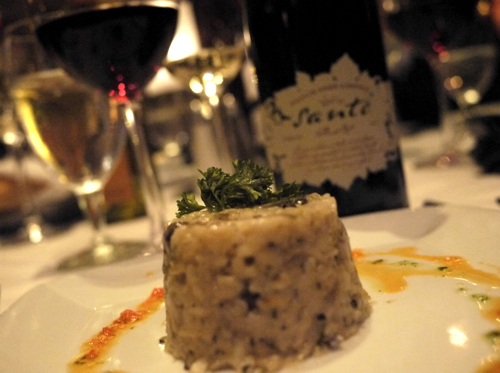 The second course, a delicious wild mushroom risotto featuring cremini mushrooms, fresh thyme and Romano cheese was paired with Coppola's 2011 Votre Sante Pinot Noir. This was quite a comfort pairing, between the rich and creamy risotto and the rich, silky Pinot. Both had a rustic, earthy quality that played well together, and I'd have to admit that this was my favorite pairing of the evening. For a retail price of just around $14, the Votre Sante is a solid deal in a wine world that is often short of good under $15 Pinot's. The wine on its own is just a tad over where my palate likes to be on the fruit scale, but with food (especially this earthy risotto) it was an absolute winner.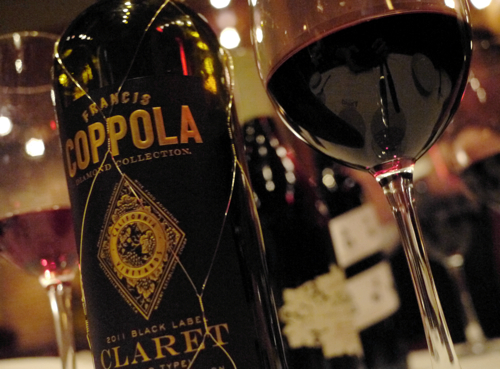 The third pairing featured Coppola's flagship wine, Black Label Diamond Claret, paired with an 8 oz filet and lobster tail Rockefeller (stuffed with creamy spinach and Romano cheese). Yes, this was a decadent pairing, and no, I couldn't finish my plate. But I'd be lying if I told you I didn't enjoy every bite and every sip.
"The Claret is the one wine that really got us started," said Corey Beck to a roomful of happy diners. "When Francis bought the Inglenook Estate in the 1970s, he bought it from the Gustav Neibaum family that had originally started the winery in 1889. It was one of the first wineries in California. In fact it was bonded winery number nine. And, at that time they made a Claret. When Francis bought the winery he invited Robert Mondavi over and brought him down to the cellar and pulled out a bottle of 1901 Claret – Black Label, Gustav Neibaum. He opened the bottle and Robert Mondavi's eyes go crazy and says I knew California could make wines that age! And that's why we make the black label Claret."
The Diamond Claret retails for about $20, though I've seen it for much less at discount wine shops.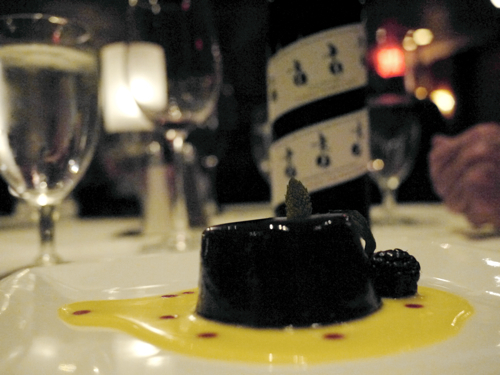 The final pairing of the evening featured a "rich and sinful" flourless chocolate cake with fresh berries along with Coppola's 2010 Directors Cut Cabernet. On its own, the cake was my favorite part of the meal. I must admit, I have a sweet tooth and this dark and sexy thing wouldn't stop taunting me with its deliciousness. The wine, however, stood its ground without getting totally overtaken by the utter fist-pounding richness of the cake. It too, was deep, dark and bold, and to be honest, a bit of a step up from the Claret (though, both Cabernet-focused wines).
According to Corey, the Directors Cut line is the first time that Francis Ford Coppola let the film career and the wine career come together on a bottle of wine. The Director's Cut is essentially the winery's reserve offering, and the packaging is quite unique in that it's the only one that has a full wrap around label. Out of all of Coppola's wines this is probably the one that comes to mind as quintessential Coppola because it stands out so much on the shelves. Not to say their other's don't, but there's something special (and especially film-y) about this one.
The wine itself is a rich and powerful Bordeaux blend that typically retails in the mid-$20 range.
It's always interesting when art and wine come together. With these particular wines, it's clear that the artistic influence from Francis Ford Coppola is present throughout the packaging and the stories. All of the wines we had on this wonderful evening in Boston were enjoyable, especially with the food pairings. If you aren't familiar with Coppola's wines, I'd encourage you to seek them out. They won't be hard to find at your local wine retailer and I think you'll find that for their reasonable prices, they'll provide solid go-to's in that $12 – $25 range.
Thanks to the Francis Ford Coppola Winery crew along with the team from 42west for coordinating this dinner.