I've only been to Portland, Oregon two times in my life. But there's one thing that will forever be etched in my brain about this most unique Northwest city… they have the highest number of strip clubs per capita in the United States.
I must've heard this statement mentioned to me at least a dozen times from a variety of people – men, women, etc. Which got me thinking, either I look like the kind of guy who would be interested in this piece of information, or Portlanders are just really proud of this fact.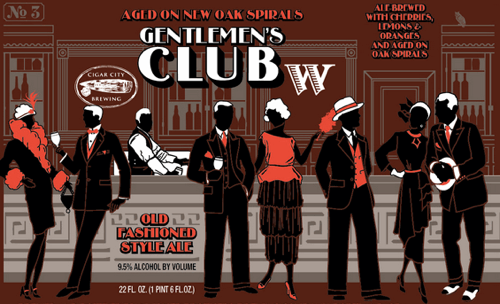 On the other side of the country, way down south and east in Tampa, Florida, one may also assume that there are a lot of strip clubs present. And, one may be right in that assumption. So, perhaps it's not all that surprising that the first collaboration project from Portland-based Widmer Brothers and Tampa-based Cigar City would be called Gentlemen's Club. It just fits the bill.
Of course, this is not the official story that the breweries will tell you. The official story is that the collaboration beer draws inspiration from an Old Fashioned cocktail recipe and the Gentlemen's Clubs where the cocktail was first served over 100 years ago.
"The Gentlemen's Club collaboration is somewhat unique because the beer was inspired by a cocktail recipe," says Widmer Brothers Brand Manager, Brady Walen. "In doing research about Old Fashioned cocktails, we learned about several different kinds of spirits used to make different variations on a similar base recipe over the years. We tried to incorporate those variations by using different wood treatments on the three versions of the beer."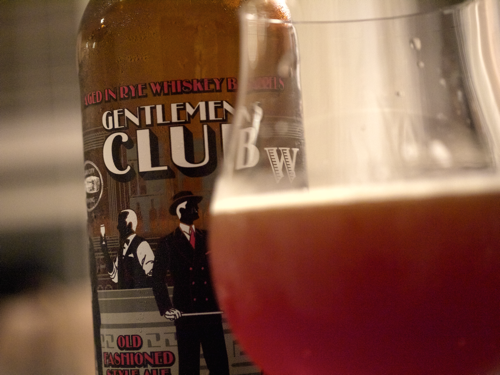 I don't know, I like my story better.
No matter which story you prefer, though, one story is absolutely true; and that story is that these beers are a great example of collaboration between two unique breweries on the opposite sides of the country. Each beer in the series is an Old Ale featuring cherries and oranges, and is brewed with Alchemy, Sorachi Ace and Pacifica hops. There are three beers in total, each representing a different wood aging process. The first, a bourbon barrel release, the second a rye whiskey barrel release and the third, the product of new oak spirals.
This multiple release idea is a growing trend in craft beer collaborations. Gentlemen's Club represents one approach, but other recent collaborations, such as w00t Stout (which I'll get into in the next part of this series), take the approach of releasing only one beer, but in multiple collectors bottles. And in the case of Ommegang's Game of Thrones series, the beers are being released at different intervals and are more stylistically related to a particular creative/brand theme than a particularly beer theme.
From a marketing perspective, there's a lot of benefit in creating a multiple release collaboration project. For one, multiple releases allow a collaboration brand to grow, gain more buzz and trickle out to a wider audience. Each of the above examples have their unique benefits which capitalize on different consumer drivers. With Gentlemen's Club, the craft geek consumer is driven with the desire to explore the variations that different wood can impart on a beer. In the case of w00t stout, the collector consumer is driven with the need to collect all three bottles. With Ommegang's Game of Thrones, the driver comes from the uniqueness of the collaboration and Game of Thrones fandom. In all three cases, the limited edition nature of the beers is pushing these drivers to the next level.
But, marketing aside, what these collaborations are really about is the beer that is created in a gentlemanly club kind of way between brewers. And, they tend to be most successful when the beer is good. In the case of Widmer/Cigar City's Gentlemen's Club, it is.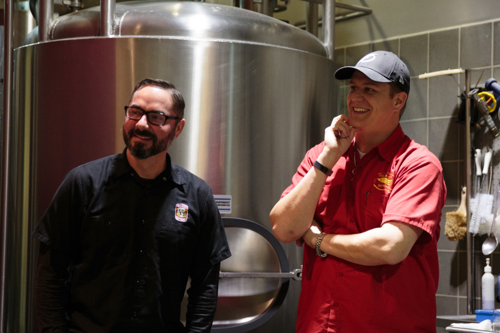 My Take:
The rye aged variation was my favorite of the three releases. It's got a huge nose filled with spicy rye whiskey, dank resin, caramel, raisin and malt chocolate. The beer has a huge flavor profile, saturated in woody whiskey notes, rich and full bodied. There's a good amount of sweet malt action going on, but it doesn't cross into the overbearing threshold as many strong ales tend to do. I get lots of honey, apricots, molasses and dessert notes, complimented with a nice spicy, earthy balance. 89 points.
Unfortunately, the down side of most collaboration projects is that they must come to an end. Chances are, we won't see another batch of Gentlemen's Club anytime soon. But it does sound like there are a few more projects in the works for Widmer Brothers.
"We just released a collaboration beer with The Commons Brewery in Portland," said Walen. "A dry hopped Belgian style red ale called Kindred. We have a few other collaborations in the works to help celebrate our 30th anniversary next year. And while we're working with other breweries on various collaboration projects, we have a longstanding collaboration project – called Collaborator – with the Oregon Brew Crew, where we brew production batches of local homebrew competition winners at our pilot brewery and release them locally in the Portland market. It's a great project that Kurt and Rob Widmer started with the Oregon Brew Crew in 1998."
So, keep your eyes out. And, in the meantime, if you're in one of the lucky markets that recieved the Gentlemen's Club releases, I'd recommend seeking them out!
Next up, Stone brings in Trekkie, Wil Wheaton, and Mr. Fark himself,