I often find myself making the comparison between the growth of craft beer and the growth trends of the American wine and craft spirits markets. The trends that shifted the US wine industry 20-25 years ago, have been ever-present in craft beer over the past decade, and are repeating themselves with craft distilling. At least when it comes to the American audience and producers, it's the desire for knowledge, experimentation, innovation and a pursuit of excellence that moves us forward, and the willingness to break barriers that pushes the collective sum ahead.
As a result of this common growth, the paths of these industries have started to intertwine and producers are finding more opportunity for collaboration. A barrel, for instance, that was once used to age a bourbon in Bardstown or a wine in Sonoma, is now being used to age a barleywine in Grand Rapids. A brewery in Delaware is adding grapes to its beer from a winery in Washington. And let's not ignore the fact that with commonalities in growth trends, price variables start evening out. So, a small brewpub in the Sierra Nevada Mountains that's creating barrel aged masterpieces is looking at its competition in wine and spirits and saying, yes I can charge $30 for this 750ml bottle of beer.
I find myself gravitating toward these hybrid explorations. They push craft beer to the next level, bring down barriers, and put experimentation on the forefront.
The small brewpub in the Sierra Nevada Mountains is Fiffty Fifty Brewing. A standout example of this exploration is their Eclipse line of barrel aged Imperial Stouts. I first noticed these beers about a year or two ago when they made a small, subtle entrance into the Massachusetts market. The annual series showcases their rich, roasty Imperial Stout, Totality, in a variety of barrel aged expressions. Totality is fantastic in its own regard, but with the affects of bourbon barrel aging, the result is on another level. Fifty Fifty just recently announced the lineup for this year's Eclipse series and it will feature a selection including Elijah Craig, High West, Four Roses, Evan Williams, and Pappy Van Winkle.
You might say that Eclipse is Fifty Fifty's pièce de résistance, their contribution to the evolution of craft beer. Each release is aged in oak barrels for a minimum of 180 days in a warehouse about a mile down the road from the brewpub (call that determination). The project was most likely – as most evolutionary or revolutionary projects are – a labor of love and the result of brewers striving for something truly remarkable. Eclipse is an expression of a vision without parameters (and without fear that a $30 bottle of beer will run them out of business). For the consumer, to taste how different bourbon barrels can affect the outcome of a beer like Eclipse, is to understand just how important it is for breweries and distilleries, and even wineries, to align their goals and work together for the betterment of the collective craft.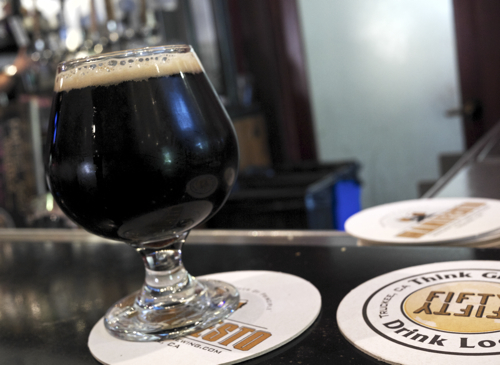 The 2013 releases of Eclipse are being unveiled at Fifty Fifty's Eclipse Release Party at the brewery on December 5th. Tickets go on sale this Thursday, September 19th… so if you're in the Tahoe/Truckee area, better set your Google alert. I'm not kidding, these beers sell out quickly and this years releases are sure to be an impressive example of beer and whiskey coming together, as evolution again takes the front seat. On top of the various bourbon barrels highlighted, Fifty Fifty will also be releasing a Java coffee aged Eclipse and an 18-year rum barrel release.
Of course, not all of us are lucky enough to live in the Tahoe/Truckee area. But fear not, you may still be able to come upon some of these beers this year. According to Fifty Fifty's website, Eclipse is distributed in 14 states. And yes, Massachusetts is one. Unfortunately, Eclipse is the only beer that Fifty Fifty produces that's consistently bottled and distributed, so if you want to dip into more of their lineup, you'll have to go to Lake Tahoe. Which definitely does not suck. In particular, I'd recommend checking out their Old Conundrum barrel aged Barleywine or their BART strong ale.
Fifty Fifty is just one example of a producer expanding the definition of its craft to reach new limits. I was fortunate enough to experience this first hand on my visit to Tahoe a few weeks back. So, they're hot on my mind. What's on yours?