Bourbon. Fucking. County.
Let's be honest, there's no place you should really be going the day after Thanksgiving other than down to your local bottle shop to pick up the newly released Goose Island Bourbon County Brand Stouts. Seriously, do you really want to slug your way through mall herds just to find a crappy new winter jacket at 50% off that your going to wind up returning anyway? No. You want to sit at home on your mother flipping comfy couch eating leftovers and drinking the sweet black nectar of the Gods that is Bourbon County. Am I right?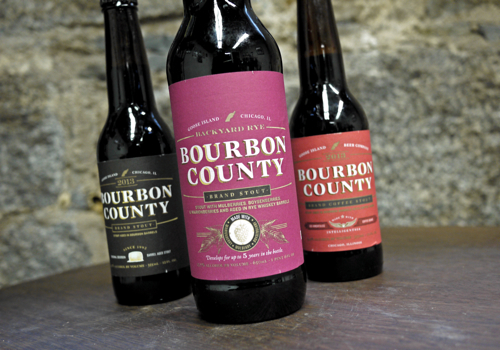 Good, then let's move onto more productive topics…
This year, Goose Island has decided to take the hype of Bourbon County to the next level by releasing the whole lineup on Black Friday, including three new entries: Backyard Rye, Proprietor's Reserve and Barleywine Ale. And halle…freaking…lujah, there will be more to go around this year than ever before. In fact, where last year's Bourbon County run filled 1,000 whiskey barrels, this year's run will fill roughly 2,500! This is great news for Bourbon County lovers, and is further testament to a point I made earlier this year about Goose Island and the AB InBev acquisition: with AB handling production on Goose's core brands, Goose has more resources to dedicate to the sexy stuff, like Bourbon County and their sour beers.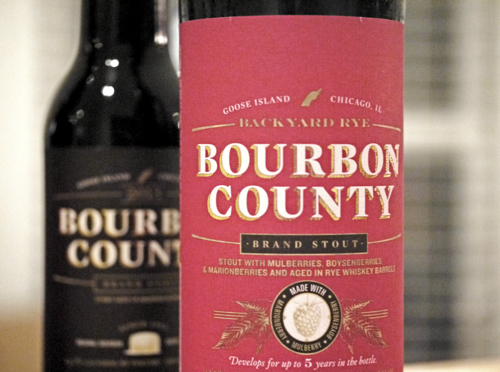 In addition to the three new varieties, Goose will also be releasing the coffee stout in 12oz four-packs for the first time. Which is, frankly, awesome… because sometimes you just don't want to crack into a 650ml bottle of 13.4% imperial stout.
The all new Bourbon County Brand Barleywine (which is also being sold in four-packs, btw) is actually being introduced in reasonably high numbers. Compared to Backyard Rye which only filled about 200 barrels, and Proprietor's Reserve at less than 100, the Barleywine's 600 barrels should make it relatively "easy" to find. On the flipside, Proprietor's is only being released in Chicago, so that's a bit of a bummer… unless, of course, you live in Chicago. At which point you should send me a bottle (no, seriously, hit me up, I'll give you my address).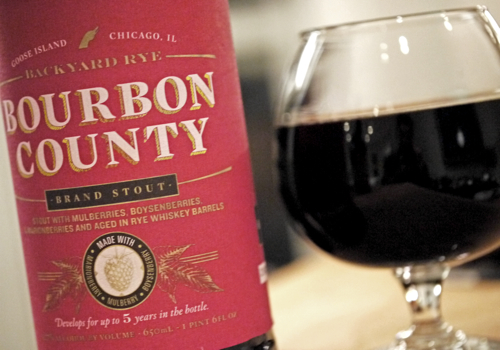 Thankfully, the kind folks at Goose sent me out a bottle of the Backyard Rye pre Black Friday, so I didn't have to hurt people to get one. This particular BCBS variant is the most exciting new entry in my opinion. Aged with mulberries, marionberries and boysenberries, 10,000 pounds (holy shit!) of fruit went into the making of this beer. It's also aged in Templeton Rye barrels (and contains rye malt), so there's another little twist from the typical bourbon barrel focus of the series.
My take: Sweet, rich and concentrated dark malt on the nose, gobs of dark cocoa, punchy earthy berries, cola and red licorice. The beer is smooth and silky all the way through with spikes of prickly spice. On the palate, I get dark chocolate, brambly berries, lots of earth, rye spice, cherry cola, a subtle umami note and a long warm finish that feels like a warm blanket in winter. Like the coffee stout, Backyard Rye is an elevated Brand Stout, and it's devilishly delicious. The berries and earthiness offer layers of complexity that shine a new light on this amazing series. The sweet fruit doesn't come off fake (I'd hope not for the 10,000 pounds of real fruit they put in), nor overpowering and the beer is beautifully balanced in a way that let all of the nuances come to the surface. 94 Points.
I could probably do the 'ol mic drop right now and walk out on that high note, but I'm not quite done with Goose. So, we'll take a slight, sour detour to another exciting set of releases that came out of the Chicago brewery recently: Halia and Gillian. When I interviewed Goose Island brewer Brian Taylor this past summer, he gave me a little heads up to these two new fruit beers that were being added to their already impressive lineup of Belgian-style beers. Now they're available nationwide and Halia and Gillian are two super sexy, fruit-forward Saison's you should be looking for; the former brewed with peaches and the latter with strawberries.
In our interview, Taylor spoke very passionately about Halia. It is very much his baby; a project inspired by the memory of a friend of his who had passed away from cancer a number of years prior. In Hawaiian, Halia means "in remembrance of a loved one," and on a particular trip to Hawaii, Taylor's friend had asked him to brew a beer with peaches. So, that's where the idea of Halia came from.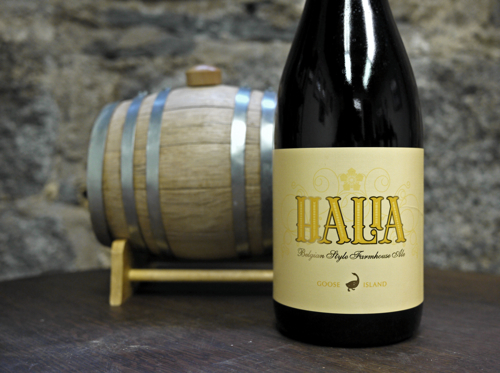 My take: Modestly sour, with lots of fresh peach and citrus, delicately balanced with layers of earthy and wood notes. The beer has a classic farmhouse essence, it's dry and rustic with a long finish. Halia is a complex peach-forward belgian-style beer, that is extremely well made and another achievement in a growing arsenal of barrel-aged beers for Goose Island. 92 Points.
All in, I continue to be optimistic and enthusiastic about the direction of Goose. There's no question these guys are continuing to churn out amazingly awesome beer… and more importantly, amazingly awesome beer in higher quantity than ever before.
So, to that I say… have a bloody fucking awesome Black Friday and I hope you get a haul of BCBS that couldn't even fit in Santa's sled.
Oh, and just as a final Black Friday note, for those of you in the general area of Portland, ME, Allagash is releasing their Midnight Brett on Friday as well. Just saying…