The Single Malt & Scotch Whisky Extravaganza, produced by the Scotch Malt Whisky Society of America, is halfway into its fall 2013 tour. This can mean only one thing… we're less than two weeks away from the November 21st Boston event date. To gear up for this year's event, I thought I'd take a dip into a few whisky samples I have lying around from previous SMWSA releases. I haven't tried any of these whiskies yet, so this will be a complete blind tasting.
Feel free to follow along and take your educated guesses from my tasting notes. I certainly couldn't pinpoint these three whiskies.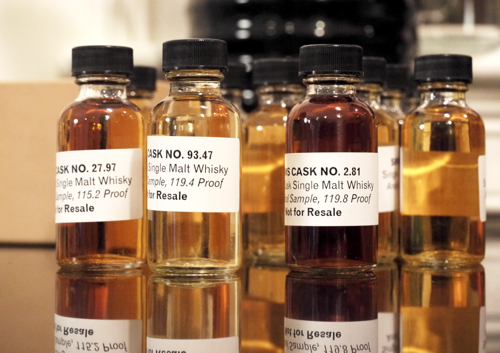 First up is SMWS Cask No. 93.47, bottled at 119.4 proof. The whisky is a pale straw yellow, and is clearly the lightest of the three. On the nose I get a lot of vanilla oak notes, white pepper, smokey almond, orange marmelade and some medicinal band-aid (like straight out of the hospital). The palate is sharp and spicy, with a very rich chocolate citrus, and strong medicinal notes that open into a wave of smokey sea water. It's drinkable at cask strength, but there's a lot of heat here for sure. With a few drops of water, the vanilla gets a bit rounder, and a sweeter citrus comes out on the palate. There's smoke and brine, but a lot of dirty earth as well. Sharp and creamy, almost a bit waxy in texture, fruit-forward medicinal dirt… in a good way. 87 points. 
Moving on up, we've got Cask No. 27.97, bottled at 115.2 proof. This whisky is much darker than the first, a medium copper. On nosing, I get a burst of sherry and fruit, that mellows off into some nice fig, fudge and earthy toffee notes. The palate is mellow at first, sweet and dessert-like, but it erupts into a massively (no, seriously, MASSIVELY) dry finish of dirty umami, marzipan, nuts, tinny herbs and off-beat funk. I love the nose on this whisky, I love the initial palate notes, but the finish leaves me a bit intrigued/a bit put off. It's an interesting whisky at the very least, and an intriguingly different whisky at its best. You may love this whisky. You may also want to yell at it for throwing your taste buds into funk central. 88 points.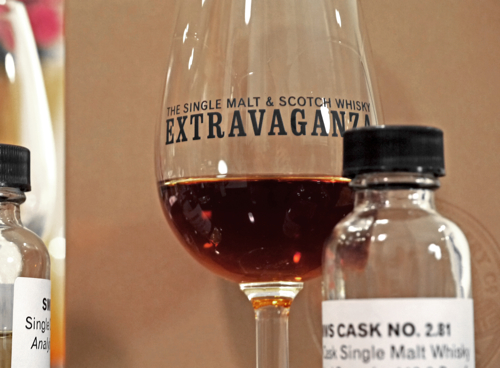 Finally, we're going dark. Real reddish-brown, muddy dark. Cask No. 2.81 is bottled at 119.8 proof and on the nose it's very earthy chocolate. Strangely, this reminds me a little of Elijah Craig Barrel Proof. Of course, there's a lot of Scotch notes in here that you'd never find in a bourbon. But it's that dry earthy chocolate… There's also a little prune, nut butter, molasses, concentrated orange and charred wood. Coming off the nose, the initial sweet hit of the palate is actually a bit of a surprise. Sharp, sweet, spicy and definitely a little fierce on the heat, with undeniable tannins. A few drops of water tame the palate on this whisky, and you're left with a beautiful balance of dry smoke, earthy chocolate, rich fruit, roasted nuts, sherry, vanilla, tobacco, toffee and wood. This is a fantastic whisky. I love the richness. I love the balance of dessert-like flavors. 91 points.
I'm not going to lie, I couldn't really place any of these whiskies. Hopefully, you did better. Guess we'll have to turn to the cheat sheet to see what they were:
Whisky One: 93.47: Seaweed, sushi and Arbroath smokies , $90 – 9 year Glen Scotia (Cambeltown), refill barrel
Whisky Two: 27.97: Glazed cashews and lemon lolls, $110 – 13 year Springbank, refill gorda.
Whisky Three, 2.81: Black Tea in a Greenhouse, $120 – 15 year Glenlivet, 1st fill sherry butt.
Well, call me surprised. The 15-year Glenlivet aged in sherry butts, and distilled in 1998, was the hands down winner for me. What a damn good dram. I can't say I'm a huge fan of Glenlivet's regular releases, but this whisky was something special. Unfortunately, it doesn't appear that the Scotch Malt Whisky Society has any of the 2.81 left, but what they do have left is three fall tour dates, dammit! So, if you're in Boston, LA or Fort Lauderdale, don't miss out.
In fact, if you want a discount on tickets, use code: DRINKINSIDER2013 to receive the SMWSA member's price. Tickets can be purchased here.
And, also, keep SMWSA in mind for the holidays this year. An annual membership may just be that perfect gift for the scotch lover in your life.