I've got to give it to Evil Twin. Their labels have been getting more and more absurd (in an amazingly awesome way), but this one… this one comes pretty damn close to topping the cake. Who thinks, "hey, we should name a beer after Ryan Gosling?" Evil Twin. That's who.
So, Ryan and the Gosling hit the markets a few weeks back, and it caught my attention immediately. It's hard to miss a beer bottle that looks like this: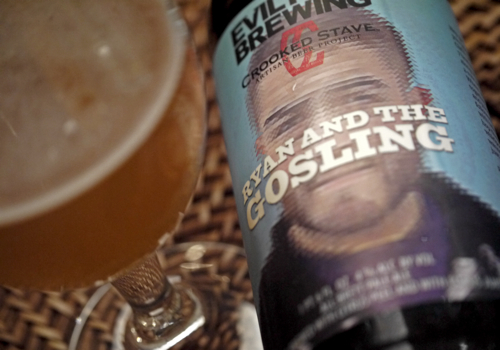 And I wouldn't be doing this fine specimen of a beer bottle justice if I didn't mention the clever copy on the back: "Hey Girl – just listening to you talk about how the CMY-1, CMY-4 and CMY-7 brettanomyces yeast… makes me want to drink this beer just for you."
I loved this beer before I even popped the cap.
Which is surprising because I don't typically splurge for Evil Twin's beer. Not that I dislike their products – in fact, every time I do try one of their beers I enjoy it. Like, for instance Even More Jesus or Imperial Doughnut Break. But Ryan and the Gosling had three things of particular interest going for it that that made me pull out my wallet: the label/name (of course), Crooked Stave (the collaborator) and the style – an all Brett pale ale at 4%. This is a winning combination on all fronts. A sessionable pale ale with a little wild funk and sour made in part by one of the most exciting breweries in the country (Crooked Stave).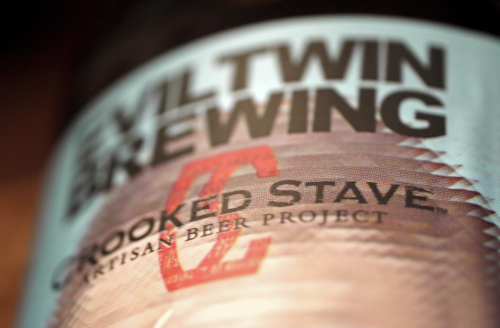 And, by the way, this is the first time (to my knowledge) that Crooked Stave has showed up in retail in Massachusetts. Which makes this beer even more exciting.
Of course, as I've always stressed – no matter how good the marketing or collaboration, it comes down to the beer. And while Ryan and the Gosling may not be as sexy and delicious as the man himself (did I really just say that?), it is one of the better and more interesting session beers I've had recently. The beer has big notes of clementine, honey, flowers and dry hops, with lots of wheaty citrus and orange on the palate. Perhaps it's not as smooth as Ryan Gosling's hairless chest, but I could probably kick it back all night long.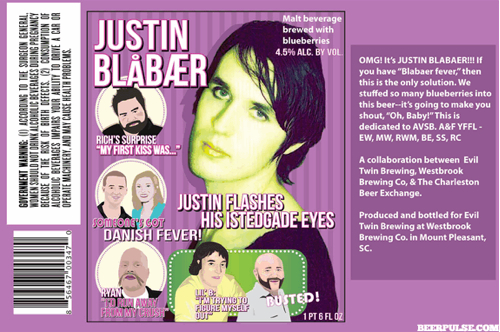 If there's one thing we've come to expect from Evil Twin, it's that they're going to keep tempting us with unique beers, interesting collaborations and labels that make our wonky marketing sense go haywire — like Ryan and the Gosling. Or, like Justin Blåbær. The only other label by the company that has gone off the wonky charts more than this.