I met up the other day with Brett Vankoski, co-founder of 90+ Cellars — a Boston-based wine company that buys small lots of wine from various producers around the world and packages and sells the wine under their own brand for a fraction of the cost. In the past five years, 90+ has established itself as an innovative wine business on the rise, and a unique brand that is challenging wine consumers to think differently about the wines they buy. Through my conversation with Vankoski, I learned a bit more about the 90+ business model and, consequently, why I've been missing out by ignoring the wines the brand puts out.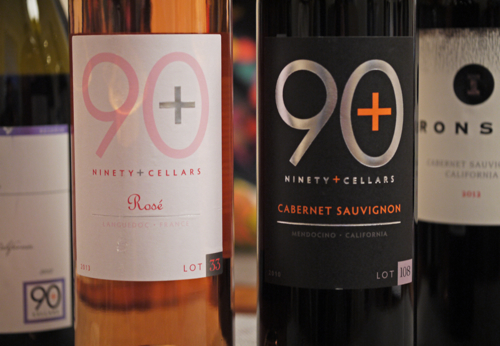 The first thing one needs to realize about 90+ Cellars is that they're not out to play to the intellectual appeal and/or complicated layers of the wine industry. So if you get your kicks from self-navigating through the vastness of wine space and trying to pronounce obscure German labels, then their offering may not be up to your speed. On the other hand, I do get kicks from self-navigating through the vastness of the wine space (and to a lesser extent, trying to pronounce German wine labels) and I can name a whole number of reasons why 90+ will be on my buy list from now on.
In short, 90+ is out to appeal to the wine consumer that wants to buy smart, understand the wines they're purchasing in the simplest terms, and/or be presented a curated selection of solid global wine choices in a low frills format. It's a winning combination.
Of the numerous misconceptions I had about 90+ before my meeting with Brett, the one that probably most affected my lack of interest in the brand was that they were aimed at the lower end of the wine market. And, while that may be true for some of their offerings, it's not true for their mid-tier line or their Collector's Series. Their current selections in this higher end range from a Barolo priced at $34.99 (with a source price of $75) to a Saint-Emilion Grand Cru priced at $30 (with a source price of $55). And if getting the opportunity to buy into quality Grand Cru's and Barolo's in the low $30s doesn't tempt your finite-wine-budget-palate, I don't know what will.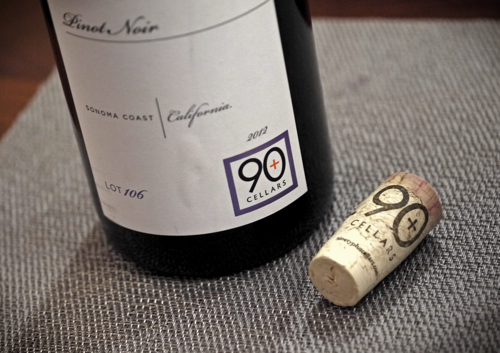 Of course, there are some negatives to the 90+ model. For one, with the discounted pricing model comes ambiguity — specifically, ambiguity related to source of origin. The vast majority of the wines 90+ offers are bottled under their own 90+ label, with only subtle hints toward the source of origin – regions, AVAs, etc. Occasionally, a producer does slip through the cracks – but the deal with 90+ is that you have to be cool with the winery blindfold. And frankly, to the vast majority of wine consumers who could care less about the brand name on the wine, that's not a bad thing. But for those of us who do care about the stories and details that lead to a specific wine being created, it does take away a bit from the overall experience.
But, at the end of the day, I'll be the first to admit that the most important aspect to a bottle of wine is the quality of the juice inside the bottle; and there's no denying the fact that the 90+ Cellars model puts quality juice in your glass for less money than the other guy. If you're wondering how this all works, simply reference your college economics textbook. It's all about supply and demand. When wineries have extra wine that they can't sell, they're happy to sell it to someone who's willing to take it off their hands in bulk at a discounted price —so long as that reseller doesn't disclose the wine's origin (thus de-valuing the original winery's brand). It's really pretty simple, and it's a win/win all the way around.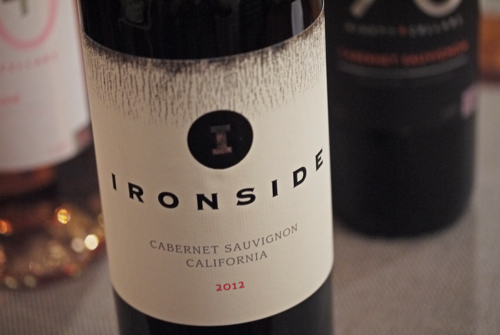 Looking for a recommendation? Of the current wines that I've tried from 90+, my standout value recommendation is Lot 108. This Cabernet Sauvignon from Mendocino, CA will run you about $12 retail. I found the wine to be well-made, delicious and way better than the majority of California Cabs I've had in that price range lately. In fact, I thought it was such a good buy I purchased a few cases for a friend's wedding that I'm helping with. The wine is sharp and spicy, with lots of black fruit, cigar box and earthy spices. If you like sharp cabs and rich zinfandels, I think you'll really enjoy this wine.
Also, make sure to check out the company's newest label, Ironside. This blend of California Cabernet's runs about $15 retail and is a wine that I can see appealing to a huge range of palates (i.e. great party wine!).
Have you had any 90+ Cellars wines lately? What do you think?