Every time I drink a wine from Alsace it reminds me how stupid I am for not drinking more wines from Alsace. And I'm pretty sure I'm not the only one who feels that way.
The reality is, Alsace is one of the world's great wine regions; unpretentious and sophisticated, yet often overlooked… even amongst wine geeks. And maybe that's because Alsace is in France, and purely by this geographical designation, it must share the French stage with Burgundy and Bordeaux (and Loire, Rhone, Languedoc, etc.). Or, perhaps, it's because its tumultuous history — getting pulled back and forth between Germany and France — has left Alsace somewhat of a geographical abstraction.
Or maybe it's just because we don't talk about Alsace enough.
Of course, I'm not one to point fingers. I've had this blog for almost five years and I don't think I've mentioned Alsace more than… well, never. So, when I was invited to a wine dinner recently by Wines of Alsace, at Cambridge's Puritan & Co I was all over it. The perfect opportunity to indulge in some amazing Alsatian wines with some great food at a restaurant I've been wanting to go to since it opened. Done and done.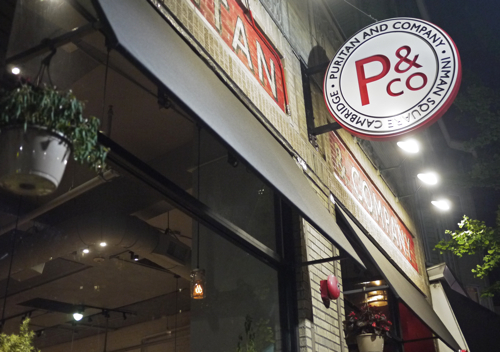 A little background info…
When I think of Alsace, I think of purity, organic, amazing soils and small producers working the land by hand. I think of beautiful, complex white wines that are completely unique. I think of tall, slender bottles that have no place coming from a French wine region. Alsace is, after all, a tiny pocket — placed ever so precariously on the border of France and Germany — that doesn't really fit in with its surroundings. And it certainly doesn't fit in with France.
The grapes that are dominant throughout the region — Gewürztraminer, Pinot Gris, Pinot Blanc, Riesling, Muscat — are more in the German camp. But, Alsace doesn't really fit in with Germany either. Alsace possesses a truly unique style and grace of its own that comes from a hybrid of two strong wine countries constantly flirting with each other. Yes, the grapes are more German, but the way in which the Alsatian winemakers treat their grapes produce wines that are much different than their German counterparts. Alsatian Rieslings (some of my favorite Rieslings in the world), for instance, tend to be much drier and more full bodied than German Rieslings (which tend to posses a lighter, sweeter nature).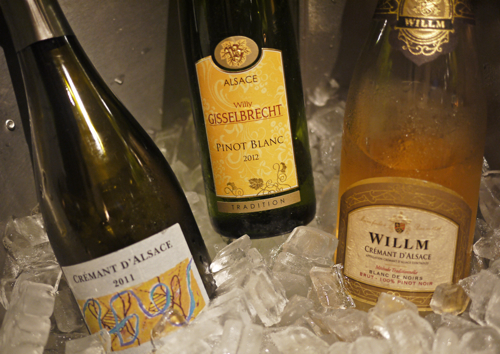 The wines with dinner…
Alsatian wines are also great food wines. And, at this dinner, we sampled a fantastic lineup of Alsatian wines alongside a delicious meal from Puritan & Co. The evening started with Crémant d'Alsace – the region's dry sparkling wines, made like Champagne. Two Crémants, actually: AlbertMann Crémant d'Alsace Brut 2011 and Willm Crémant d'Alsace Blanc de Noirs Brut NV, paired with scallop tartare. Both of these wines come from small production family estates — the latter made with Pinot Blanc, Auxerrois, Pinot Noir and Pinot Gris, and the former from 100% Pinot Noir. I thought each wine showed a terrific terroir-driven complexity and beautiful brightness; a perfect start to any meal. And for $22 and $16 respectively, both are incredible buys in the world of French sparkling wine.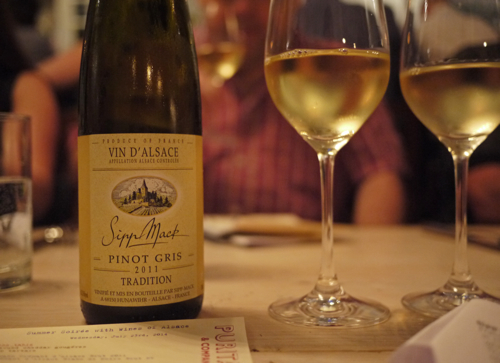 The next three wines took us on a journey through some of the popular grapes of Alsace. Starting with the Willy Gisselbrecht Pinot Blanc 2012 and the Mader Riesling 2012, both paired with a wild mushroom dish; and the Sipp Mack Pinot Gris 2011, paired with the main course. Again, all of these wines (like most of the wines from Alsace) come from small, family-run estates. Each made to show off the unique soils and terroir of the Alsatian landscape. I enjoyed each of these wines for their diverse qualities, but as far as food pairings went, I thought the Riesling paired exceptionally well with the very herbal and earthy Wild Mushrooms and Farm Egg dish (which was outstanding, by the way). Mader is my kind of riesling; very, very dry, with a piercing brightness, intense citrus and a stony mineral profile.
I was a big fan of the next Riesling as well, the Becker Riesling Grand Cru Froehn 2007, which was also paired with the main course; a perfectly pan-seared striped bass with radish tomatillo and panisse. I know what you're thinking, 2007 Grand Cru… must be big money. But you'd be wrong in that assumption. Remember, Alsace is not Burgundy or Bordeaux. $25 will get you a bottle of this fantastic Riesling that goes exceptionally well with a rich, smokey, fatty bass. Not only has this wine aged beautifully, but I'd venture to say that it could go another 10-20 years, easy. And again, that's for a $25 Riesling.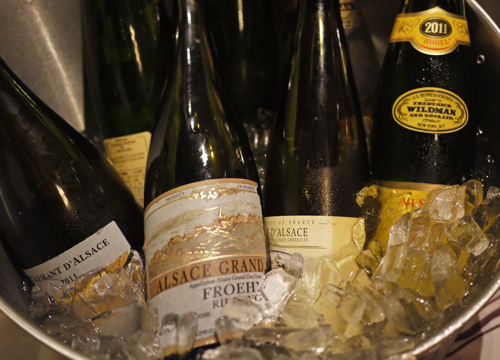 The final part of our dinner featured an overflowing cheese plate, an assortment of cookies, and two more excellent Alsatian wines. The first, a 2011 Gewürztraminer from Hugel et Fils, an iconic producer in Alsace that has been making wine for nearly 400 years. This fresh, dry, and floral wine, was quite nice on its own, but perhaps would have paired better with a spicy dish instead of cheddar and Bucherondin.
The standout, however, was the final wine, from another iconic Alsatian producer, Trimbach Riesling Cuvee Frederic Emile Vendanges Tardives 2001. The grapes for this sweeter style wine came from Grand Cru vineyards, and were picked as late as possible to achieve maximum ripeness. The wine is only made in years where there's noble rot in the field. I was enamored by this wine. The perfect balance of sweet, bright, acid and earth. Delicate, elegant and absolutely delicious. At $75, it was the highest priced wine of the evening, but as an after-dinner drink or aperitif, a fantastic buy.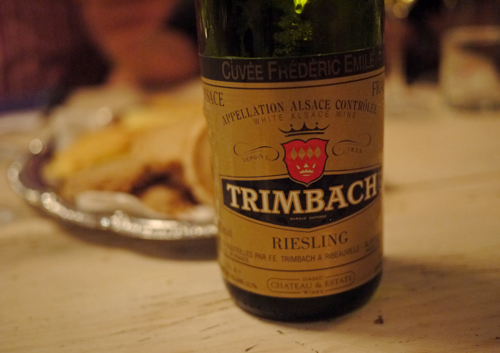 So, let's see, what have we learned about Alsatian wines today? Well, for one, they're fantastic; and more importantly, fantastic buys. Two, Alsatian Rieslings are not your typical Riesling affair, and are, coincidentally, some of the best in the world. Three, Alsatian wines are great food wines. Four, if you know someone who doesn't like white wines, make them drink Alsatian wines. And finally, drink more Alsatian wine, damn't! Yes, I'm addressing myself in that statement as well.