Rome wasn't built in a day. And nor was the craft spirits industry.
In fact, looking at the landscape today, it's hard to imagine what twists and turns lie ahead for craft spirits. Will the industry follow in the footsteps of craft beer? Will it have a shake out and a rebuilding? Will craft spirits companies become more transparent with their production sources? Will the overall quality of craft spirits rise as knowledge expands?
There are many questions yet to be answered. But, if one thing is clear, it's this: The craft spirits industry today is all over the place. And with hundreds of craft spirits companies in the US, it makes it very hard for consumers to navigate. "Am I buying a product that is produced by the people who I think are producing it?" "Will this stuff taste any good?" "How was this aged?" "How long was this aged?" "Is it worth paying the same price as a more established producer's product?"
Amongst the broad diversity of the industry, however, there are some craft spirits producers that are cutting through and bringing value to a cluttered marketplace. These producers are putting out good, unique products, and are building an authentic, trustworthy relationship with their customers. These are the craft spirits businesses that, we can hope, are paving the way for the future of the industry.
One of these companies is FEW Spirits out of Evanston, IL — a rapidly growing "grain-to-glass" distillery on the outskirts of Chicago. When they opened in 2011, FEW became the first distillery to put Evanston back on the distillery map since Prohibition. A not so minor feat by any means. Paul Hletko is the man behind the operation; a patent attorney turned distiller, with a deep-rooted passion for spirits. And, perhaps more specifically, a passion for distilling spirits. When I asked him if he ever considered sourcing product from an outfit like MGP he said, "the reason I'm interested in doing what I do is passion for product, and passion to create… There's nothing wrong with buying product, and it can be a great business… but we are able to be passionate about what we do since we actually do create something."
What makes a craft spirits company like FEW stand out, though, is a result of multiple factors. Starting with quality of product. Let's be honest, if you're not producing a good product, you're part of the noise. Of course, the question does arise (and it has quite a bit recently): does a craft spirits company need to be distilling their own spirit to make a quality product? I'd argue that the answer is no, so long as they're honest and upfront about what they're doing (take High West, for example). But, the fact that FEW does distill their own product, and does put out great juice, gives them a bit of an edge. And that edge comes down to, what I'll call, an owned sense of being. When every part of a spirit is influenced by a distillers' individual passion, perspective, selection of ingredients, water, stills, barrels, aging warehouse, etc., its potential is nearly infinite.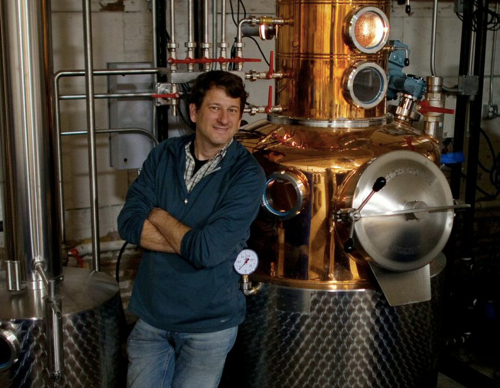 "I definitely agree that a 'craft' product should taste different based on where it is made," says Hletko. "We get all of our ingredients as close to home as we can. We use local water. If we made FEW somewhere else, it would taste different, and I'm proud of that."
This is one of the beautiful things about craft. Craft can tell this local story.
So, when I think about the craft spirits producers that are cutting through and bringing the most value to a cluttered marketplace, it's these distilleries like FEW (and Balcones and Corsair and St. George) that are making the most impact in a changing industry. These distillers are fully embracing what it means to be craft.
And, clearly, I'm not alone in this thinking. There's a reason why these distilleries are growing like crazy and struggling to keep up with demand (in the US and abroad). Their product, their approach, and their passion is genuinely resonating with customers. And that's a really good thing.
If you read through the various interviews that Paul Hletko has done over the past couple years, you'll quickly learn that the name FEW is intended to evoke the fact that they don't make a lot, "we just make… well, just a few." There is more to the name than that, but I'd argue that in this time and place, FEW may also refer to the craft spirits industry at large. FEW is, in deed, one of the few that is doing it right. They are producing authentic products. They are educated in their art. And they are making spirits that taste great and represent the place in which they are being made. Let's hope that as the industry grows up, there will be more and more companies like FEW that are defining what it is to be craft.
Want to dig into FEW's products?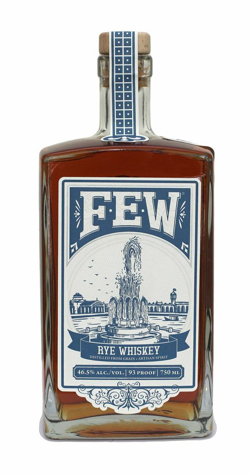 FEW offers a solid lineup of spirits including a rye, Bourbon and gin, along with a number of specialty products such as a recently released barrel-aged gin.
My Recommendation: FEW Rye
Named by Whisky Advocate as the 2013 Craft Whiskey of the Year, FEW's rye is one of the standout rye's in American craft whiskey. It's young, but well developed. On the nose, it's big, dry and spicy with hints of cinnamon, apple pie, golden raisins and green wood. On the palate, the whiskey is rich and spicy with a young oaky character. This is a full bodied rye indeed. Sweet baking spices match with a dry chalkiness, and build into a long warm finish. A delicious young whiskey. 89 points.