What are you doing the morning after Thanksgiving? Are you going shopping? Trying to find a killer deal on a new TV? May I make a recommendation? If you're going to exert any energy at all on Black Friday it really should be spent trying to track down this year's Goose Island Bourbon County releases. If you're not going to do that, you should probably just stay at home, drink beer and soothe your turkey day hangover with leftover stuffing and mashed potatoes.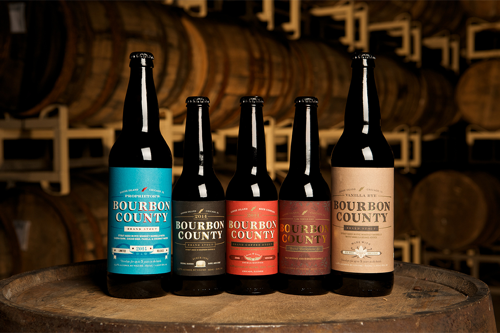 But, for those of you who are ready to venture out into the first day of holiday mayhem, know that Goose Island is once again claiming Black Friday as their big release date nationwide for Bourbon County Brand Stout. They've continued to step up the fanfare with even more events and tap takeovers this year, and are doing "extra special" Black Friday events in nine cities including Boston, Chicago, Dallas, Jacksonville, LA, NYC, Philadelphia, Phoenix and San Francisco.
What are these extra special events you may ask? Well, let's just say that they're big release parties taking place at select retailers in these key markets. In Boston, I can tell you that there will be a tap takeover the night before Thanksgiving (Wednesday, November 26th) at Stoddards which will be featuring all of the new Bourbon County releases on draft (yes, including Vanilla Rye), plus a release or two from previous years. And on Black Friday, when the bottles hit liquor stores all over, there will be a big release party at Kappy's in Medford. It will be early (try 6:45am) and there will likely be lots of people (events like this in Goose's native Chicago have been known to attract hundreds of people), but for your dedication and determination in heading out bright and early on Black Friday, you will have first dibs at all of the new Bourbon County releases and you will get free donuts and coffee. From places that are much better than Dunkin' Donuts.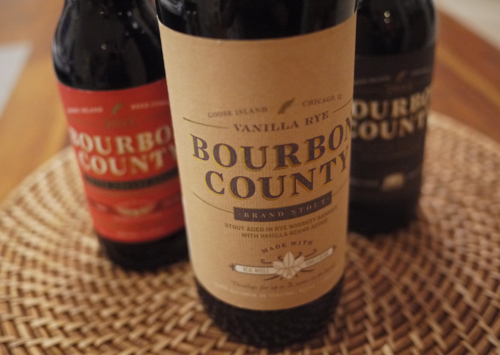 If you aren't in it so much for the festivities and fanfare and just want to buy some really good beer, I do recommend that you visit your local bottle shop as soon as possible after Thanksgiving if you want a shot at getting some of the more sought after BCBS releases; which this year will clearly be the Vanilla Rye (replacing last year's Backyard Rye), and as always, Coffee. If you've never had any of Goose Island's BCBS beers either take it from me that these are easily some of the best barrel-aged stouts in existence, or look at Beer Advocate's Top 250 Beer list and see what others have to say. Oh, what, number 3?! You don't say.
Well, Happy Thanksgiving, friends. I hope your turkey day is filled with great bird and great beer, and may you find all the BCBS coffee and vanilla that your heart desires.
Cheers.