This is part one of a two-part series. For more about Nikka Whisky and Westland Distillery (and reviews) check out part two, coming soon. Also, don't miss the Sicilian Emerald cocktail recipe below. Yum!
Unlike beer and wine, whisky doesn't naturally find its home with food. It finds its home in my mouth, often, yes. But I've never found food and whisky to really work well together. Dessert and Bourbon is one exception to that rule. There is no question in my mind that Pappy and pie is one of life's true great wonders. But pairing a six-course savory tasting dinner with malt whisky is a seriously tough ask. Especially when those whiskies are from opposite sides of the globe.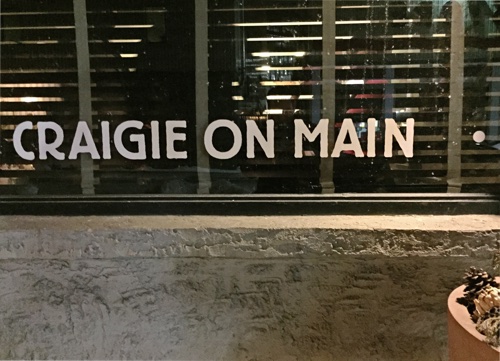 But last week–at a whisky dinner that brought together two unique distilleries–Tony Maws of Craigie on Main nailed it. No, I mean really nailed it. Not just like, "Hey this Nikka Taketsuru Pure Malt 21 seems to not offend this terrine of foie gras and duck breast" (or vice versa depending on your perspective). But like, "Wow, I had no idea food and whisky could compliment each other so well." 
Epiphany moment reached.
So, perhaps food and whisky do go together. Or, maybe Tony Maws is just a food and whisky-pairing genius. He is, after all, a James Beard winner. And Craigie on Main is one of the best restaurants in the Boston area. So I guess it's par for the course; just another day in amazing chef food land. But still, I was impressed.
Naoki Tomoyoshi, the international representative for Nikka Whisky, was sitting across from me at the dinner nodding in agreement. He said, this was easily one of the top whisky dinners he's had in his very traveled career (which has no doubt included many whisky dinners in every part of the world). Of course, I have to give partial credit to Nikka's whiskies for the success of these pairings. Their lineup–which I had never sampled in full before tonight–is stellar. The flavors are clean and balanced, even the Yiochi Single Malt 15yr which had a lightly fruity and peated undercurrent magically harmonized with Maws' smoked sea trout pastrami with pickled carrots and barrel-aged fish sauce. 
Something about the sweetness of the fish sauce, the tart crunch of the carrot and the rich smokiness of the pastrami that just felt like it belonged with this whisky. Also, wait, what is this dish? Sea trout pastrami? Who comes up with something like that… for a whisky dinner? Apparently, Tony Maws does.
I asked Naoki as a follow-up the next day at Julio's Go Whiskey Weekend if he thought Japanese whiskies were better suited for food pairings because the Japanese put a heavy emphasis on the dinner drinking occasion. And he said, "No, that dinner was just exceptional. He [Maws] not only paid attention to the flavors of the whiskies, but also the structure, the strength, and the mouthfeel. It was really well done."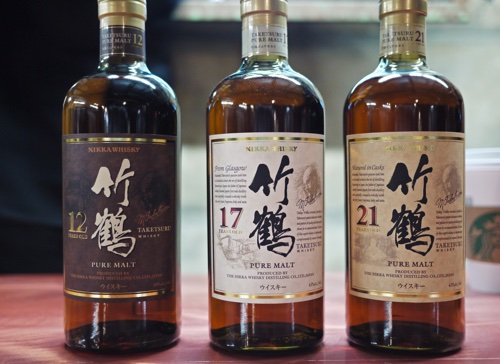 Food and whisky pairing tip #1: consider more than the flavor of the whisky. The structure, strength and mouthfeel also play a role in the success of a food pairing.
It's hard to pick favorites when you're presented with a menu of such caliber, but if I had to choose, I'd lean toward the fifth pairing of the night. It featured the absolutely crackin' Taketsura Pure Malt 17yr–the spiciest and boldest whisky of the bunch–and the Mafalde pasta, which was originally supposed to come with bacon, brussels sprouts and boudin noir ragout, but which was instead altered (for me) to feature rabbit. Even despite the adaptations, it still paired amazingly well with the whisky. Much to Maws' credit.
Of course, I'd be remiss not to mention the first cocktail of the night, a delicious Sicilian Emerald made with Westland's Single Malt. It was paired with an opening trio of cured hamachi, razor clam and raw oyster. Pairing aside, I didn't realize that chocolate, bright citrus, and malty whisky could come together in such harmony. But, yes, it can; and I'd encourage you to try it for yourself at home. A recipe, courtesy of Craigie's Lead Bartender, Rob Fricks, is included below.
Speaking of Westland, Emerson Lamb–the president of Seattle's Westland Distillery–was the other honored guest of the evening. He, like Naoki, was in town for Julio's Go Whisk(e)y Weekend. On the surface, Emerson and Naoki (or Westland and Nikka) seem like an unlikely pairing–other than the fact that they're both part of the same distributor network. But, it turns out that American craft whiskey and Japanese whisky get put next to each other at tastings more often than you might think, and the two whiskyphiles had bonded at various events over the years. Which, in turn, lead to this fortuitous dinner event in Cambridge.
For the final savory dish of the evening, Maws showcased Emerson's Sherry Wood Single Malt with an Axis venison two ways which was served with chestnut polenta, savoy cabbage and candied kumquat. I had tasted Westland's flagship single malt when it first arrived in Boston last fall and thought it was one of the better American single malts I'd had, but the Sherry Wood impressed me even more. And in this context, it truly shined. The rich, nutty sherry flavors of the whisky took on the rare, gamey flavors of the venison and the chestnut flavors of the polenta. The sweet fruity notes from both whiskey and food melded beautifully.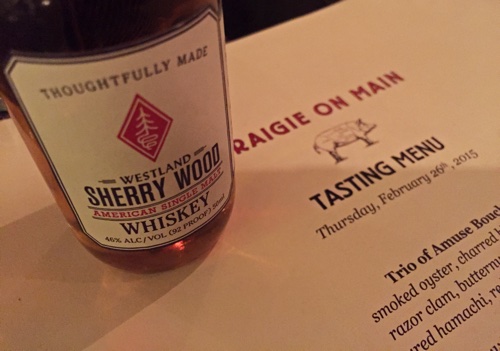 Throughout the meal I noticed similarities such as those between flavors and textures of the food and whisky. I could imagine Tony Maws sipping each offering (perhaps a little too much of some) and picking out certain elements that stood out, then creating dishes that mirrored the journey that each whisky had taken him on. As Naoki said, to pair food and whisky well you have to not only consider the flavors but also the structure, the strength, and the mouthfeel. Maws did that with incredible skill and precision.
To say that this dinner–along with the company and whiskies that accompanied it–were spectacular would be an understatement. I guess when you put creativity and whisky in the hands of an exceptionally talented chef like Tony Maws and let him do his thing, the result can be outstanding. I mean it's hard enough to create a delicious one-off six course dinner and execute it flawlessly during regular dinner service. But pair that well with both Japanese and American malt whisky and you've achieved something truly great.

Sicilian Emerald (Craigie on Main)
1.5oz Westland American Single Malt
.75oz Cacao Nib-infused Punt E Mes
.25oz Campari
.25oz Averna
.25oz Lemon
2 dash The Bitter Truth Grapefruit Bitters
Build in a small shaker tin. Shake. Strain into coupe. Garnish with grapefruit disc.
Part II explores both of these whisky producers in more detail along with reviews of some of their best products.