In two of the last three Wine Spectator Top 100 lists, Rhône wines took the top French honors. In fact, in the last five years Rhône has produced over 15% of the wines in Spectator's annual top ten. That's 8 out of 50 spots to be exact. Meanwhile, Burgundy and Bordeaux combined have taken up only 6% of the top ten in that same timeframe.
So, what exactly is my point here? I guess it's this: whether you care for Wine Spectator's opinion or not, Rhône produces some killer wines, and if you're only looking at France for Burgundy and Bordeaux, you're missing out. Especially if price and diversity plays a role in your purchase decision.
Getting to Know Rhône
The Rhône Valley takes its name from the Rhône River which flows through the center of the region. The valley is divided into two parts: Northern Rhône and Southern Rhône. Of which, the North is the smaller of the two, a bit more prestigious, and only responsible for about 5% of the total wine production that comes out of the area.
From a wine perspective these two regions are incredibly distinct. First of all, Syrah is the only red grape allowed in the North, whereas in the South they use a variety of red grapes with Grenache being the dominant player, followed by Mourvèdre, Syrah and a host of others. Although Rhône is primarily a red-centric region (approximately 80% of the nearly 44 million cases produced each year is red), both the North and the South produce white wines. In the North they use only Viognier, Marsannne and Rousanne and in the South they use these plus a handful of other grapes including Grenache Blanc and Clairette. In total, there are over 20 different grape varieties used across the Rhône.
Climate also plays a major role in the differences between the two regions (even though they are just miles apart). The south has a Mediterranean climate; mild and sunny with dry summers. Whereas the North has a continental climate, with colder winters and more humid summers.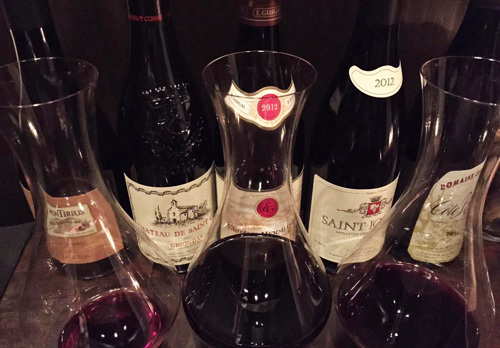 Of course, grapes and climate are just part of what creates the huge variety in wines across the region. It also comes down to all of the different appellations–their unique styles, terroir, and traditions. All said, the Rhône is a massively diverse region. From Côte-Rôtie, St-Joseph and Hermitage in the North to Châteauneuf-du-Pape, Gigondas and Vacqueyras in the South there is a nearly endless bounty of bold flavors and wine personalities to be had. Not to mention the Côtes du Rhône and Côtes du Rhône Villages wines which can be made anywhere in the region.
Onto the Wines…
Earlier this week I had an opportunity to explore a handful of Rhône wines at an event held at Eastern Standard in Boston, a European-style bistro known for its great drinks program. The event was put on by Rhône Valley Wines and we tasted through ten selections ranging from $10 to $100. Tasting Rhône wines next to each other like this reiterates just how diverse these wines truly are. Not only in regards to the quality, but the flavor profiles and styles as well.
Here is a short list of some of my favorites from the evening; and coincidentally, a great starting point for discovering the diversity of Rhône wines if you're looking to explore on your own.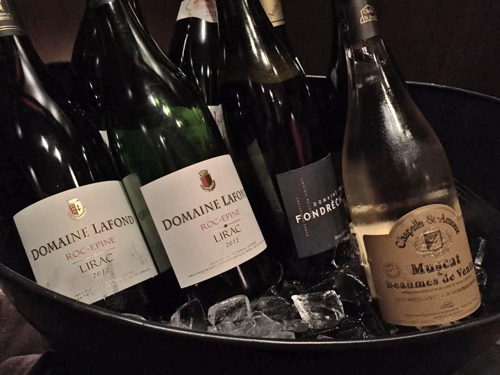 André Brunel Domaine de la Bécassonne Côtes du Rhône Blanc, 2014 – $15 
50% Roussanne, 30% Grenache Blanc, 20% Clairette
A fresh and creamy wine with fruity zing, nuts, fennel and stone fruit. A great value white that delivers. 88 points
Domaine Lafond Roc-Epine Lirac Blanc, 2012 – $15
50% Grenache blanc, 30% Roussanne, 20% Viognier
Tangy citrus, with pear, spice and savory herbal notes. A white wine with a ton of personality. 89 points
Domaine Montirius "Le Clos" Vacqueyras, 2010 – $25
50% Grenache, 50% Syrah
Bursts with olives, savory meats, black licorice, dark concentrated fruit and a bit of salty earth. Biodynamic since 1996. 90 points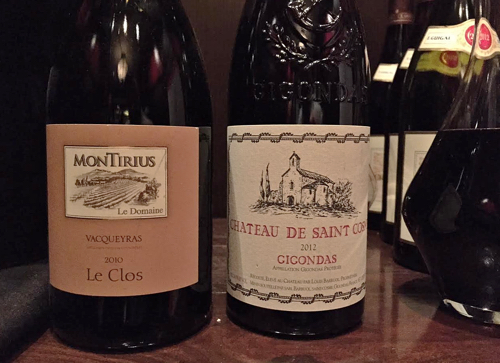 BEST BUY!
Chateau de Saint Cosme Gigondas, 2012 – $42
60% Grenache, 20% Syrah, 18% Mourvedre, 2% Cinsault
This was one of my two favorite wines of the tasting; and the best buy from a quality to price standpoint. I've got a few of the 2010s sitting in my cellar (named the #2 wine on Wine Spectator's Top 100 of 2012) which I can't wait to open. This is an absolutely delicious wine. Lots of juicy red fruit, violet, sexy tannins, layers of richness and a sweet spice. If you see this wine, don't hesitate to buy it. Like all of it that's on the shelf. 93 Points
Pierre Gonon Saint Joseph Syrah 2012 – $50
100% Syrah
There aren't many Kermit Lynch wines that I don't like, and this Kermit-imported Pierre Gonon is no exception. The wine is funky with black pepper and olives, juicy dark fruits, chewy tannins and a spicy finish. Great stuff. 91 Points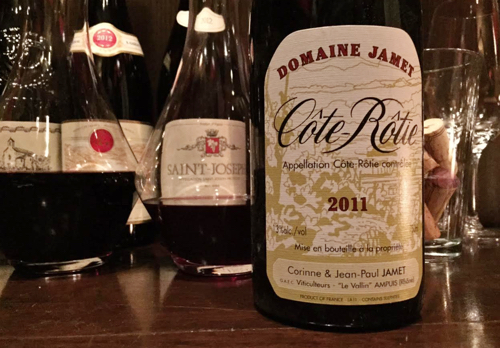 Domaine Jamet Cote-Rotie, 2011 – $110
100% Syrah
Price aside, this was my favorite wine of the evening. When you stick your nose in the glass and smell this wine, you may not be able to stop. It bursts with utter sexiness… and goes on for ever with savory notes of game and pepper, and piles of black cherry. On the palate it's silk–an absolutely brilliant texture–with layers of earthy forrest, spice and rustic dark berries. This wine was paired with a grilled New York Strip steak and when the two came together it was magical. This is a wow wine that will make you get on the table and dance the jig. 94 points
A huge thank you to Stephanie and Ross at Teuwen Communications. Also, a big thanks to Eastern Standard Kitchen and Matt Whitney, Sommelier. A great selection of wines and a delicious dinner.