The last time I was down south, I picked up a few Cigar City brews to take home. One of which, the Either Black Ale, has been waiting patiently in my cabinet for its day to shine. Today was that day.
Cigar City Brewery is a craft beer outpost in Tampa that has been a beacon of craft innovation and quality beer since 2007. You can't find them up here in the Northeast (at least, not yet) but if you find yourself down south on the west side of the sunshine state, do yourself a favor and pay a visit.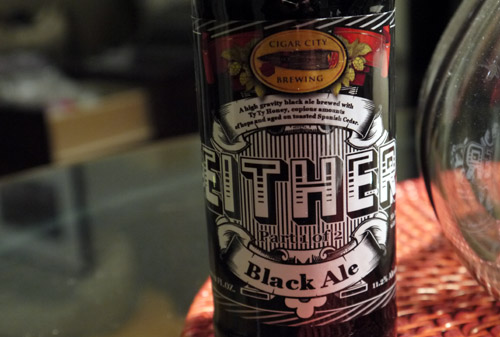 Either is a Black Ale – a limited edition collaboration brew, dreamt up in September 2010 by and between Cigar City, Grassroots Brewing (Denmark) and Hill Farmstead (Vermont). The collaboration, in fact, produced four beers in total – all black IPAs "brewed with lots of citra, mt. rainier and simcoe along with Thai Thai honey from North Florida aged on medium toast Spanish Cedar." The four beers were aptly named Either, Or, Neither and Nor. The former of which were brewed at Cigar City.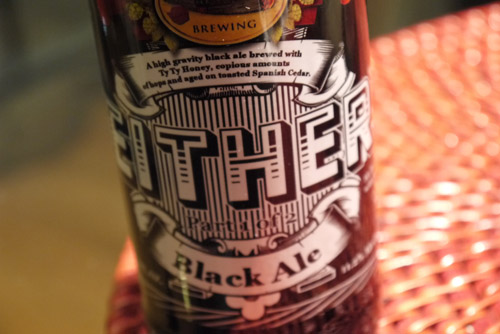 I, alas, was only able to get my hands on Either, but after drinking the bottle I'm quite happy I even managed to get that. With just the pop of the cap, the sweet honey and malty mocha aromas perfumed from the bottle. The beer is black as night with just the faintest off-white head. Either has a nose of pure honey and mocha, herbal hops and toasted cedar. The body is smooth and luscious on the front and thick and sharp in the back – packing layer upon layer of texture and flavor. The sweet honey is focused and intense, baking spices and earthiness add complexity and the black alcohol spills forth with almost barleywine notes.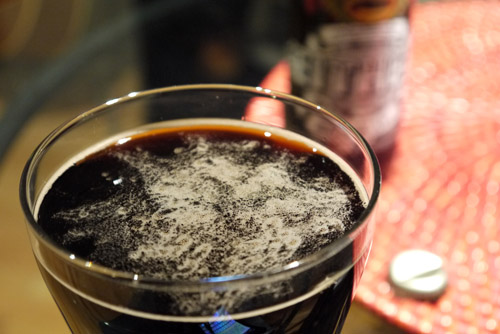 Either, my friends, is no joke. It's a strong and delicious brew made with intent and direction. I only wish I had picked up the Or, or perhaps the Neither or Nor, while I was at it.
91 Points (Drink Insider)