Scroll below for 8 great California Syrah selections
For too many years California Syrah has been overlooked and underappreciated. But with the caliber of wines coming out of California today, that trend is about to change.
From Sonoma County to Santa Barbara, California has become a hotbed for outstanding Syrah. Talented winemakers like Pax Mahle, Ehren Jordan, Morgan Twain-Peterson and Sashi Moorman have found the sweet spot and are upping the bar every vintage. In fact, Pax's 2016 Sonoma-Hillsides Syrah – my top pick of the year – was just awarded a perfect 100-point score from Antonio Galloni of Vinous.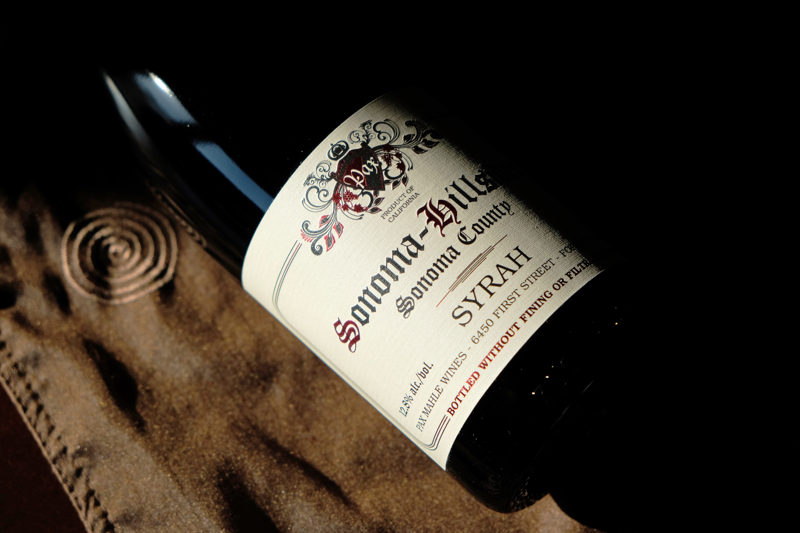 These winemakers, and others like them, are producing Syrah that is fresh, savory, peppery, terroir-driven and filled with energy – not the weighty, overripe, big alcohol fruit bombs that California Syrah was once known for. With the learnings of the past several decades, the new generation of California winemakers have gained an understanding of where Syrah thrives and how it should (and shouldn't) be made. They are seeking out cooler climates and older vines, and are using low-intervention winemaking techniques and whole cluster fermentation to bring California Syrah to the next level.
While Northern Rhone may still be the pinnacle of Syrah, there's no question that new California is giving the old world a run for its money.
The History
To understand where we are today, it helps to look back at the recent history of California Syrah. Although there are records that date Syrah plantings in the state back as far as the late 19th century, it really wasn't until the 1970s that Syrah wines started to emerge in California with specific intention.
This intention was brought about by a budding interest in Rhone wines in the US. Thanks to influential importers like Kermit Lynch, Rhone wines from great appellations like Hermitage, Côte-Rôtie and Châteauneuf-du-Pape started becoming available in the States. These wines inspired an avant garde group of California winemakers to start experimenting with Syrah and other Rhone varietals on their own soil.
What started as a bud of interest in the 1970s, grew into a small movement in the 1980s. Propelled by winemakers like Randall Grahm (Bonny Doon), Joseph Phelps and Bob Lindquist (Qupe), these early devotees and their experimentation with Rhone varietals opened up the door for the next generations to build on.
More influential winemakers like John Alban of Alban Vineyards and Steve Edmunds of Edmunds St. John joined in, and in the decade that followed, this exciting undercurrent gained momentum.
That is, until the late 90s.
In the late 1990s and early 2000s California winegrowers got a little Syrah happy. They thought Syrah was going to take off, so plantings exploded. In fact, between 1990 and 2004, California plantings of Syrah grew from 200 acres to more than 17,000. Of course, Syrah never did catch on with the mass-market consumer, and while the true Rhone believers continued to push the movement forward, their work got overwhelmed by a glut of wineries that were pumping out uninteresting, overripe and jammy Syrah wines. And for that reason, California Syrah developed a bit of a PR problem.
But I believe the tide is changing. This undercurrent of Rhone Rangers, Northern Syrah devotees and new California winemakers has grown with increasing energy in the past decade. There is now a growing stable of California wineries that are putting out truly remarkable Syrah, reshaping the broader conversation around California wine.
Think about this: Pax Sonoma-Hillsides – a California Syrah that was made with low-intervention winemaking techniques, using whole cluster fruit, little sulfur, no oak, and coming in under 13 percent – was just given a 100 point score by Antonio Galloni. If that's not a shift in the paradigm, I don't know what is.
The Wineries and Winemakers
Pax Mahle is one of the winemakers leading this pack. Pax started making wine in the early 2000s, and released some outstanding Syrah wines in partnership with the Donelan family under the first iteration of the Pax wine label. That collaboration eventually went separate ways – the Donelan family is now producing their own outstanding Syrah wines –  but Pax continued his pursuit independently, eventually re-launching the Pax Wine label and also founding the impressive Wind Gap and Agharta labels. In the process, he's become one of the leading voices in a new modern era of California Syrah and California Rhone wines.
Ehren Jordan of Failla is another winemaker driving this movement forward. After spending time in the Northern Rhone working with Syrah masters like Jean Luc Colombo, Ehren founded Failla in 1998. Like Pax, he's been a leading voice in pushing California Syrah to cooler and more extreme climates, like those found on the wild Sonoma Coast.
Bedrock Wine founder Morgan Twain–Peterson is another key figure at the forefront of California Syrah. Since starting his winery in 2007 Morgan has been focused on seeking out heritage vineyards, old vines, and field blends. Through this pursuit, he has identified some standout vineyards and has released some truly intriguing Syrah wines that are amongst my favorites in the state.
And more and more wineries are building on this movement. Wineries like Jolie Laide, Enfield, Cruse, Stolpman, Piedrasassi, Bedrock, Peay, Drew, Arnot-Roberts, Radio-Coteau, Big Basin, Sandlands, and Copain… the list keeps growing.
These small wineries are showcasing some of the best Syrah wines today, not only domestically in the US, but in the world. They are showing that California can play on the same global stage as the Rhone when it comes to Syrah. And they are paving the way for what I believe will be a tipping point in the years to come, when California Syrah is given its proper place at the table as one of America's great wines.
8 Great California Syrah Wines You Need to Drink
TOP SELECTION | Pax Sonoma-Hillsides Syrah (2016)
Out of all of the great wines listed here, Pax's Sonoma-Hillsides Syrah stands out as a true wow wine in the California Syrah evolution. It was one of my favorite wines in the past year. This wine achieves the wild and nuanced sensibilities of Northern Rhone Syrah without shying away from California deliciousness. It's bright and fresh, only 12.8% alcohol. It's 100% whole cluster, made from a blend of grapes grown in three of Northern California's best Syrah vineyards – Castelli-Knight Ranch, Griffins Lair and Walker Vine Hill. It has meat and pepper, black bramble fruit and licorice, tar, smoke and minerals. And it's absolutely bursting with vibrant energy. 95 points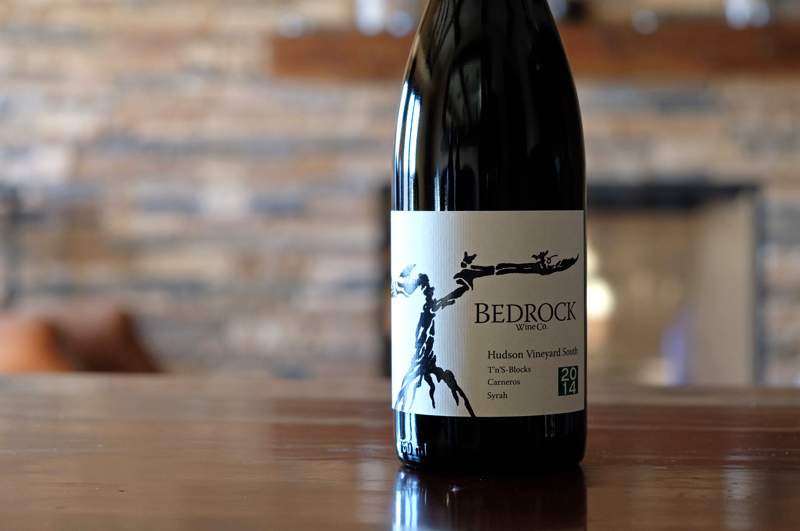 Bedrock Hudson Vineyard Syrah, T'n'S Carneros (2014)
Bedrock is one of my favorite California producers, period. As mentioned, Morgan Twain–Peterson is making incredible wines across the board from old vines, heritage sites and old school field blends. But, whenever his seasonal allocations come out, I'm darting for his single vineyard Syrah wines. And his Hudson Vineyard Syrah is one of the best. A dark and brooding wine made with a small percentage of Viognier and 50% whole clusters from the famous Hudson Vineyard in Carneros. Bacon fat and olives meets graphite and black fruit, with a satisfyingly acidic backbone. Will age beautifully for many, many years to come. 93 points
Failla Syrah, Fort Ross Seaview (2013)
A 100% whole cluster Syrah from Failla's cool and rocky estate vineyard in Sonoma Coast. It's meaty and filled with tart black fruit, black olive, pepper, and pretty floral notes. 91 points
Jolie-Laide Halcon Vineyard Syrah (2014), Yorkville Highlands
Jolie-Laide and Cruse are two of my go-to's for easy-drinking, bright wines that are packed with energy and flavor. As such, this Halcon Vineyard Syrah is one of the lighter Syrah wines on this short list. It's got that big time delicious factor. Juicy, tart bright berries, stewed fruit, savory herbs, black pepper… tightly wound with nerve. 91 points
Stolpman Hilltops Syrah, Ballard Canyon, Santa Ynez (2012)
If you haven't tasted any great Southern California Syrah wines yet, Stolpman is a great winery to start with. The Stolpman team, along with the talented Sashi Moorman (also of Piedrasassi, Evening Land, Domaine de la Côte and Sandhi), are showing that Ballard Canyon is a fierce competitor as one of the best terroirs for Syrah in the state. Meaty and powerful, yet light on its feet, this Hilltops Syrah manages to show robustness along with the nuance and pretty aspects of the grape. Lots of dark black notes of pepper, cherry, blackberry, olive, licorice, but also some pretty floral and herbal notes.100% Syrah with about 75% whole cluster. 92 points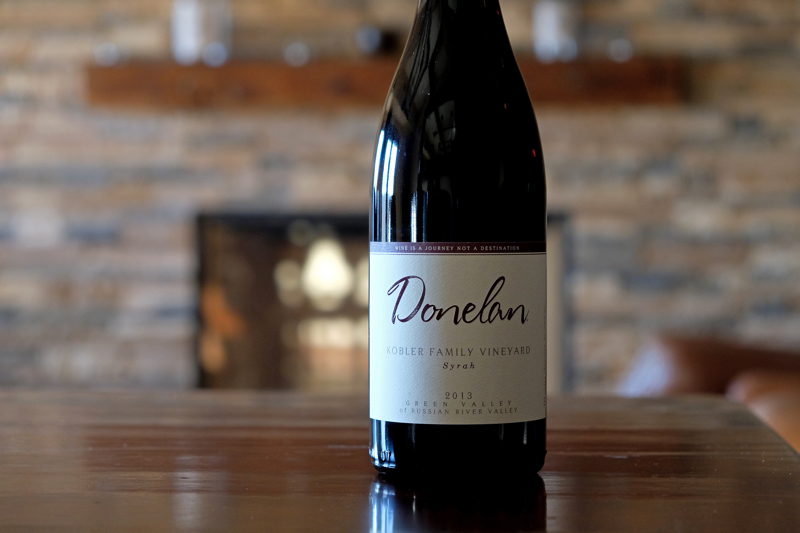 Donelan Kobler Family Vineyard Syrah (2013)
Kobler Family Vineyard Syrah is one of Donelan's many impressive single-vineyard Syrah wines, but it stood out as my favorite in their portfolio (it's also relatively affordable compared to some of their higher priced offerings). With 10% Viognier and a very savory profile, this wine has a Côte-Rôtie sensibility. Dark fruit and violets, silky, textured and elegant. 93 points
And a few more from the old guard:
Alban Patrina Syrah (2013)
Alban's Patrina is John Alban's "entry-level" Syrah, so if you like this wine you'll no doubt love his higher priced wines. Plush and layered, with dark blue and black fruit, peppery spice, smoky meat, violet, and a nice touch of acidic brightness. Alban has played a big role in paving the way for California Syrah, and this is a wine that belongs on your rack. 92 points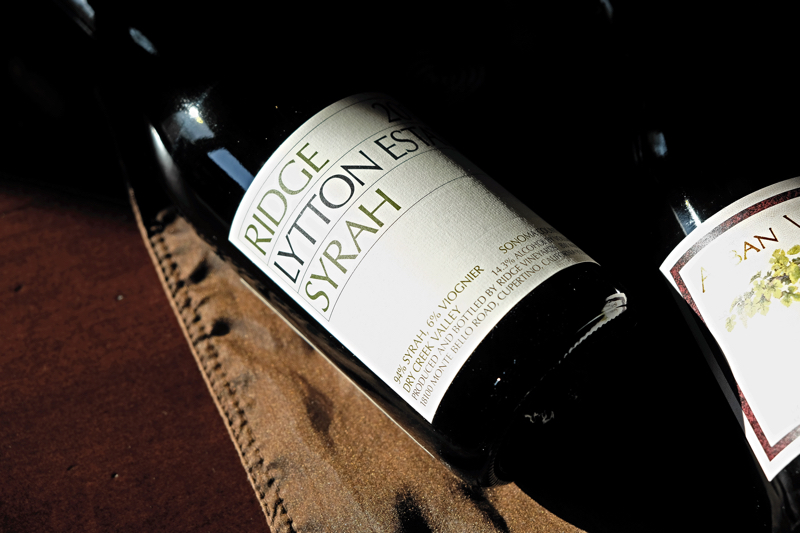 Ridge Lytton Estate Syrah (2012)
Ridge is continuously looked to as a leader in California wine. However, their Cabernets and Zinfandel-lead blends are what they are best known for. But, my recommendations is to dig deeper into their portfolio where you'll find some exceptional Rhone-varietal wines. Especially their Lytton Estate Syrah. Another Côte-Rôtie-esque Syrah made with 10% Viognier, and aged for 24 months in barrel. Rich brambly fruit meets violet, game, leather and spice. Great with grilled lamb. 92 points