He's everyone's favorite Pappy. I just wish he'd make himself a little easier to find.
If you're a bourbon fan, there's a pretty decent chance you're a fan of Pappy Van Winkle. And, if you're a Pappy fan, there's a pretty decent chance that you've spent the last month poking in and out of your favorite liquor stores asking the store personnel if they've heard anything about the next Pappy allocation. And most likely, you've been turned down over and over, laughed at and placed on waiting lists a mile long.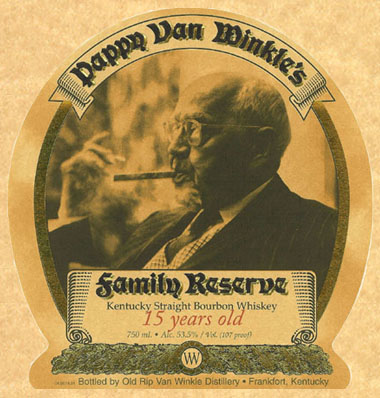 Then, there was a little light. Chuck Cowdery got the scoop that the next Pappy shipment was soon to come – perhaps just after Thanksgiving, before the end of the year. So, you waited. And, then, straight from the source on Old Rip Van Winkle's Facebook Page, the posts started coming.
October 26: Shipments could start going out as early as next week. Orders are in the system so it's just a matter of time. Thanks for everyone's patience!
Then, a week later, the shipments began.
November 3: Arkansas, Kentucky and Pennsylvania.
November 4: Missouri, South Florida, New Mexico.
November 7: Louisiana, North Dakota, Utah, Wyoming.
November 9: Colorado, Southern Illinois, Indiana, Nebraska, Nevada.
November 10: Central Florida, Minnesota, New York, Rhode Island.
C'mon Massachusetts!
Damnit! It's a long wait.
Anyway, I figured it's time to get the engines going by bringing out one of last year's releases from the Old Rip Van Winkle distillery. Let's wait on the Pappy, and instead, dig into the 107 proof 10 year release.
On the pour, the 10 year is a deep toffee/caramel color that glistens bronze in the light. On the nose, a dizzying delightful aroma of warm butterscotch, banana, burnt toffee, dried fruit, baking spices and toasted oak. On taste, the bourbon gracefully enters – smooth and silky – but quickly builds its power and momentum to create a full, rich and spicy mouth feel. There is dry sweetness and smoke, oak and vanilla, brown sugar and caramel, a bit of nuttiness and citrus. The finish is very long, warming and oaky, with more sweet spices and toasty flavors coming through.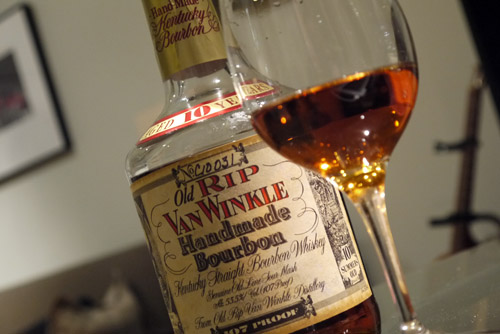 This is a fine bourbon. Perhaps not as big, bold and wonderful as its older brothers, but for 10 years and $45 bucks, it's a winner in my eyes. 90 points.
So, friends, if you're out there looking to score a bottle of Pappy Van Winkle 15, 20 or 23, may the force be with you. If you don't fine one, just remember, there are plenty of other amazing whiskeys to find.