As a teenager growing up in the Bay Area, I would take rides up Monte Bello Road in the Santa Cruz Mountains (when my car was up for the challenge) to catch views of the whole valley. It really is an unbelievable site to see. I didn't realize until many years later, though, that one of the best wineries in the area was sitting right there at my footsteps, just a few more twists up the windy, mountain road. In fact, the site where Ridge Vineyards currently sits today at the top of Monte Bello has been in one form or another farmed as wine land since the late 19th century.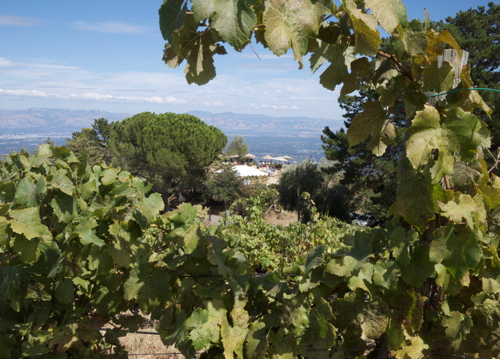 In my defense, I was only 18 when I left the Bay so I wasn't even legally allowed to drink wine yet. But, when I do get back to the area these days, I always try to swing up to Monte Bello for a bit of nostalgia, some great wine and sweeping valley views that can't be beat. On my last visit to the area this past weekend, Ridge was holding their annual fall release event. The wines being featured were mostly the new wines coming to market from the 2010 and 2011 vintages (which represent Ridge's 48th and 49th vintages as a bonded winery). It's always fun to sample the new wines from any winery, but from Ridge it's extra special not only because their wines are great, but also because Ridge's wines are a lesson in terroir.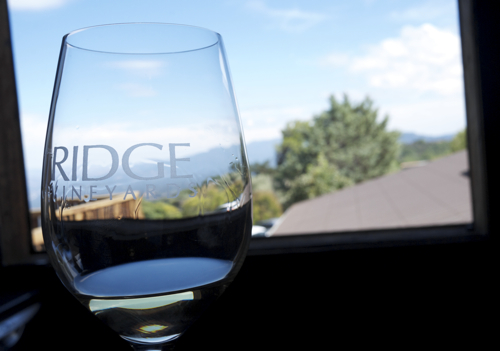 While most wineries find it challenging enough to manage one vineyard, Ridge actually has eleven vineyard sites that they produce wines from. The sites are spread out across three wine growing regions in Northern California: Sonoma County, Santa Cruz Mountains and Paso Robles, and the wines they produce are mostly single vineyard expressions. Ridge's philosophy toward winemaking puts emphasis on the natural – native yeast fermentation, no commercial enzymes… essentially, let the grapes do their thing. This approach combined with the diversity of vineyard sites that Ridge draws from, creates an impressive variety of wines, and when compared next to each other in an event setting like this, it really does tell a fascinating story.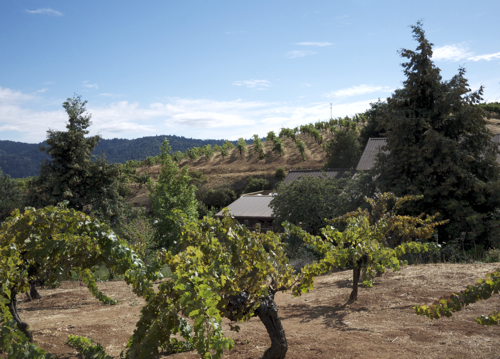 When I arrived on Sunday, I was greeted with a glass of Ridge's 2010 Monte Bello Chardonnay. I can only remember trying one or two of their whites prior, and I was blown away by just how wonderful this wine was. I think most people tend to associate Ridge with their extensive lineup of Zinfandel's and, of course, the Monte Bello Cabernet, but this particular Chardonnay from Ridge's flagship vineyard is elegant and simply delicious. Filled with stone fruit, peaches, rocks and jasmine, the wine runs deep with complexity and has a spicy punch at the end that is a knock out. I loved it!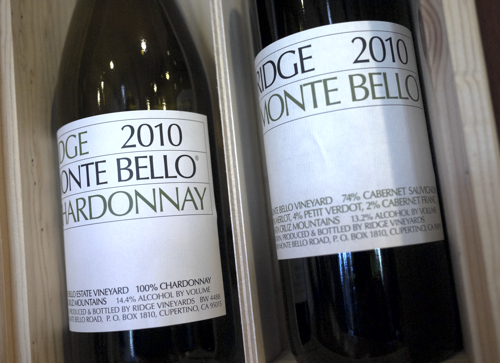 The event also showcased a number of the winery's new Zinfandel releases along with a 2006 library release from their Geyserville vineyard. Of the new releases, the 2011 Lytton Springs and the 2011 Pagani Ranch were my favorites. Lytton Springs is one of Ridge's oldest vineyard sites and is located between Dry Creek and Alexander Valley in Sonoma County. This particular vintage was slower ripening which gives this wine a nice, punchy acidity. The blend is 82% Zin, 16% Petite Sirah and 2% Carignane, and features ripe red cherry, raspberry and currant, toasted oak, a sharp spice toward the back, mild tannins and a long finish with notes of licorice.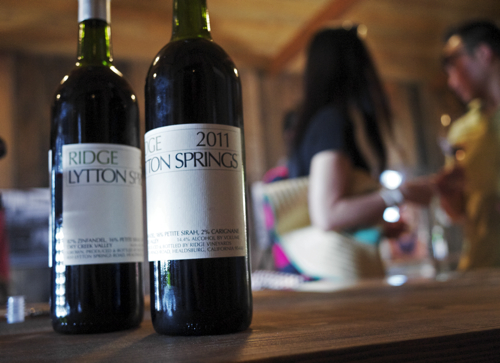 The 2011 Pagani Ranch (my top pick of the Zins) comes from 90-100 year-old vines and is a blend of 78% Zinfandel, 18% Alicante Bouschet and just a little Petite Sirah. Overall this is a richer, more concentrated wine than the Lytton. It features bright red cherry and plum, smoke, silky tannins and a rich, spicy finish. For about $32 retail, this is a great buy and definitely a wine that could shine now or be set down for a number of years to come. And, by the way, it made for a delicious pairing with Pizza Politana's wood-fired pizza's that were being sampled that day.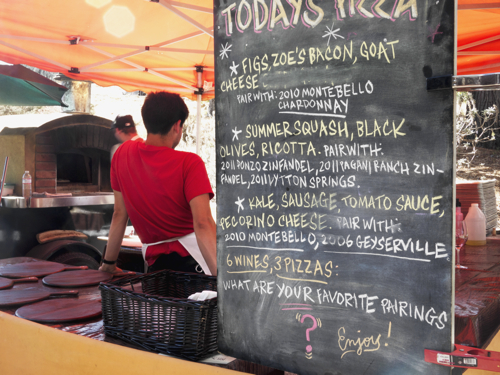 The spotlight of the event was, undoubtedly, on Ridge's flagship 2010 Monte Bello Cabernet. Year after year, this wine constantly ranks up there with the best, and this year's release is no exception. In fact, where 2009's release was more fruit forward and perhaps not as built for the long haul, 2010 is spicier, a bit tighter and will easily be able to stand the test of time. This is a black, inky wine, intense and striking. Lots of black cherry and plum, some cassis and a nice dosing of minerality. If you're looking for a fantastic wine to lay down for 15-30 years, this is one that you should put on your list.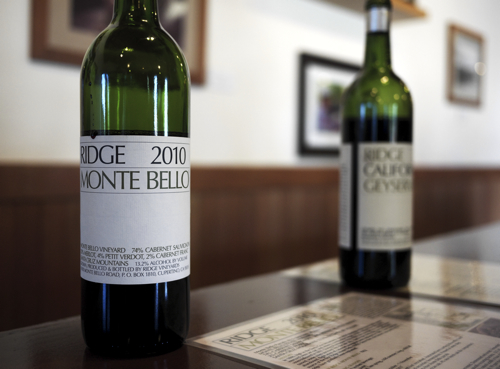 Of course, Ridge hardly needs my stamp of approval when it comes to the quality of their wines. They are a world-class winery that is well known by many-a-wine lover. But, if you haven't had the opportunity to taste through the diversity and fantastic terroir-driven style that this winery produces, it's about time that you do. I think you'll find that Ridge has even more to offer than you may have thought.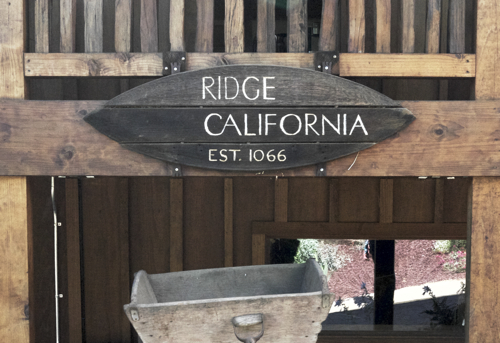 If you're in the Bay Area, don't miss out on the second weekend of Ridge's fall release celebration, taking place at the Lytton Springs vineyard.