I have a hard time turning down limited edition, annual releases from my favorite whiskey distillers. It's one of my weaknesses. Parkers Heritage. Evan Williams Vintage. Buffalo Trace Antiques… Four Roses.
Then, go and add something like, "125th Anniversary," and I'm putty in your hands.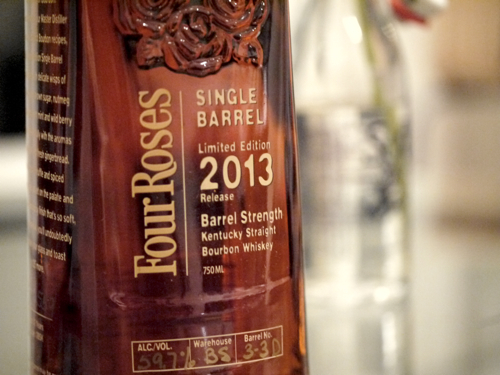 As many of you whiskey geeks know, the annual Four Roses spring release is their Limited Edition Single Barrel, and here in Massachusetts the 2013 release just hit the market. Although the Limited Edition Small Batch (fall release) took the highest honors last year, the Single Barrel is also a terrific whiskey year in and year out that should not go overlooked. And, if you are thinking about picking up a bottle, don't be a dummy and wait. Only 4,000 bottles were released, and with all the buzz Four Roses has been getting recently, these bottles probably won't last long.
The 2013 Single Barrel is actually quite a special release for Four Roses because it marks their 125th anniversary in the bourbon biz. Aged 13 years, this whiskey is about a year or two older than most of the Single Barrel bottlings and at just a hair under 120 proof its got enough firepower to knock your grandma out of her chair. The recipe for this single barrel is OBSK (one of ten unique recipes that Four Roses uses across their product line), which is a 60% corn, high-rye mash bill, full bodied and rich in spice. Last year's 2012 Limited Edition Single Barrel release came from their OESK recipe, which is 75% corn. And the year prior, OBSQ. It's these differences in barrel selection and recipe choice that makes the annual release always an exciting endeavor.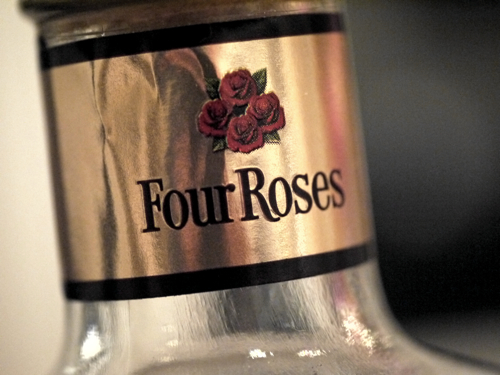 I'm not going to beat around the bush, this is a fiery and spicy beast of a bourbon. Seriously, take a baseball bat and smash your car window. That's what this whiskey feels like when it hits your mouth. Okay, it's no 140 proof Stagg, but that's more like a take your mack truck and drive it full speed through a brick wall. See, it's all relative.
But, even monster's have their soft side.
The first thing you notice about this bourbon is the big rye spice up front on the nose, dry and oaky. Comparing side by side, it's slightly less of a sweet aroma than last year's single barrel release. Less red candy cherry, more dusty earth. But with a few drops of water, the spice retreats and lets out the sweet notes of maple syrup, french toast, candy cherry and those orange popsicles with vanilla ice cream in the middle that I used to have as a kid. There's also a little nuttiness and a heaping of smokey ashtray. Lots going on.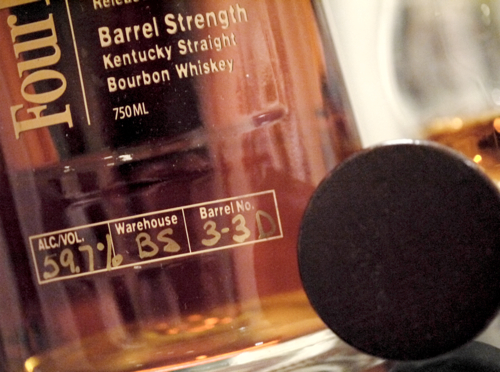 Without water, the whiskey is fiery on the palate – as to be expected at 120 proof – with a building spice that goes on and on. With a few drops to take the edge off, some of the quintessential Four Roses comes through – cinnamon, chocolate, candy red cherry and spice on the finish. Interestingly, where I found the 2012 to be a little more fruit/sweet-forward on the nose, it's an unexpected switch on the palate. Last year's was a little dryer and astringent in the mouth with the sweet notes more subdued under the spice. On the 2013 I get more chocolate and candy pushing through.
Overall, it's another winner for Four Roses. Although, where I gave last years Limited Edition Single Barrel a 91-point score, I'm coming in at 90 on this one. Still, damn delicious.