It was a sweltering late spring day in Boston and a line a mile long snaked around the World Trade Center and down toward Harpoon Brewery. I had never seen anything quite like it. The Trade Center is a massive building that takes up an entire pier on Boston's waterfront and the line couldn't even be contained around its circumference. In fact, it didn't even come close. Fears of another oversold craft beer event immediately surfaced as I wiped sweat from my brow and watched festival goers walk by with pretzel necklaces.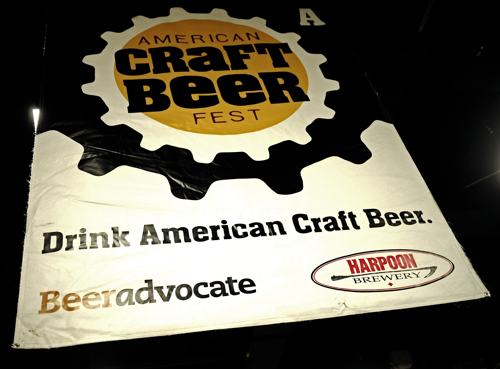 Despite having lived in Boston for years, this was my first American Craft Beer Festival. I haven't gone previously because the event just seemed to big to be good. In fact, I almost didn't go again this year either, but after seeing the stellar lineup of brewers I changed my mind last minute. I couldn't resist. ACBF 2013 was packed with a seriously impressive and diverse roster of nearly 150 breweries – from the local, to the start-ups to some of the top national brewers that aren't available in New England yet (like Duck-Rabbit and DC Brau). There were more than enough great brewers in attendance to satisfy even the geekiest of craft beer geeks. Cult breweries like Lawson's Finest Liquids and Maine Beer Co. were just icing on the cake.
I'm not always the first to give praise to Beer Advocate productions, but I've got to give credit where credit is due. This was a really well done event. Even the flow and management of the overall event was pro. Which is key, because most of us go to these events to taste good beer. And when the event producers do their job, the beer can stand front and center. And sure, there were long lines at points, but they moved fast and it's too be expected when you have this many craft beer fans in one place trying to edge out the crowds for a freshly tapped keg of Double Sunshine.
On the subject of good beer, there were quite a few beers and breweries that stood out. Of course, in one four-hour session it was literally impossible to sample everything on my list. So, my take is a result of my personal selections throughout the day, and I'm sure I missed out on more than a few really great ones. But, all that aside, here's my short list of five beers and breweries that rose to the top.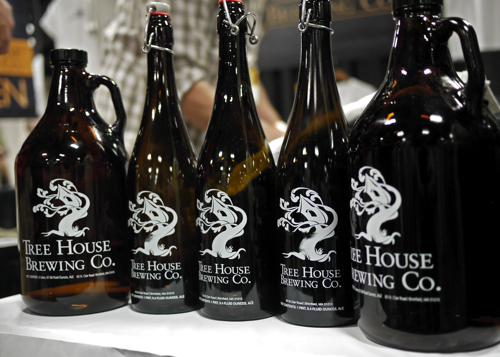 Top Pick: Tree House Brewing Co. Julius
Ever since I read about Tree House Brewing in the Weekly Dig a couple months ago, I've been intrigued. I haven't made it out to their brewery in Western Mass yet, and they don't distribute, so when I saw they were going to be at ACBF they were one of the top stops on my list. I sampled a few of their beers at the fest, and they were all excellent, but the one that hit it over the fence for me was their IPA, Julius. This beer was my number one pick for the entire day. Absolutely stellar. A huge pine and citrus hop nose, earthy and deceivingly complex with a big finish and a little caramel and spiced malt on the back. Wow. Seriously, if you live in the area, get out to Brimfield, MA stat and pick up a growler of this stuff. You can thank me later.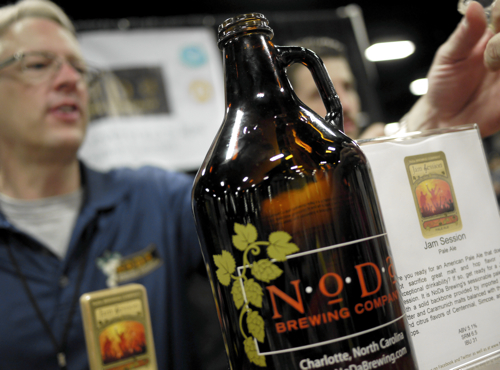 NoDa Brewing Co.
Another major standout was NoDa Brewing from Charlotte, North Carolina. This is a relatively new brewery (launched in October, 2011) that wasn't on my radar until literally about two weeks ago when a co-worker gave me one of their beers for my birthday. She had brought it back from a recent trip down south, as NoDa isn't distributed in the Northeast. At the fest, I asked NoDa owner, Todd Ford, why he came to ACBF since they don't distribute in the area and he answered simply, "We love this festival. It's fun. And when the Alstrom Brothers ask you to come, you come." And I'm really glad they did because their Hop Drop n' Roll IPA was easily one of the top beers of the day. As was their porter, CoCo Loco – impeccably balanced, rich and roasty.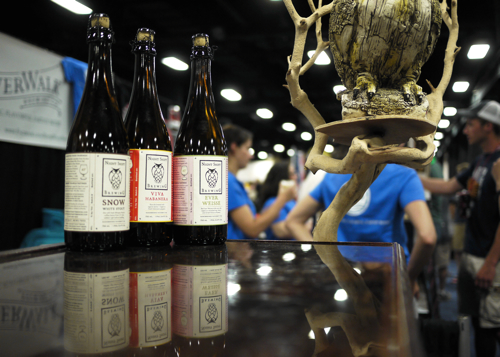 Night Shift Brewing Ever Weiss
Night Shift has quickly become one of my favorite breweries in the Boston area. These guys never cease to amaze me with their creative approach and constant drive to push the limits. I've kept up with most of their beer offerings over the last year or so, but I hadn't got a chance to taste their Ever Weiss yet so jumped at the opportunity. A few hours into the festival, it was finally that pucker-up sour beer I was looking for. Sours are getting easier to find at American craft beer festivals, but they're still not all that common. Especially beers this sour and this well brewed. As a side note, I noticed that Night Shift just did a collaboration with NoDa in the week leading up to ACBF. Keep your eye out for that one!
Lawson's Finest Liquids
Lawson's was arguably the most buzzed about brewery of the fest, and the constantly long line in front of their booth was hardly a deterrent for those who wanted to get a taste of their juice. Lawson's is another brewery that doesn't distribute in the Boston area, but they recently did a collaboration project with Jack's Abby – a smoked maple lager that was released a few weeks back. Both Lawson's and Jack's Abby had the maple lager available for sampling at the festival but the big hype was on Lawson's Double Sunshine Imperial IPA.
I wound up tasting a few of Lawson's brews – including Double Sunshine, the Smoked Maple collab beer and their IPA, Chinooker'd. If there's one key takeaway from Lawson's it's this – these are not subtle beers. Double Sunshine is a massive hop attack, fresh as can be, bursting with an awesome intensity. Chinooker'd was a little more subtle (which is not saying much), very woody… still very hop forward, but just a little more nuanced. Both, mighty delicious beers if you like that big, flavor bursting, in your face style.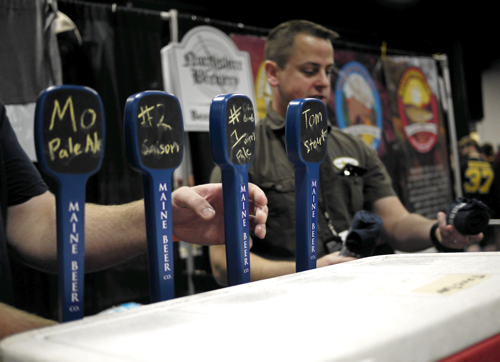 Maine Beer Co. Pilot Batch Pale Ale
Maine Beer Co is another New England favorite of mine and I was really excited to see them at this event. They had run out of Lunch by the time I wandered over to their booth, and I would be lying if I said I wasn't just a bit disappointed I didn't get to try some fresh off the tap. But, the consolation prize actually wound up being even more satisfying – a pilot batch pale ale made from Citra and Simcoe hops that was eye-rolling-back-into-head delicious. A fruity and piney nose, light, mellow and perfectly balanced like you'd expect from MBCo. Quite opposite from the massive attack flavors of Lawson's. Subtle, complex, and flavorful… This is why I love these guys. Damn, I hope they put this one into production.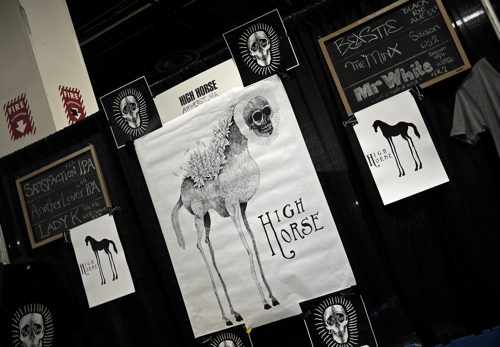 There were plenty of other beers and breweries to write home about, many of which I had never had the pleasure of sampling prior. Duck-Rabbit's barrel-aged baltic porter was excellent, High Horse Brewing and Oxbow were both awesome finds, and of course there were a few local breweries that I wasn't able to visit because I just ran out of time. Notch had a Kvasnicove Lager that I heard great things about, Mystic always has great stuff. And Trillium. Damn! I'm kicking myself that I didn't get over to Trillium, but they're about a ten minute walk from my office, so I think I'll manage to try their beer soon enough.
So, what's the moral of the story? You can't tell a book by its cover. This was a damn good craft beer event and there's no doubt I'll be back next year. Here are a few more pictures from the day.
Did you go to ACBF this year? What'd you think?