If you've been keeping an eye on the American whiskey market, you've surely noticed some major trends taking shape. These trends are molding the new batch of offerings coming out across the board – from the major distillers to the small start-ups. You'll see these trends emblazoned on labels all throughout the whiskey aisle: small batch, barrel proof, alternative finish, alternative grains, craft… The question is, when you look past the words on the bottle, what does it really mean for the spirit inside? Are these new releases worth the bucks some brands are asking?
In this post, I'm taking a look at three recently released American whiskeys that have jumped on the trend bandwagon: Elijah Craig Barrel Proof, Russell's Reserve Single Barrel and Jim Beam Signature Craft Brandy. Let's see how they stack up.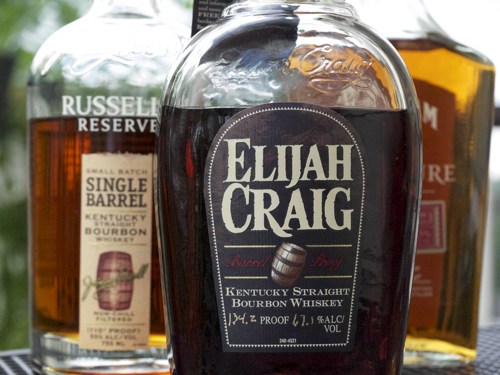 Elijah Craig Barrel Proof
Elijah Craig released the EC Barrel Proof just within the past month or two and it flew off the shelves just as quickly as it dropped in. After discontinuing their 18 year offering about a year ago and bringing in the 20 year at $120+, there was a major gap created between the entry level 12-year at $25 and the upper echelon. The Barrel Proof (also a 12-year whiskey) hit the shelves at a very reasonable $40 and, at least temporarily, satisfied the consumers who were looking for a little more out of their EC, but weren't ready to shell out the serious cash for the 20 year.
My Take
This is a sharp shooter and a hell of a bottle. Fact is, "barrel proof" is one of those things that actually gives you more bang for the buck, so I'm all for more brands releasing barrel proof offerings. ECBP is an extremely dark bourbon, and bottled at 67.1% ABV it's got a bit of a menacing presence to it. There's no mistaking this whiskey for the standard 12-year release. The nose is big, rich and spicy with a heaping of cocoa. Without water, the whiskey blazes up the palate with hot smoke and burnt chocolate. A few drops of water go a long way to open this bourbon up, bringing with it an earthy, dry aroma of caramel, wood, vanilla, apricot and cinnamon. The whiskey is chewy and dessert-like, with a ton of rich, wood spice, caramel and maple. Interestingly, when I first tasted this bourbon, I got an overwhelmingly dirty chocolate profile and I wasn't sure what to make of it. But the whiskey opened up over the past few weeks and I'm really enjoying it. If you can still find a bottle at it's suggested retail price of $40, this is a steal and a half. 90 points.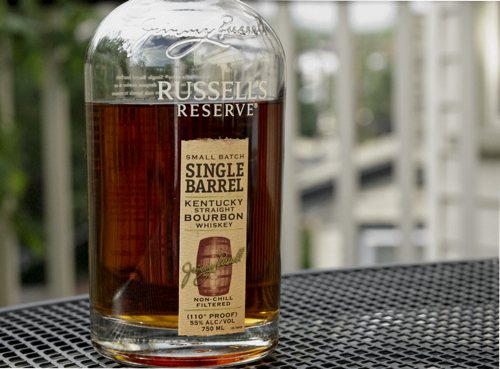 Russell's Reserve Small Batch Single Barrel
Wild Turkey launched Russell's Reserve in 2001 as their premium line extension. The first release was the 10 year bourbon, followed shortly thereafter by the 6 year rye. The third offering was launched earlier this year, and was aptly titled Small Batch Single Barrel. Despite the fact that Single Barrel implies Small Batch, one could only assume that Wild Turkey's marketing department was trying to jump on both trending phrases. For the whiskey geeks, they also bottled the release at 110 proof and included the words "non-chill filtered" on the front label. So, they pretty much hit all of the marketing check boxes. A+ for Wild Turkey's marketing department!
My Take
On first go, the nose is a little closed off – dusty and spicy with just subtle hints of fruit. But, a drop of water opens it right up and the whiskey starts to tell an interesting story – nutty, oaky, cinnamon, caramel, maraschino cherry and honey. Compared to the 67% ECBP, the Russell's Reserve at 55% is much more palatable, but it's still got enough heat to let you work with it to your own liking. Just a small drop of water is all that's needed in my opinion. On the palate, I get creamy caramel and vanilla, lots of wood, and a huge wallop of cinnamon and clove spice. A bit tannic with a long, hot finish. For $50 retail, I'm not completely overwhelmed. I think it's a solid effort, but there are better buys out there for my money. In this case, maybe all the marketing speak gets in the way of the right price. 87 points.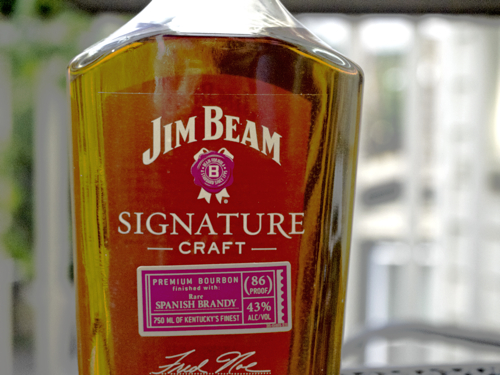 Jim Beam Signature Craft Rare Spanish Brandy
Jim Beam's Signature Craft series is the newest of this trendy threesome, and will be hitting the market later this summer. As the demand for premium bourbon grows, it's not a surprise to see producers like Jim Beam jumping into the small batch, premium mix. Their Signature Craft line features two offerings at the onset: the 12 year and the Rare Spanish Brandy finish. The former of which is slated to be an ongoing offering if it sells and the latter is in theory a one-off. Interestingly, the Spanish Brandy version is actually not finished in Spanish Brandy barrels like one might assume, but instead, it is finished by adding a small amount of Spanish Brandy. So, while Jim Beam is riding on the trend of alternative finishes here, they've actually taken a slight detour.
On the flip side, I'm not sure I can buy into the whole "craft" thing. I mean, small batch, sure. But craft, not so much. The word "craft" has taken on a specific meaning in whiskey that is very much not Jim Beam. So, I'm going to have to call shenanigans on the wording, but it's the stuff in the bottle that matters, right?
My Take
This is a completely different whiskey than the previous two, and frankly, I can't think of anything else to compare it to. Right away on the nose you feel like you're in a totally different segment of spirit. Soft vanilla and dessert cake notes blend with sweet vinous, brandy and raisiny notes, and the whiskey lies somewhere underneath. This is a much softer style, as to be expected from Jim Beam. Even the nose is soft and delicate. The palate is full of wood (perhaps a little green), dryer than the nose leads on, raisin, dates, cinnamon and yes, brandy. Admittedly, this whiskey has grown on me. At first I was a little put off by some of the atypical whiskey flavors that I was getting, but there's something rather intriguing about it. It's soft, mellow and has a little of that sweet, loving charm that you might find in a Sherried Scotch. And it has a nice spicy finish which helps to balance out the softness of the front/mid-palate. For $40 retail, it's an interesting release from one of America's largest, non-craft distillers. I've got to give Jim Beam credit for the creative twist – on both the finish and their definition of "Craft." 86 points.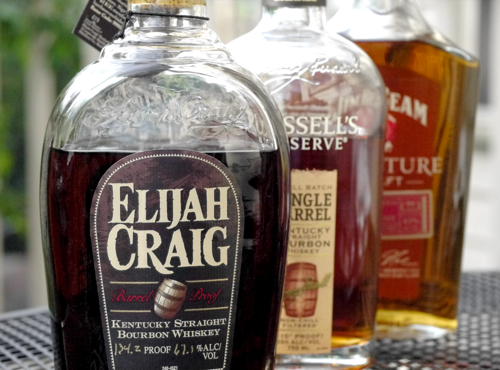 As a final note, one thing that I found interesting about all three of these releases is that none of them display an age statement (at least on the front of the bottle). That's a rather intriguing twist in the trend story. So, perhaps, what we're seeing is an industry that's moving away from age statements and bringing in some other words that they feel resonate with consumers more. Or perhaps it's just a coincidence that these three whiskey companies decided to experiment with some alternative phrasing.
What's your take?
Thanks to Joe at Edelman for the Jim Beam sample.