What can be said about George T. Stagg that hasn't already been said a hundred times over? It's a legendary bourbon, through and through. Released only once per year as part of Buffalo Trace's Antique Collection, Stagg is one of the most sought after American whiskies. Year after year, this whiskey continues to prove why it is continually ranked as one of the absolute best.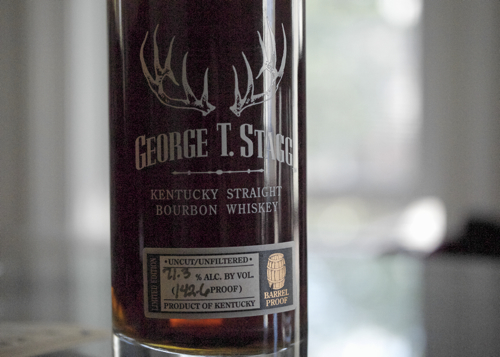 Which is why it's hardly a surprise that Buffalo Trace, being the smart business-minded organization that it is, has decided to extend the Stagg lineage and offer up a younger version of papa Stagg. Simply called Stagg Jr., the soon-to-be-released whiskey proudly displays on its bottle the antlers that are so synonymous with the Stagg brand, and clearly takes its stand as part of the heritage that has brought about one of the finest bourbon's on the current market.
As a marketing-minded person I say, "Bravo, Buffalo Trace. Bravo."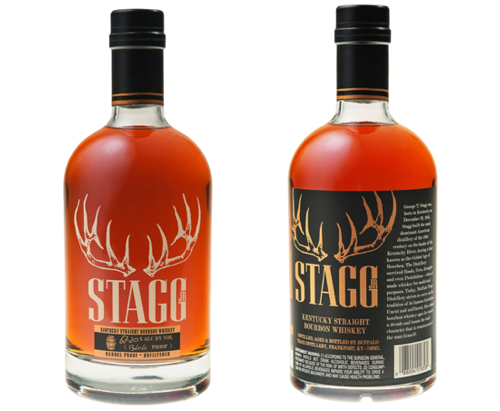 So, if you're caught up in the hype of another Stagg release, as many-a-whiskey-geek surely is, I'd recommend that you act quick. Despite Buffalo Trace claiming that this whiskey will become a standard release, this first edition of Stagg Jr. is going to fly off the shelves as quickly as Elijah Craig Barrel Proof. In other words, it's going to be gone before you realize it came. And in a way, this speaks to the state of the Bourbon industry in America right now. Lots and lots of hype around the most sought after brands.
Of course, whether this hype is actually justified is another story.
In a way, Stagg Jr. is at a bit of a disadvantage in the expectations department, because while it is receiving the benefits of having a rock star dad, it is also being judged along the lines of the Stagg lineage. And that is quite a lineage to have to measure up to. Frankly, it's really hard to review Stagg Jr. purely on its own merits alone. It will, inevitably, be compared to George T. Stagg by anyone and everyone who has had intimately wonderful experiences with this whiskey. And as I will get into in my tasting notes below, it will, inevitably, fall short in more ways than one. So, hype? Yes. Worth the hype… perhaps.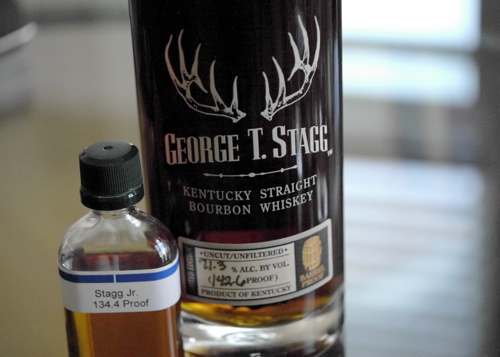 On to the tasting
George T. Stagg is a monster of a whiskey. Bottled in the 140 proof range, and aged for a minimum of 15 years, Stagg comes straight out of the barrel, uncut and unfiltered. Picture those antlers on the bottle running at you full speed and slamming into your mouth with all of their might. That is the power of this juice. And it is oh so awesome.
So, yea, you want to water this guy down a little bit.
Like its elder, Stagg Jr. is bottled at barrel proof – though just a hair less fierce at about 134 proof. It's very similar in appearance, just a little lighter which makes sense considering that it has seen about half as much barrel time.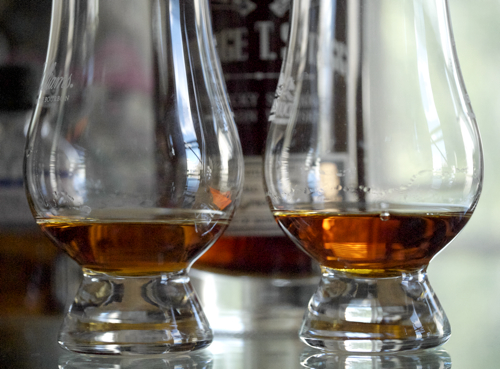 On the nose, where George T. is coated with rich, deep wood spice, toffee and chocolate, Stagg Jr. is a bit brighter and not quite as full of that elegant dessert-like richness. George T. has some subtle dark berry, tobacco and orange notes, where the Stagg Jr is a bit more candy cherry and faint citrus. Overall the aroma of George. T is more cohesive and much more intoxicating. All of the aromas meld in a beautiful harmony, where the Stagg Jr. doesn't seem to have fully grasped all of the nuances and wisdom of its elder, but it's getting there.
On the palate, George T. Stagg is bold as bold gets, full of rich fudge, dry baking spices, vanilla, toffee, evergreen, a little black cherry and a finish that brings up decadent, dense chocolate cake and bread pudding. Stagg Jr. is brighter, not quite as rich and full, though you can clearly see the resemblance between the two. The dense dessert chocolate and wood spice hasn't quite developed and I get more of a brown sugar, clove and candy cherry vibe. Overall, it's a little more green, though both whiskeys have a fantastic dry, smokey finish that goes on forever.
Perhaps it's slightly unfair of me to judge Stagg Jr. in the shadow of its elder, but as I mentioned earlier, it's nearly impossible to not do so. There's definitely a similarity in flavor and presence, but no matter how badly you want for Stagg Jr. to reach for the stars like its dad did, it just doesn't quite get there.
What can I say, George T. Stagg is one of my favorite whiskies. The 2011 Stagg bottled at 71.3% that I reviewed here is a monolith of a whiskey, knocking an easy 94 points. Stagg Jr. is a good bourbon, and about $30 less than its elder. My take, 88+ points. That said, if I had to chose one or the other, I'd personally rather spend $80 on an epic whiskey than $50 on a good whiskey. But that's just my opinion. I hope yours is different so I have better chances of finding Stagg Sr. this fall.