Laphroaig's Distillery Master, John Campbell, has had a pretty full plate as of late. In addition to the release of a number of new whiskies in the past few months — including this year's Cairdeas and a new entry-level spirit called Select – he's spent the last few weeks traveling around the US, being the face of the brand at events like WhiskyLive. I caught up with John in Boston, to talk about some of these new releases and the distillery's upcoming 200th anniversary that's just around the corner.
Every year, typically the last weekend in September, Laphroaig does their annual showcase/online state of the union called Laphroaig Live. This year, broadcasting from Sweden, Campbell commenced the excitement for the big bicentennial by announcing that they'd be doing a host of special events and releases for the anniversary year.
One of the most exciting announcements to me was that Laphroaig would be bringing back their beloved 15-year expression (which was one of the very first bottles of Scotch I ever bought). He also mentioned new 21- and 32-year expressions, but in typical John Campbell fashion didn't give away too many of the details about the spirits themselves or the events that would surround their releases. What he did allude to, however, when I spoke with him was that they are most definitely "planning a lot for the 200th."
"It's not finalized yet, but it will be quickly," Campbell mentioned in his thick Scottish accent. "We should have a timeline out shortly, and the liquids that will coincide with these events. We are actually talking about doing some stuff in the US next fall. We're planning lots of different things around the world; to celebrate for the brand and for the people who love the brand."
Although John's comments leave a bit to the imagination, I will tell you this: if you're a Laphroaig fan, you should be getting amped up (and ready to pull out your wallet). "There will be three or four unique releases next year," said Campbell. "As well as the 25-year cask, the 10-year cask strength and a special Cairdeas which is basically trying to recreate the spirit we did 100 years ago; floor-malted malt right in the warehouse by the sea. The peat freaks will love it." In total, John says there will be "seven new liquids" next year coming out of the distillery.
As for the 15-year, which was replaced a number of years ago by the 18-year, John says that "it's being done exactly the same way that the last 15-year was." Which is great news, because there were a lot of people, including myself, who were very sad to see it go. "One of the great things about the Friends of Laphroaig [program]," said Campbell, "is that they are consumers and they give us opinions and we listen to them, because if you're not listening to consumers it's not good. We absolutely listen, and there was an opportunity to bring this back for the bicentennial so that's what we'll do."
If you can't wait for next year there are a few "relatively" new Laphroaig releases that you can find in the market now. The most interesting of which is the 2014 Cairdeas, the third of the series to make it stateside. Laphroaig started the Cairdeas line in 2008 for the Friends of Laphroaig as a Feis Ile release. It's really the distillery's primary platform for experimentation and innovation.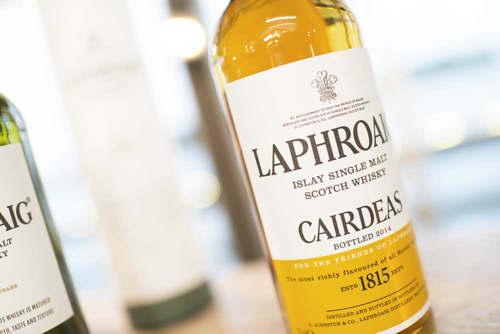 Cairdeas 2014: Amontillado
"A lot of people think that's what I do all day, just sit in the warehouse and sample the casks,"said Campbell about the experimental nature of creating Cairdeas. "It's not really, but it's definitely an exciting part of the job when you get to try out different things. It's really about trying to push the boundaries and see what it can do and what it can't do—show the people that love the brand so much a different side to Laphroaig."
In regards to the 2014 Cairdeas release, John noted that "Amontillado is an experiment from a few years ago." They usually do two or three experiments at a time, and they try to work at least three years ahead when doing Cairdeas'. "The new one is an eight-year-old first fill Bourbon-matured Laphroaig," said Campbell. "Just the normal recipe, married together in double-matured Amontillado-seasoned hogsheads. The barrels were prepared for us by a Spanish cooperage and they sit for two years with Amontillado Sherry before they get sent to Islay. Then the whisky spends one year in these casks; so basically its a nine-year-old product."
Traveling to Islay for the 200th
If you're considering heading to Scotland next year to help Laphroaig celebrate their 200th anniversary, just keep in mind that Islay is a very small island with a lot of demand and a very small amount of accommodations. It also doesn't help that Laphroaig and Ardbeg are both celebrating their bicentennial. Travel and accommodations for the big annual festival, Feis Isle, is already booked solid, so you may want to keep an ear out for upcoming announcements from Laphroaig. As John Campbell briefly noted, they're currently working on finalizing another month in 2015 when they'll have a separate Friends of Laphroaig event to celebrate the anniversary.
But, regardless of whether you decide to make the trip to Islay or not, one thing is certain: Laphroaig's 200th anniversary is going to be a great year for the distillery and their fans. And to that I say, slàinte!
Laphroaig Cairdeas 2014, Amontillado Cask — My take:
On the nose, Laphroaig's signature campfire peat smoke lights up the senses, but is quickly balanced by a symphony of aromas from almond and sea salt to rich Sherry, cinnamon, black licorice and lemon peel. The mouth feel up front is assertive and astringent, with Sherry notes and ashy peat blending together in impressive harmony. This whisky is full of flavor, at all ends of the spectrum. Sweeter tones of honey and citrus dance underneath a sharp spice and bacon wood essence, dosed with a hint of salt and pepper, and all tied together under a cloak of dusty smoke.
As I've always said, Sherry and peat make for a sexy duo, and this whisky is yet another glowing example of that truth. I've really enjoyed all of the Cairdeas releases for the last few years, and this year's Amontillado cask release is right up there with the best of them. If you're a fan of Laphroaig and like what Sherry does to your peat, you're going to really enjoy this whisky. It's a totally unique and entirely enjoyable spirit. 89 Points