There's been a flurry of new IPAs coming into the market lately, many of them new year-round additions to brewery lineups. Of course, this isn't much of a surprise seeing that we're coming into prime beer drinking season and India Pale Ales have remained the most favored craft beer style in America.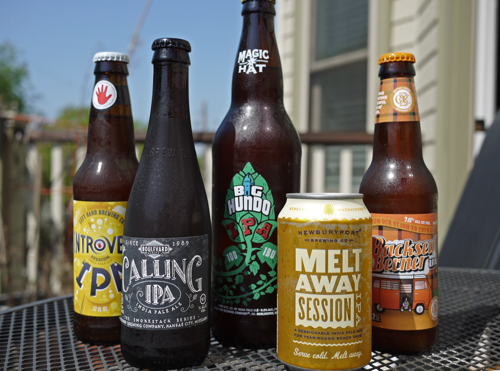 So with Memorial Day here and summer just around the corner, we're taking a look at some of the new IPA's—including session IPAs and imperial IPAs—that have hit retail shelves within the last few months. In this post, we take a look at Otter Creek's Backseat Berner, Newburyport Melt Away, Boulevard The Calling, Left Hand Introvert, Magic Hat Big Hundo, Stone Ruination 2.0, and Harpoon Take 5. Let's dig in!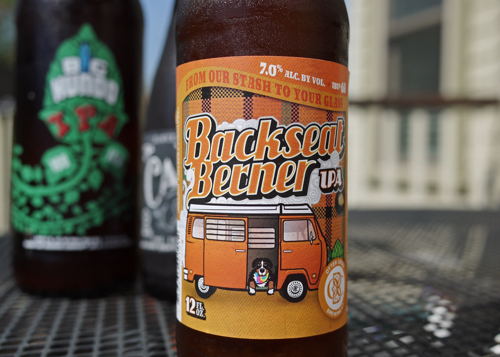 BEST BUY!
Otter Creek Backseat Berner, Vermont
7% ABV, 68 IBUs, 6-pack bottles

Backseat Berner is, surprisingly, Otter Creek's first year-round IPA to be released in the brewery's 25-year history. In 2010, Otter Creek did some major improvements to their facility, adding an additional 30,000 barrels of production capacity. Since then they've been on a tear, bringing tons of new products to the market and a new look for the brand. The brews have been outstanding, from the phenomenal Double Dose DIPA which they did with Lawson's Finest to Overgrown Pale Ale which I thought was one of the best pale ale's released last year. 
Backseat Berner was released in March, just in time for the spring season. It's got big, chunky hops and tropical juicy aromas on the nose. On the palate, this beer is dense, bitter, dank and full of earthy hop notes. It's juicy but dry, with grapefruit, orange, and pine. This is a really good beer, and if it truly is available all year long, this will be a great addition to retail shelves for hoppy IPA lovers. 90 points (and our Best Buy!)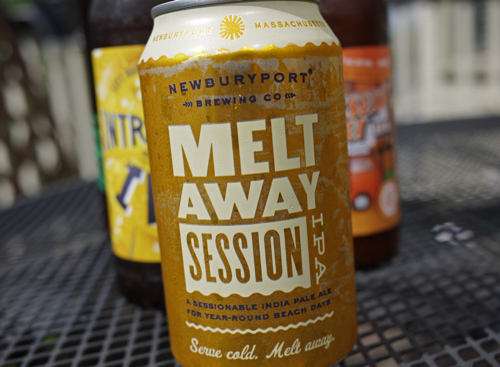 Newburyport Melt Away Session IPA, Massachusetts
4.6% ABV, 6-pack cans
Hops: Citra and Amarillo
Newburyport Brewing's fourth year-round offering, Melt Away IPA, joins the ranks of the growing session IPA category just in time for the late spring/summer season. There are a few things I really like about this beer. First, it comes in cans. I think more session IPAs should come in cans. Cans just fit the style really well. Also, Newburyport has managed to pack a big hop flavor into this beer, which is not a commonality in the session beer category.
On the nose, Melt Away has got a really fresh hop aroma that reminds me that I am, in fact, drinking an IPA (not just a low-alcohol beer that has the name IPA on it). And it does about as good as any session IPA at coming close to full flavor. It does this while still keeping a lightness and sessionablity factor to it. So, props to NBPT for creating this balance. On the palate, lots of bitter citrus, tangerine, some dirty earth and plenty of Citra and Amarillo hops to get your hop taste buds aroused. Recommended for you hop heads that want to be able to keep pounding 'em back all day. 88 Points
Harpoon Take 5 Session IPA, Massachusetts
4.3% ABV, 43 IBUs, 6-Pack bottles
Hops: Simcoe and Amarillo
This new, year-round session IPA from Harpoon takes the easy drinking style from its older sibling, Harpoon IPA, to the next level. Take 5 packs a lot of character into a light beer, which is a big plus in this category; but I do find the hop flavor to be a bit subdued, save some citrusy hop notes in the mid palate. That said, if you're not going for a hit-you-over-the-head-IPA hop profile in your session IPA, I think you may find this beer quite enjoyable. It's a refreshing, nicely balanced ale that doesn't feel too light or watery. And, at under 4.5% ABV it truly fits into the session beer category (if you're going by the Lew Bryson school of thought)—which is not the case for the other "session" beers on this list. Solid beer for a summer day when easy-drinking is what it's all about. Plus, it's available in cans (and bottles), which is a win. 87 Points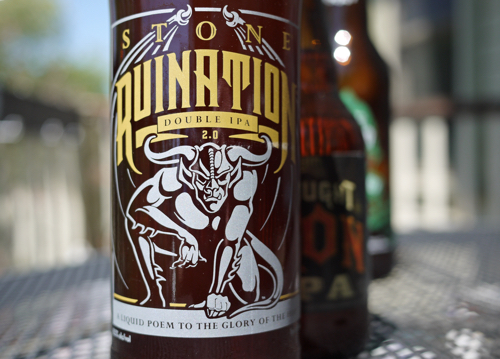 Stone Ruination 2.0 Double IPA, California
8.5% ABV, 100+ IBUs, 12oz and 22oz bottles
Hops: Magnum, Nugget, Centennial, Simcoe, Citra and Azacca
Stone claims that the original Ruination was the first full-time brewed and bottled double IPA ever. I'm not here to debate or back up this claim, but what I am here to do is talk about the all new Ruination 2.0. As craft beer techniques and palates have changed over the years, so too have brewers and beers. Ruination 2.0 takes these evolutionary steps into consideration by using techniques like dry hopping and hop bursting to "squeeze every last drop of piney, citrusy, tropical essence from the hops."
On the nose, big fruity hops burst out of the glass with lots of tropical notes, melon, citrus and pine. On the palate, more of that tropical juiciness and lots of fresh-squeezed orange citrus. This beer is, quite honestly, massive. The bitterness level is way up there, which creates a sense of dryness and almost a tannic quality. Of course, there's plenty of dank piney hops, which is to be expected from this true west coast DIPA. Not a bashful beer, but if you are drawn to that unabashed quality in your imperial IPA's, I'm sure you'll quite enjoy this 2.0 offering from Stone. 90 points
Left Hand Introvert Session IPA, Colorado
4.8% ABV, 6-Pack bottles
Hops: CTZ, Centennial, Cascade, Chinook, Sterling, Comet 
Left Hand is describing their new session IPA as an "opinionated, hopped-up, complex IPA." For me, though, I'm not sure I'm feeling that. This is a really mild-mannered beer that doesn't seem to have a whole lot of flavor going on. And, as the highest ABV of all the session IPA's in this list, I'd really hope it could pack more of a flavor punch. 
Introvert has a very mild aroma, with subtle tropical notes and a little woodsy pine. The mildness continues onto the palate where you'll find some light hops, more of those subdued tropical notes, honey and a slightly woodsy essence. There's no question that one could certainly session this beer all day long, but I'm finding it to be fairly nondescript. This wouldn't be a bad session beer if it wasn't being sold as an IPA, but as such, if you're looking for a flavorful low-alcohol IPA, I think you'll find this a beer a bit underwhelming. 83 points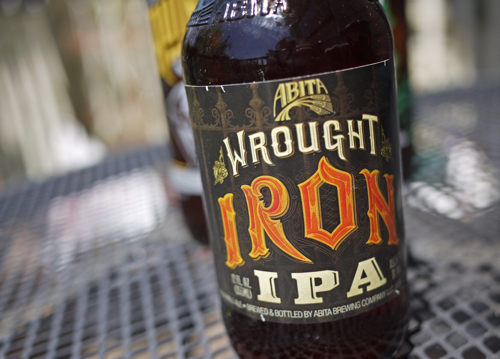 Abita Wrought Iron IPA, Louisiana
6.9% ABV, 80 IBUs, 12oz 6-pack bottles
Hops: Apollo, Equinox, and Mosaic
Although Abita released this IPA late last fall, it didn't arrive in Massachusetts until fairly recently, so we decided to throw it into the mix. Abita hasn't been historically known for putting forth hop-forward beers so Wrought Iron is a slight change of course for the brewery (and one that's very much in line with the trends of beer drinkers palates). Of course, it seems that Abita has reached the point in its almost 30-year history in which it's ready for change. The brewery recently completed a 3-year $30 million expansion, and even more recently announced that they had become the first brewery partner of Enjoy Beer.
On the nose, you'll find very bready malt aromas with some floral and orange notes. It's a refreshing IPA, with some pithy bitterness, tropical juiciness and orange citrus. The Apollo, Equinox and Mosaic hops are present but not in your face. This is an IPA for all seasons and one of the better beers I've had from Abita. A solid choice for a spring/summer IPA, and a beer that I think will pair really well with food. 87 points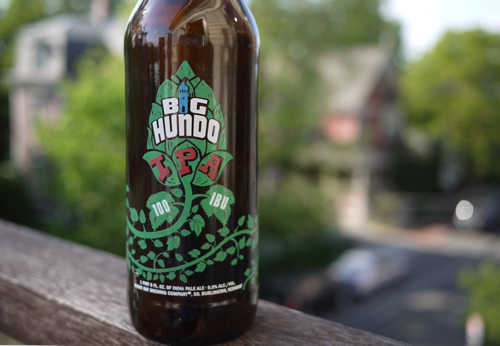 Magic Hat Big Hundo, Vermont
9% ABV, 100 IBUs, 16oz cans/22oz bottles
Hops: Apollo and Simcoe
Magic Hat has been brewing Big Hundo for a little while, but this spring is the first time it sees distribution outside of Vermont. The name of this beer refers to the fact that this is, in deed, a big 100 IBU imperial IPA with a big fat hoppy presence (at 100 IBUs it ties for the most bitter beer on this list). 
Dry hopped with Simcoe, the beer gives off a heady hop aroma. On the palate, the beer is rich, bitter and dry with a full flavored hop-forward profile. Orange citrus, pine and resin notes jump out, along with a little apricot and malt sweetness. At 9% the big mouthfeel and malty richness scream DIPA, but there's not a lot of booziness. Overall Hundo is a really nice drinking imperial IPA that will please big, hop-forward IPA lovers. 88 Points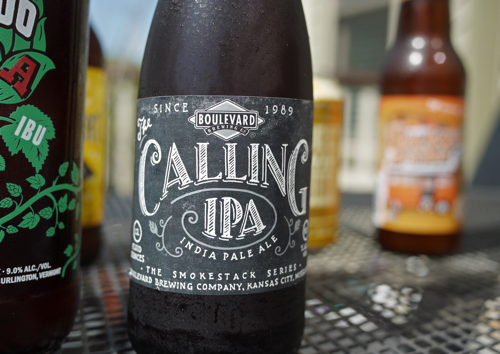 Boulevard The Calling Imperial IPA, Missouri
8.5% ABV, 75 IBUs, 6-pack bottles
Hops: A blend of 8 varieties, primarily featuring Mosaic, Equinox, Galaxy and Amarillo
Boulevard has a busy 2015 planned with the promise of at least a dozen new beers (several of which have already come to market). One of the first releases this year was The Calling, a new year-round Smokestack Series IPA. The Calling doesn't say Imperial on the label, but it is (and says so on the website as well). At 8.5%, this is a big beer, but in 12oz bottles it's a doable drink for most occasions.
The Calling jumps off the nose with bright juicy hops. I get lots of orange citrus on the front and bitter pithy citrus on the back, blended with some dirt and earth. At 8.5%, it is slightly on the boozy side but overall it comes across as a well-balanced, easy drinking DIPA. Overall, this beer stands out amongst these new brews with its uniquely citrusy flavor profile. I'm not exactly sure why it had to be 8.5% or if the high ABV is justified. But, hey, it's a good beer so we'll leave it at that. 89 Points
That's it for this installment of new IPAs. Here's to some good, hoppy summertime drinking.