Boston Harbor Distillery opened its doors earlier this summer. I'd been loosely involved since the early planning stages, so to see the distillery now in full operation with products rolling out around the Boston area is really exciting. This past weekend I stopped by to link up with a friend and co-founder of BHD, Corey Bunnewith, and to check out how things were coming along. In addition to being a co-founder of the distillery, Corey is also a seasoned mixologist and spirits expert, and I was hoping he could show me a few summer cocktails made with their latest batch of spirits.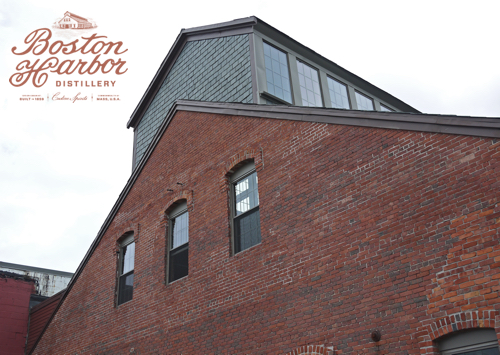 I also decided to bring with me a new cocktail shaker, Shaker 33. It's on Kickstarter now, and I wanted to see what it could do in the hands of a pro. I can pour a hell of a glass of whiskey neat, but admittedly, when it comes to cocktails I'm still in the learning phase.
The folks at Shaker 33 sent me a hand-assembled beta model of the shaker a few weeks ago and I've been looking forward to seeing it in action in a real bar setting. According to the team behind the product, it's "the best cocktail shaker since prohibition." I'm not sure if the world needed a new cocktail shaker or not, but it does have some intriguing features: like a locking lid that eliminates leaks, an integrated and removable strainer that has large holes on one side and smaller holes for better straining on the other, and a lightweight and shatterproof design.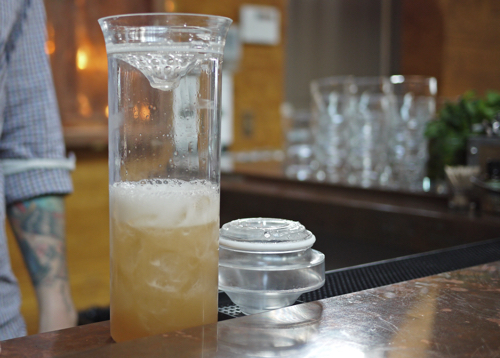 So, I brought the shaker into Boston Harbor Distillery and gave it to Corey to whip me up a few summery cocktails. He chose a few recipes on their current bar menu, which feature their Lawley's Classic New England Spirit and Lawley's Dark New England Spirit. Both of these products are distilled from molasses and maple syrup, so they're essentially rum with a bit of a New England twist. Anyway, if you try any of these cocktails at home and don't happen to have a bottle of Lawley's on hand, keep in mind that these are essentially rum cocktails. Also, the Dockside recipe below features BHD's coffee liqueur as well.
Without further ado, here are three deliciously refreshing summer cocktails courtesy of Boston Harbor Distillery:
Lawley's Classic Sparkling
2oz Lawley's Classic
.5oz Elderflower liqueur
.25oz grapefruit shrub
2 dashes Bittercube Bolivar Bitters
Top with brut rosé
Lawley's Classic Sour
2oz Lawley's Classic
1 egg white
.5oz pineapple basil shrub
1t Matcha powder
2 dashes orange bitters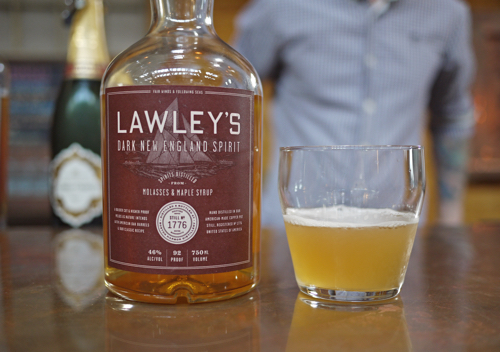 Lawley's Dockside Old-Fashioned
2.5oz Lawley's Dark New England Spirit
.5oz Seymour's Coffee Liqueur
.5 fresh ginger syrup
2 dashes orange bitters
2 dashes Bittercube Cherry Bark & Vanilla Bitters
Hope you try out these cocktails. And, if you're in the Boston area and haven't been to Boston Harbor Distillery yet, I highly recommend a visit. The distillery is on the seaport in Dorchester in a converted 19th century shipyard building that is truly awe-inspiring. From the minute you step foot in this place, you are transported into a pre-Civil War world with 40-foot ceilings and sparkling stills. It's the perfect place to relax and sip on one of these cocktails or taste through their lineup of spirits.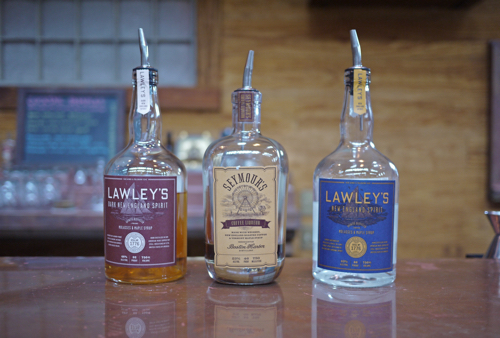 And if you're in the market for a new shaker, check out Shaker 33's Kickstarter page. It's a pretty cool product, especially for home enthusiasts. There are only a few days left (as of the publishing of this post) and they just need a little bit more to reach their goal. You can also learn more on their website about the benefits of the shaker and why it may be a good addition to your home bar.