Admittedly, I am a space geek.
I have a NASA t-shirt. I have all of Star Trek The Next Generation on Blu-Ray. I listen to Neil deGrasse Tyson's podcast and Brian Cox's podcast religiously. I almost finished a book about E=MC2 once. Yes, proud space geek indeed. And so when I first stumbled upon The Infinite Monkey Theorem Winery when I was in Denver earlier this year I was immediately intrigued. 
Wait, what is this Infinite Monkey Theorem you speak of, and what does it have to do with space?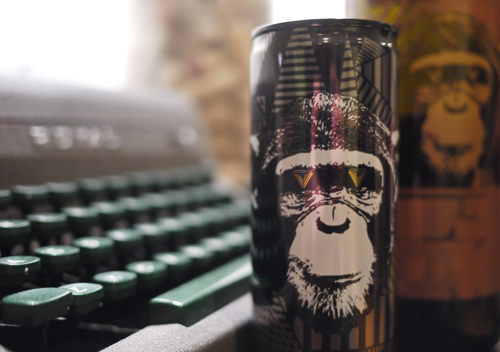 Well, I'm getting there. The infinite monkey theorem (theorem, not winery) states that a monkey hitting keys at random on a keyboard for an infinite amount of time will almost surely type a given text, such as the complete works of Shakespeare. 
It's a geeky math/philosophy term essentially stating that given an infinite length of time, anything and everything will occur. It's also used by astrophysicists and astronomers (space people) for describing similar concepts of infinity within the universe.
I mentioned Brian Cox's podcast earlier. Brian is a professor of particle physics in the School of Physics and Astronomy at the University of Manchester. His podcast is titled The Infinite Monkey Cage. That's where I was first introduced to said topic. 
Anyway, we're here to talk about wine, not space. I mean, we're here to talk about wine in a can… from space. Or, are we?
Right, onto the wine…
The Infinite Monkey Theorem (TIMT) is an urban winery in Denver, Colorado. It was founded in 2008 by Ben Parsons, a self-proclaimed mad scientist who believes that making wine is a little bit like the infinite monkey theorem. "It's all about creating order out of a chaotic system," states the company's website. "And, we would argue, there is nothing more chaotic than growing grapes at 4,500 ft in Colorado and making wine in a warehouse in an alley in a city. There are an infinite number of variables at play, decisions to be made and possible outcomes. It is the job of our team to create order out of this inherently chaotic system as we craft our ridiculously good wine."
TIMT sources their grapes predominantly from the Western slope of Colorado. I didn't realize there was a "Western slope" of Colorado (and I lived there for five years), but apparently there is, and apparently grapes are grown on it. Potentially, pretty good ones.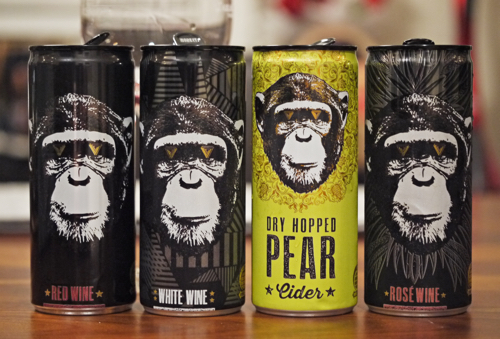 The winery produces a number of wines, including Chardonnay, Riesling, Sauvignon Blanc, Malbec, Syrah, Petit Sirah and the wine I'm reviewing today, Cabernet Franc. In addition to these varietal-specific wines that are sold in typical 750ml bottles, the winery also sells wine in a can (4-packs), which were rolled out to Whole Foods stores around the country in September of this year.
I got my hands on the whole lineup of TIMT canned selections and I've got to say: these are some bad ass mother flippin' canned wines. The branding and packaging is on point, the black tops and slim line can designs are slick and sexy, and compared to other canned wines on the market, the juice inside is solid. 
The White Wine is bright, fruit-forward and aromatic with lots of juicy peach and a hint of carbonation. The Rosé is tart, with fresh red berries and a hint of dry sweetness. The Red is rich with cherries, blackberries and a bit of cinnamon (and a definitive spritz). And the Dry Hopped Pear Cider (yes, they have a pear cider as well) is crisp, with juicy pear and some mild hop notes.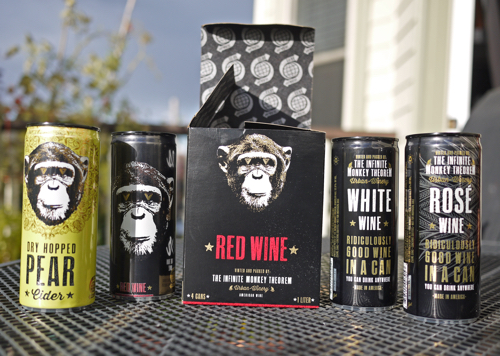 The canned wines are sold in four-packs for $15 (the cider comes in 6-packs). These wines are fun. The cans are fun. They do have a bit of a spritz to them (which you may, or may not enjoy). But they're tasty and go down very easy; and for the right context, the right outdoor drinking experience, the right party, the right rocket trip to the cosmos… these wines in a can could prove to be a nice little drinking accompaniment. 
The Infinite Monkey Theorem does, however, make more serious wines; and those are the bottled wines I mentioned previously. I got a chance to try the 2014 Cabernet Franc and thought it was a nice expression of the varietal. It had the juicy red berries, plum and spice that you may find in a ripe California Cab Franc, but also had plenty of dirt, tannic bite and tart brightness to make it interesting. In short, it's an easy drinking wine, well made, and a testament to the quality that can be achieved with grapes grown in Colorado. 88 points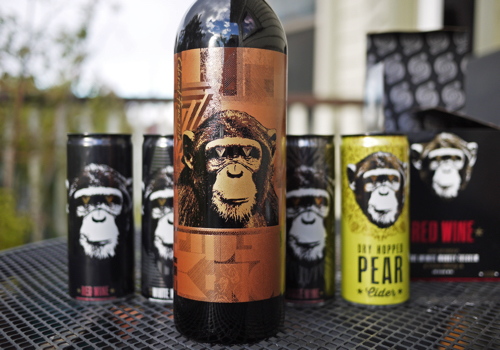 Yes, in an infinite universe monkeys may wind up typing the works of Shakespeare, but for now, I'd set your sites on this mighty cool monkey winery from Colorado. It'll be a much quicker and more rewarding quest.
And now, you can also get monkeyed up in Texas. The winery announced the launch of their new satellite operation in Austin, TX earlier this month. Find out more here!