I have a love/hate relationship with California Chardonnay. For every handful of oaky, overly ripe and generally unexciting Chardonnays I try, there's one beautiful wine that keeps me coming back for more.
And, thankfully, the odds are starting to improve.
More and more California producers are breaking the mold of stereotypical California Chardonnay and are creating fresh, complex, and terroir-driven wines that rival Burgundy and that demand attention.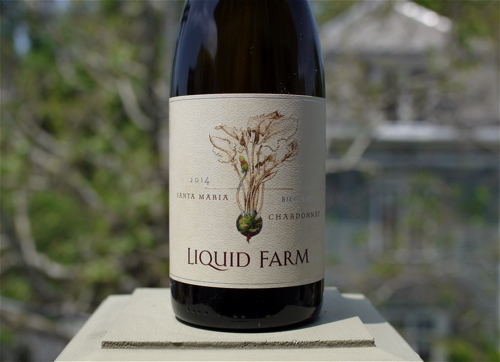 One of the producers that has risen to the top of my hot list is Liquid Farm.
This young winery out of the Santa Ynez Valley is making exceptional Chardonnays full of energy, minerality, acid and old world soul.
A few weeks ago I had the opportunity to taste through Liquid Farm's latest releases with founder Jeff Nelson in Boston. I've included some of my tasting notes and thoughts below.
Behind the Liquid
Jeff and his wife Nikki founded Liquid Farm in 2009 with four barrels.
Jeff had been in the wine business for 15 years, working with Champagne and Burgundy houses, but this was his first venture on his own as a producer.
The husband and wife duo started the winery to, as they put it, "support local viticulture and honor our love for old world wines that have naturally high acidity and which are not masked by modern day manipulations."
Jeff and Nikki don't own vineyards (yet) but they have developed relationships with over a dozen prime vineyard sites in and around the Sta. Rita Hills AVA.
Like many of my favorite California wineries these days, all of Liquid Farm's wines are produced using native fermentation. They hand pick early and take a minimalist approach to winemaking. Much of their approach has been adopted from the Burgundian wineries they love.
But, while Liquid Farm strives to create wines as complex and serious as those from Burgundy, they aren't trying to re-create Burgundy. They strive to show what California, and in particular this area of California, is capable of. And they do so while achieving many of the great aspects that we've come to love from Burgundian wines.
Here are some of my top picks from this impressive Liquid Farm lineup.
WHITE HILL CHARDONNAY 2014
White Hill is one of Liquid Farm's two original wines, and it's perhaps their leanest and most acid-driven expression in the portfolio. The grapes for White Hill are grown on white porous soils (similar to the chalk of Champagne) in the cool hilly climates of the Sta. Rita Hills, one of the coldest AVAs in North America. The wine is mostly matured in neutral barrels with a small amount of stainless steel, and is decadently mineral-driven with stone fruit and ginger.
A racy, edgy and pure wine that will be an absolute delight for acid hounds and lovers of wines from Chablis. 91 Points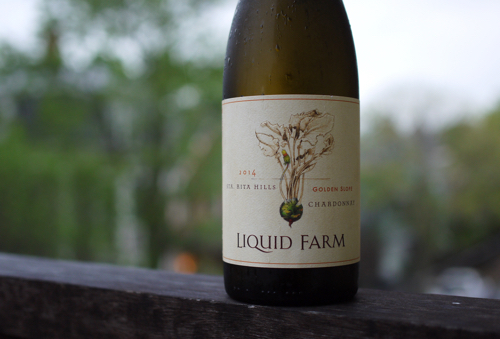 BEST BUY:
GOLDEN SLOPE CHARDONNAY 2013
The name Golden Slope came from Nikki and Jeff's love of the Cote d'Or, which translates roughly to golden coast or slope of gold. This wine, as compared to their White Hill Chardonnay, has deeper, warmer tones. It gets aged about five months longer than White Hill (about 16mo total) and sees a small percentage of new oak. Look for smokey minerals, lemon, and stone fruit.
I absolutely love this wine and with the year or two of aging on it, it's tasting incredible.
93 points
GOLDEN SLOPE CHARDONNAY 2014
It's hard to say whether this wine will wind up like the 2013 in a year's time, but while it is missing a little bit of the richness that I love on the 2013, this wine is absolutely pulsing with electricity and energy. It's amazing how Liquid Farm can capture this sense of tension in their wines. You can feel it all the way through, and you will be mesmerized. 92 points
BIEN BIEN CHARDONNAY 2014
Bien Bien is one of Liquid Farm's only single vineyard expressions, and it comes from the legendary Bien Nacido vineyard in Santa Maria (just to the Northeast of Sta. Rita Hills). Coming from 40+ year-old vines and aged with a little more new oak than the other expressions, this wine shows a little heavier and less acidic. But this is Liquid Farm, after all, and there is still plenty of acid to go around, along with a beautiful balance of floral and fruity notes and dirty earth.
For those that like that little touch of new oak and old vine concentration, this may be your go to. 92 points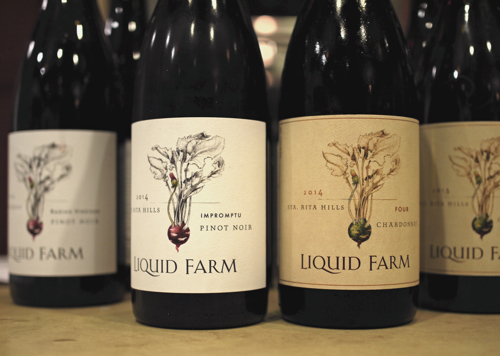 FOUR 2013
Four was added in 2011. The winery at that point had built up a stash of barrels in their warehouse and had come to find that there were a few barrels (well, four to be exact) that stood out. A creative name? Perhaps not. But a delicious wine indeed.
Four builds on the richness of Golden Slope and takes the elegance and complexity up a notch. The nose will suck you in and never let you go. This is a very small production wine that shows some of the best of what this winery is all about. I can't wait to taste this wine several years down the line. 93 points
Want to get some of these great wines? Liquid Farm is distributed at select wine shops and restaurants around the country, or nationally through their online store/wine club.
A big thanks to Jeff Nelson at Liquid Farm and to Tobin at Gordon's.