Thirst is Boston's premier cocktail festival; or you might say, our mini version of Tales of the Cocktail.
Last week was the fourth year the event took place, and the first year I attended. Although Thirst Boston is still a relatively small and industry-focused event, the organizers pack a lot of great learning and parties into the three days. I thought it was a great experience across the board.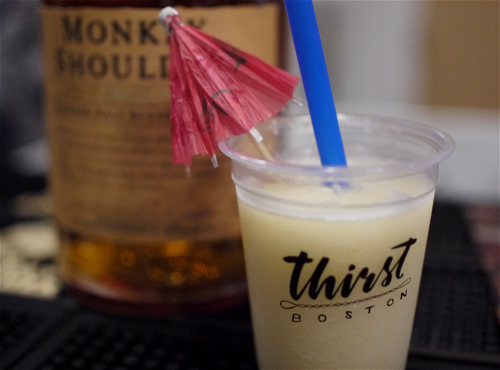 The Saturday night party, State Lines, was particularly cool. It featured some of the top bartenders and bars from around New England, showcasing cocktails in collaboration with a number of spirits brands. Here are few pics from that event…
The parties and people you meet at Thirst are a great part of the experience, but at the heart of Thirst is the seminars and panels led by industry experts, well-known bartenders and drink influencers. I was only able to go to two seminars–one about Mezcal and the other about Amaro–but I thought they were both great.
Here are 10 interesting learnings I came away…
On Mezcal
The landscape of Mezcal in Mexico is very geography-specific. While many of us are familiar with Tequila (produced predominantly in Jalisco) and Mezcal (mostly produced in Oaxaca), there are two other geography-specific agave spirits native to Mexico: Sotol and Bacanora. Sotol is produced in the Northern Mexican States of Chihuahua, Coahuila, and Durango. Bacanora is produced only in the State of Sonora. While all of these spirits are a form of Mezcal and are produced with agave, the style differences are major.
The use of agave is essential to Oaxacan life, and dates back thousands of years. The Oaxacan people use the agave plant to make everything from food to paper to, of course, booze. Agave is a central part of the cultural tradition, and to fully understand Mezcal it is essential to understand the tradition of the people and culture of this region.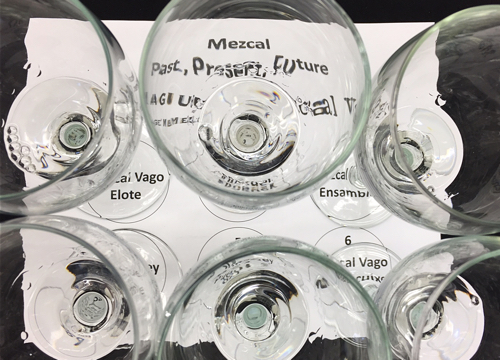 Many producers of Mezcal have unique family recipes that will incorporate other ingredients outside of agave. These types of Mezcals aren't commonly seen in the US, but Mezcal Vago, a brand on the US market, has one product called Elote that infuses roasted corn during the second and third distillations. This distilled corn essence brings a really nice note to the Mezcal. Mezcal Vago Elote was easily one of my favorite products I tried during Thirst.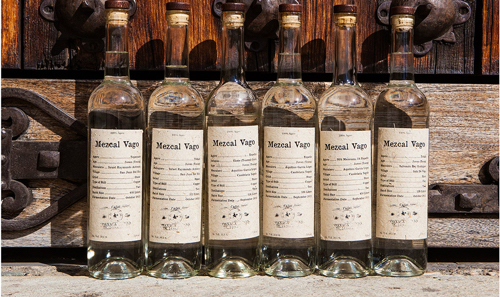 Finally, I learned that bats are the primary pollinators of agave plants. News to me.
On Amaro
To be classified as an amaro, a product must contain between 16-40 percent alcohol.
Many amaro products that are common behind the bar today, were first created for medicinal purposes by, in many cases, pharmacists and monks. The idea was pretty simple: if you could extract the essential oils (through a distillation process) from medicinal plants and sweeten it into a tasty elixir you could make something that could be pleasantly consumed on a regular basis. The alcohol was a necessary component of the extraction process and it also helped to preserve the elixirs.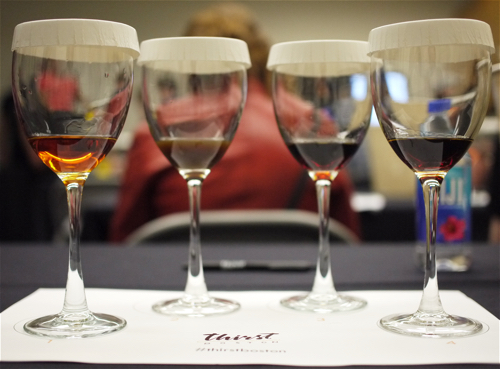 Fernet pushes the extremes of the amaro category—clocking in at around 39 percent ABV, containing almost no sugar, and carrying with it an incredibly strong bitter profile. Interestingly, Fernet was first marketed to doctors as a cure for Cholera. Now, it's the shot of choice for working bartenders.
Despite its connection to Italy, many amari are from other nearby countries like Switzerland (Gran Classico) and Germany (Jaegermeister).
Rhubarb root, found in Cappelletti Amaro Sfumato Rabarbaro provides a very unique smoke note. It's a delicious amaro. Give it a try to make a smoky negroni. 
Jägermeister falls into the amaro category. Despite its recognition as a shot-from-a-machine company, Jäger is a bitter herbal infusion that dates back to the 1930s. When you taste it (at room temp) in the context of other amari, you will be pretty amazed at just how well it fits into the mix.
See, all these great learnings from only two semnars! 
If you're into cocktails, spirits, and the people in and around the industry, I highly recommend you check out Thirst next year. It's a great event.