The late 2012 December Outturn from The Scotch Malt Whisky Society of America was recently released with a number of tasty new bottlings, just in time for the holidays. If you're a Glenmorangie fan, a lover of unique Bowmore's or a seeker of hard-to-find distillery bottlings, I think you'll find some nice gems waiting in here for you.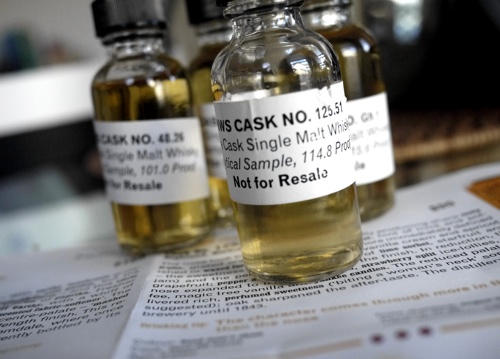 My top value of the bunch is Cask No. 125.51, a 9-year Glenmorangie distilled in 2001. At $90 it's the most affordable of the four releases in this December outturn and it's a really nice whisky. Light and fruity, this dram has a great bouquet of vanilla, caramel and fresh-squeezed orange. At nearly 115 proof, this whisky holds its heat incredibly well. It's rich and spicy at bottle proof, but a little water opens the spirit and brings out mellow vanilla and toffee, citrus, sweet Turkish fig and well-integrated oak. This is a delicious whisky and one of my favorite SMWS releases as of late. A great value. 90 points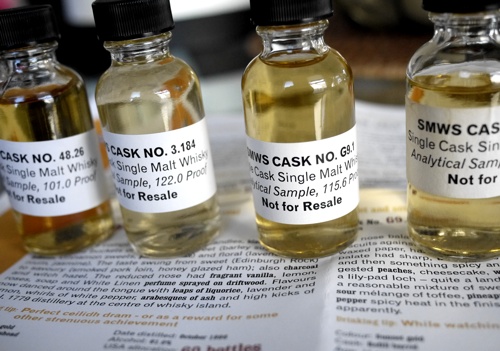 There were a number of other really nice releases in this holiday outturn as well. Cask No. 48.26 is a 23-year whisky from the Balmenach distillery in Speyside. Haven't tried Balmenach? Neither had I, but after trying this whisky I'll definitely be keeping an eye out. The whisky is spicy and floral with a mellow smoke and a hint of lemon citrus. At 50.5% the whisky is quite drinkable at bottle strength. It's deep, rich, complex and incredibly well balanced. A nice smokey citrus tang pops on the mouth, along with peppery sweet notes and a grounded earthy quality. This whisky comes at a premium, but it's a unique opportunity to get your hands on a well-aged bottle from an uncommon Speyside distillery. 90 points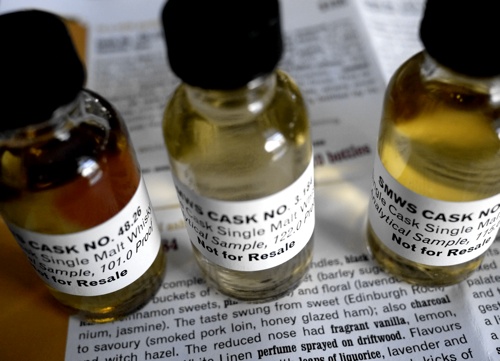 The last one I'll mention in this outturn is Cask No. 3.184 – a 15 year Bowmore. I can't say I'm a huge fan of Bowmore's core 15 year whisky, but I'm a sucker for some of their more unique releases (like Tempest). This particular cask strength Bowmore is definitely in the unique Bowmore category. On the nose, you immediately get this huge buttery, briny smoke. It's got some sweet fruity notes and some dry spicy cinnamon. And not uncommon for Bowmore, I get a little tropical ocean as well. Like the two before, this whisky holds its 61% heat really well. It's a very rich and woody whisky, balanced peat, ashy and peppery. There are also some mellow sweet fruit notes and a long fiery finish that take this whisky home. 89 points
Overall, I was really impressed with this set of releases from SMWSA. It was a great way to end the year, and a good reminder of why this unique independent bottler is worth keeping tabs on in the year to come.
Again, thanks to Gabby and the rest of the crew at SMWSA for including me in their monthly tastings.