Two of the first collaboration projects between chefs and whisk(e)y companies recently hit shelves in the US. Jefferson's Bourbon released their Chef Collaboration with Top Chef alum Ed Lee over the summer and The Dalmore is just going live with their Daniel Boulud expression this fall. Two chefs, I may add, that are at completely different ends of the spectrum, showing further the diversity of a growing whisky audience.
The idea of chefs working alongside distillers is, in theory, a really cool idea. Chefs, especially Boulud and Lee in particular, bring unique palates and experiences to the table that distillers may not be as apt to possess. So, unlike most "celebrity"-branded spirits, there's actually a mutual benefit to collaborations of this nature.
"It's very easy for anyone to simply put their name on a label," said The Dalmore's Richard Paterson in reference to his partnership with the chef of New York's world class restaurant Daniel. "But Chef Boulud went above and beyond that, giving input that truly affected the outcome of this whisky. His selection of Muscatel, Madeira and Port wine casks, for example, was a combination of woods that I have never used before when creating whiskies for The Dalmore. This creation is something totally new and different in the Scotch whisky category, an assemblage based not on my own traditional experience, but rather on the well-seasoned palate and preferences of a fine chef."
It is for reasons like this that I get excited about these kind of projects. They are innovation catalysts that bring whisky to new places and to new audiences. Of course, the true test is always in the juice itself. So, here's my take on these two new, unique whiskies.
The Dalmore Selected by Daniel Boulud is the world's first single malt Scotch created in collaboration with a Michelin-star chef. Those familiar with Boulud, know him as one of the leading culinary icons in America; a French chef who was raised on a farm outside of Lyon and who has risen to the top of the Manhattan dining culture. Boulud is also known as a chef who puts great emphasis on the wine and spirits he chooses to serve, having won Wine Spectator's "Grand Award" for his flagship restaurant, Daniel.
The whisky selection process for this new Dalmore expression took place over a six-month period, in which Boulud worked with sommeliers from across his many NYC restaurants to select three samples that spoke to his cuisine and palate – specifically, whiskies aged in Muscatel, Madeira and Port wine casks. These three whiskies were then aged further in sherry casks until release. The Dalmore Selected by Daniel Boulud is selling for about $200 and only 1,000 bottles are being released.
My Take:
A huge nose, filled with rich sweet and nutty notes from the Muscatel, Madeira and Port casks. Some really interesting savory notes here too, like olive, nuts and salt… this is the kind of whisky aroma that makes your mouth water. Reminds me a little of some of the older Jura's. What a nose!
The initial palate is lighter and dryer than the nose would lead on. But what comes next is a wild ride. This whisky is like five course meal… some marmalade and cherry up front, mixed with a little chocolate and coffee, then floral and nutty in the middle, building into a super savory nutty, olive, salty, umami, and then some rich, dry, spices and creme brûlée that takes you into a huge, spicy finish that warms and warms.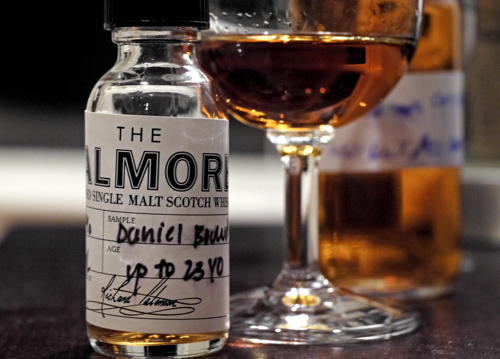 A super complex, unique and masterfully created whisky. This is a true chef creation; a whisky that can be the star of the meal. 91 points
Jefferson's Chef's Collaboration with Ed Lee is a much more down-to-earth whiskey. Which, of course, speaks to the difference between an iconic French chef that owns Michelin star restaurants in Manhattan, and a young, rising star chef that owns a southern food restaurant in Louisville, KY. But, like Boulud, Lee also brings a unique perspective and palate to the table. He's a chef that has been influenced by his Korean-American upbringing in Brooklyn, years of training at NYC restaurants and a decade honing his vision at 610 Magnolia in the heart of Bourbon country. He is also, I may add, a self-proclaimed bourbon aficionado… which certainly doesn't hurt the cause.
The Jefferson's collaboration is a blend of bourbon and rye, and was the result of a nine-month exploration between Chef Lee and Jefferson's founder Trey Zoeller. The goal was to create a "completely balanced" whiskey that could be paired with food and could be harmonious with the flavors in Lee's food. This whiskey retails at about $40. 25,000 cases were produced.
My Take:
The nose is stamped with mellow rye spice, a bit hot at times, spicy black pepper notes, and a fruity undertone of black cherry and honey. On the palate, a sweet, fruity burst of apricot and peach kicks into a VERY dry, smokey and spicy whiskey. There's an interesting buttery oak component in there as well and a puff of dry baking spices like nutmeg that linger into a hot finish. Ed Lee says this whiskey goes well with spicy food, but I actually found it to also be perfect with a sweet dessert. 88 Points
In Sum:
Both of these projects have turned out truly distinct whiskies, which furthers the point that innovation comes not only from ingredients and processes, but also from the people and palates involved. It is, indeed, cool to play whisky-maker for a day (or in this case, 6-9 months), and I hope we'll see more projects like this down the road. What these whiskies say about their chefs is particularly interesting, and we've only just uncovered the tip of what chef-inspired possibilities remain.
Thanks to Marissa at Emanate and Danny at Castle Brands for providing the samples.