Not many people outside of the wine community in Northern California know that Livermore – a city about an hour east of San Francisco and about an hour and a quarter southeast of Napa – is one of the oldest wine growing regions on the West Coast. The first commercial vines were planted there in the 1840s – whereas in Napa, commercial production of wine didn't start until 1858. Many of the pioneer winemakers in Livermore such as C. H. Wente and James Concannon, who still have active wineries today, began their journey's in the 1880s. In fact, it was Livermore Valley that put California on the wine map when they captured America's first international gold medal for wine in 1889 at the Paris Exposition.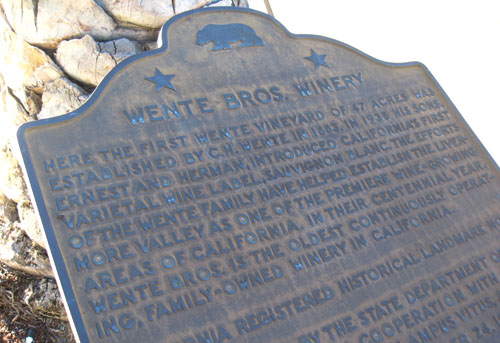 Growing up in Northern California, I've always known about Livermore, but not until recent years did I realize that Livermore was home to over 40 wineries. On this day trip – my second for wine tasting – I visited four wineries. The day began at Thomas Coyne, a historical plot of wine land just south of Livermore's town center. In 1994 winemaker Thomas Coyne reopened the old Chateau Bellevue Winery on this estate, which was originally built in 1881 by French engineer Alexander Duvall. Pulling up to the winery on a dirt road, rickety red barns dot the landscape and swim amongst a sea of old vines and a handful of sheep grazing in the field. The tasting room is up on a hill in an old brick building with stone floors, oak barrels from Virginia and Pennsylvania, and a wood bar with a hodge-podge of nick-knacks, awards and old wine boxes. The winery specializes in both Rhone and Bordeaux varietals, but today they were pouring Rhone which suited me just fine.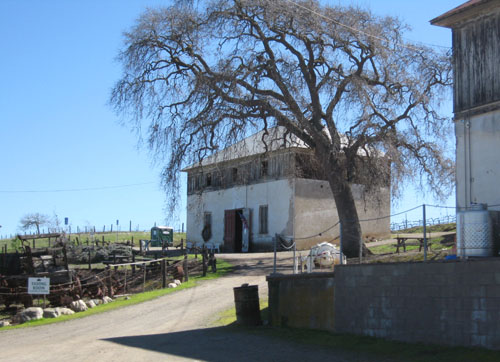 We started with a crisp Viognier, then moved onto a Rose of Grenache, Cotes du Rhone blend, Grenache, Mouvedre, Syrah, Reserve Syrah, and finished off with a port and late harvest Viognier. Overall, I enjoyed the wines and was extremely impressed with the price point – $14 on the low side and $28 on the high side. Most of the wines were priced in the mid to high teens, which for quality, low production California wines is almost unheard of. Something you'd be hard pressed to find in the more popular California wine regions of Napa, Sonoma or even Paso Robles.
From Thomas Coyne, I headed about 10 minutes north and stopped at a smaller, off-the-beaten-path spot called Rodrigue Molyneaux. I had done a little research beforehand and was intrigued by their selection of Italian varietals, which are always a pleasant thing to see when looking at winery after winery of Cabernet and Zinfandel. The tasting started off with a secret blend called Il Segreto which was an interesting Italian red served chilled with some mild carbonation. It was fresh, crisp and a pleasant start to the lineup. From there we went on to taste the Primitivo, Nebiollo, a very interesting blend of Cabernet Sauvignon and Sangiovese called Cabiovese, Cabernet Sauvignon and a late harvest Barbera. I wound up purchasing a bottle of the Sangiovese, which we did not taste, for $26. Overall, a pretty solid winery with some interesting selections for the area.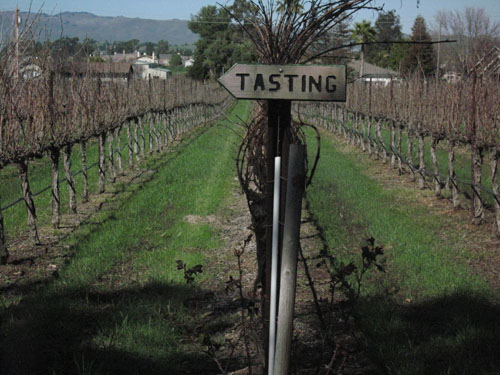 After a quick stop in downtown Livermore for a late lunch, we continued on to a winery on Tesla Road – a major wine thoroughfare that runs through the town. I was attracted to La Rochelle because of their lineup of Pinot Noir, but a little hesitant because of the higher price points and tasting costs (after all, this is Livermore – tastings shouldn't be $15 a pop). Regardless, we decided to swing by the La Rochelle property which shares a lot with Steven Kent, a winery that specializes in Cabernet. After mistakenly going into the La Rochelle seated tasting room which serves cheese and wine pairings for $20 per head, we re-routed into the Steven Kent tasting room which offered two tastings – the La Rochelle Pinot flight and the Steven Kent flight. Each for $10. I opted for the La Rochelle Pinot flight which included a Pinot Blanc and three Pinot Noirs. The last Pinot Noir, a silky smooth 2008 selection from the Sonoma Coast was an extremely limited production, 50 case-wine only available to club members, but was the clear highlight of the tasting. Marked at nearly $50 I would have probably passed either way, but the tasting was nice – big pours in a beautiful tasting room that focused on comfort and privacy. Our server – yes, the tasting room has table service – also poured a beautiful Steven Kent Port as an extra plus at the end. If you're a Pinot or Cabernet fan, and you're not looking to rush through your tastings, I'd recommend a stop here.
The final spot on the list was Eagle Ridge, a winery about 8 minutes due east on Tesla Road from La Rochelle/Steven Kent. It's a nice ride that takes you further into rural Livermore where the rolling hills and vineyards become even more picturesque. On the drive out, you pass by Boaventura, a small winery I visited previously and would highly recommend to a first-timer in Livermore. But, go a couple minutes further and you reach Eagle Ridge – a right turn off the road, at the top of a hill, at the end of a dirt road that takes you all the way down, up and over to a menacing tasting room. The owner was sitting behind the bar, surrounded by antiques, vintage car goods and Livermore memorabilia. The winery specializes in Petite Sirah, but also serves a Pinot Grigio, Zinfandel and a fortified wine made from Sauzao grapes. I was attracted to this vineyard because they produce wines made exclusively from grapes grown in Livermore. This is not the case at any of the other wineries we visited today.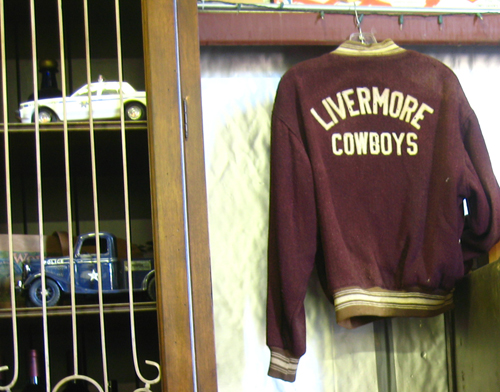 I wasn't a big fan of the wines at Eagle Ridge. The Zins and Petite Sirah's were restrained, earthy and weren't over the top bombs, but overall the dirty taste profile wasn't working for my palate. That said, the winemaker was a great guy, the tasting didn't cost a dime and the view from the winery was pretty great. I will say that the Port at the end had me almost ready to buy. It had huge chocolate notes and some nice depth, but at $25 for a 375ml bottle, I just wasn't ready to make the purchase.
At the end of the day, if you live in Northern California and haven't experienced the Livermore wine region, it's a no brainer – plan a trip. If you're visiting Northern California for the first time and want to experience wine country, go to Sonoma. If you've already done Napa and Sonoma and are interested in exploring something new, think about checking out Livermore. It's a good spot with laid back wineries, history, relatively low price points compared to most other California wine regions and there are some pretty good wines to be found if you do your research. On the other hand, there are probably better wines to be found in Paso Robles and the Santa Cruz mountains, so… take your pick. California is full of wonderful surprises.