Not many whiskies have a century-old story to tell. A story of adventure, expedition, travel and rescue. No, there are not many drinks that can live up to the history behind this of Sir Ernest Shackleton's Mackinlay & Co. Highland Malt Whisky.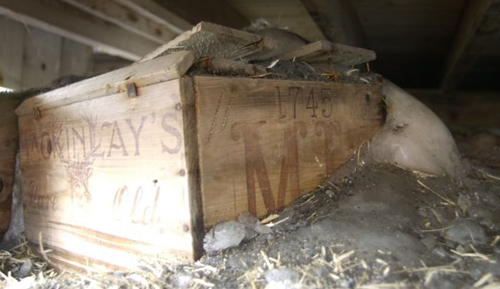 Perhaps you've heard the story by now. It has been rumored about for several years and has been a hot topic in the whisky world in past months. I first read about this whisky's story on GlobalPost in 2009. Over 100 years ago, in 1907, Ernest Shackleton set off to explore the nether regions of our world – in search of the South Pole, in the great white abyss known as Antarctica. Two years later, in 1909, he abandoned the mission, along with all of his belongings to return home, alive. In 2006, the belongings that Shackleton and his crew left behind were discovered by the New Zealand Antarctic Heritage Trust, including five wooden crates of Mackinlay's malt whisky – buried deep beneath the ice, frozen perfectly and preserved for the ages.
Glasgow-based Whyte and Mackay purchased and brought home to Scotland three bottles of the whisky to test and analyze. After a thorough investigation by master blender Richard Paterson, the whisky was deemed delicious and an "exact replica" was created, bottled and released. I was on the pre-order list immediately.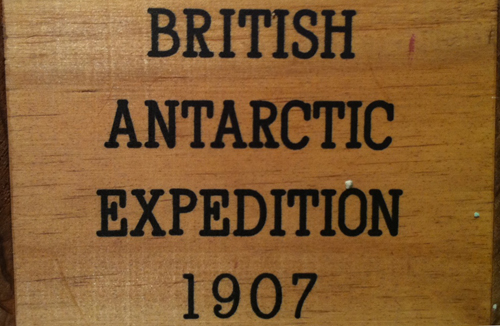 So, what we have here is a reinvisioning of a whisky that is over a century-old. It is delivered to us in formal attire, dressed up to the nines, presented in a wooden box and branded with the Mackinlay & Co. logo and messaging. The box creaks open to offer a tissue paper-wrapped bottle surrounded by wood and wood shavings. The words, "Rare Old Highland Malt Whisky" are emblazoned on the label. It's certainly a nice homage to the crates that Sir Shackleton had with him on his expedition. And Whyte and Mackay, through this packaging, does a nice job of bringing the story – the history – to life for the consumer. They succeed at making the bottle not only a purchase, but an experience as well.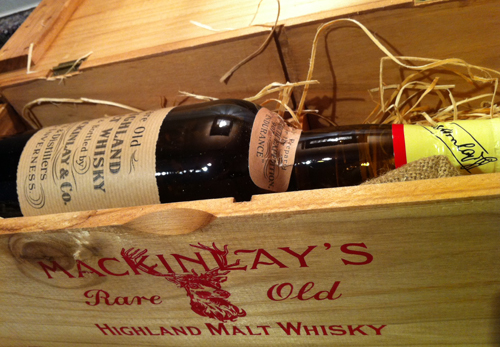 There's a certain level of excitement that builds upon opening the wooden box, unwrapping the bottle and popping the cork. And if you were to stop right there and think, wow, this is pretty cool you'd perhaps be happy enough to accept a pretty good whisky, perhaps even a decently good whisky. But, this is just the beginning…
In the glass, Mackinlay's is a light straw yellow that glistens gold in light. On the nose it is subtle, delicate; a blend of honey, floral and light peat notes. The delicacy unfolds to elegance and hints of apple and pear, finished off with spice and earth. On first taste, the 47.3% ABV surprises the senses. It packs more punch than its elegant aroma lets on. The flavors are complex – perhaps a result of the many blended whiskies it took to create this masterpiece. There is smoke and toffee, nuts and orange. A harmonious flavor profile that builds and teases. The finish is long and pleasant, spice, heath, wonder and you can almost picture the decades of frozen winters that this liquid's inspiration traveled.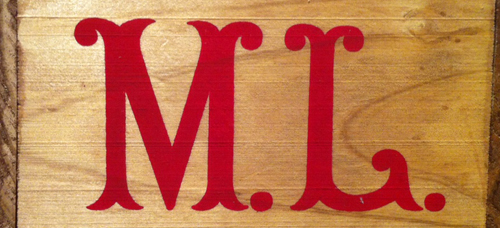 I like this whisky. I like it a lot. I like the story. I like the packaging. There really isn't anything I don't like about this Mackinlay & Co. Rare Old Highland Malt Whisky. So, my hat is off to Sir Ernest Shackleton. You are a fine man and your selection of whisky is respectable. And my hat is also off to Whyte and Mackay. A splendid job was done to create this product. 91 Points Drink Insider Rating