There's something rather enjoyable about tasting wine with the winemaker. The stories are always better, the native accents make the experience more authentic and the subtle details about each wine gets brought out in the way the winemaker intended. And to that, I must thank RedWhiteBoston for putting together another great winemaker tasting event last night over at Pagliuca's Italian restaurant in the North End of Boston. A few dozen people, including myself, joined for a tasting of Sada Estate wines with winemaker Davide Sada.
To add to the enjoyment of this tasting, the fact that Sada's wines have never been sold in the US makes the experience even more exciting. Davide was accompanied by Anthony Ravosa of Panther Distributing who will be bringing these delicious wines to Boston in the near future. I, for one, will be keeping my eye out for this impressive lineup of Italian wines.
The tasting started out with a beautifully fresh 2010 Vermentino. This food-friendly white wine coated the palate with its floral bouquet and lively acidity. Elements of lemon, lime, tropical citrus and minerality made this wine more interesting than your average weekday Pinot Grigio, but was just as fresh and easy-drinking. If you're looking to venture outside the norm this summer with your white varietals, Vermentino is definitely a wine to put on the top of your summer drinking list. And, if you can find this 2010 Sada in your neck of the woods, I'd recommend checking it out. At an 88 point Drink Insider rating and a suggested retail price of about $12, you can't go wrong.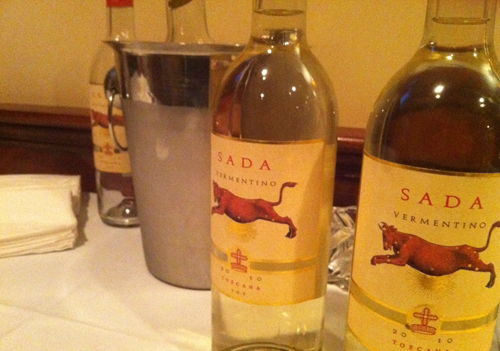 The next two wines were both unoaked Super-Tuscan blends of Cabernet Sauvignon, Alicante and Montepulciano grapes. Although both were solid, I was more excited by the first of the two – the 2009 Inegolo, another low cost winner. This was the kind of red that works with nearly any kind of food and is a great light red for the summer months. As the winemaker noted, the Inegolo is a baby Super Tuscan meant for everyday drinking any time of the day. Beautiful black berries, a hint of minerality and a fresh spice on the back make this wine another 88 points. No suggested retail price was relayed but I'm assuming somewhere in the low teens.
The fourth, and final wine was the stand out of the show for me and many of the other folks at the tasting. The 2006 Carpoli is a Bordeaux blend of Cabernet Sauvignon, Cabernet Franc and Petit Verdot. The wine is aged for two years in wood and then sits for another year plus in bottle. This is a big wine with big, rich flavors. Tobacco, ripe red fruit, nice tannins and a rougher mouth feel took this wine to the next level. Davide Sada was very adamant on making sure this wine wasn't looked at as your everyday drinker, but instead a special wine to share with great company (perhaps with "wives or lovers" – Davide) and pair with top fare. Again, no suggested retail price was mentioned, but I'm guessing in the $30-$40 price range based on some European prices I've found. 90 points Drink Insider.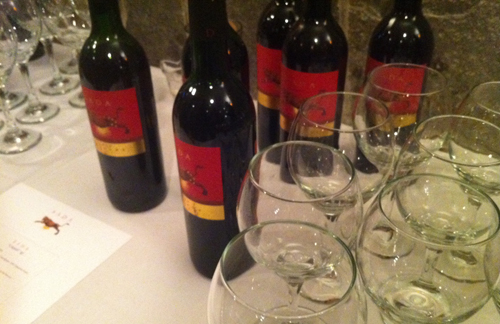 If you're a fan of Italian wine, keep your eyes out for Sada. This is very new producer in Italian wine terms (growing began in 2000), but I have a feeling this family winery has a very bright future ahead of them. Salute!
(Also, cheers to Justin over at f2percent.com for taking some killer pics of this event. Check out his post here."