"Making wine is like a kid playing in the mud. I never grew up."
– David Hopkins, Winemaker.
David Hopkins is California through and through. His relaxed and down to earth demeanor is complemented by long, white hair and a diamond-studded ear. He splits his time between a beautiful winery in Santa Ynez Valley and beachside in surfs up Pacific Palisades. Much like the wines he makes, David is a product of the terroir that surrounds him. Part chemist, part artist; he's as much a skilled craftsman as a passionate explorer. This is my kind of winemaker. Get him started and he can mesmerize you with stories about grapes and vines and the chemistry of making wine.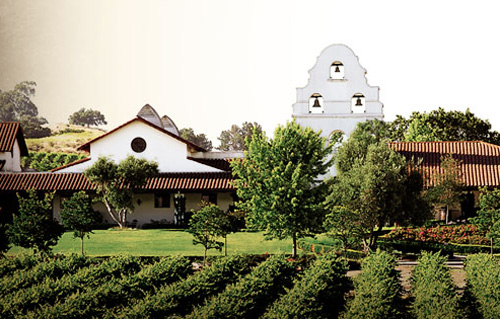 David's viticulture resume goes back over 30 vintages, spans the entirety of the west coast – from Southern California up to Washington – and intertwines with the paths of California's wine luminaries. He takes his craft seriously, but never forgets to have fun along the way.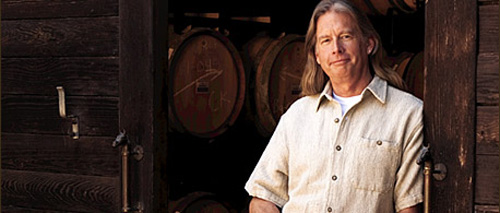 Currently, David is winemaker for Bridlewood Estate Winery – the largest producer in the Santa Ynez Valley. Remember Sideways? That's the place. An AVA located in Santa Barbara County and an important puzzle piece in the growingly impressive Central Coast wine region. When David first arrived in Santa Ynez, there were 20 wineries. Now there are 200. It's a wine region that has seen major growth in recent years and one that David thinks will become California's best in the years to come.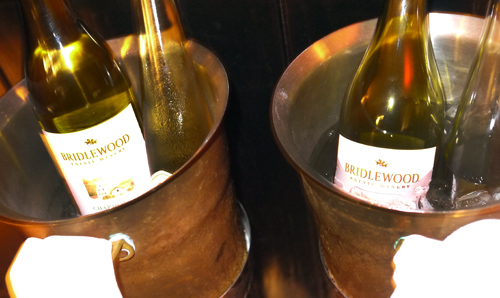 I had the fortunate opportunity of spending an evening with David at a fantastic restaurant in Cambridge, MA – Harvest. There was a clear commonality that surfaced during the dinner between food and wine. One of local flavor and artisanship, that respected the traditions of French approach, but brought unique vision and contemporary style.
We tasted through five delicious dishes, each paired with one of Bridlewood's wines.
The first course – a standout of the evening – was a perfectly seared Scituate scallop with Richter Farm rhubarb, celery, English peas, candied ginger and celery salad.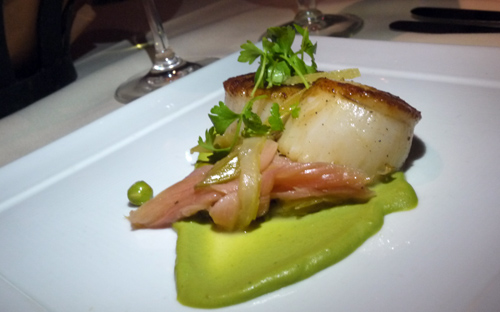 The dish was paired with Bridlewood's 2008 Monterey County Chardonnay – a light and buttery white wine with lemon citrus, a little green apple and a structured acidity. The surprise element in this Chardonnay is the addition of Viognier which jumps to the forefront and adds tropical notes and a beautiful floral component to the wine. The Monterey Country Chardonnay is distributed nationwide and has gone from 17,000 cases to 47,000 in three years. I enjoyed this Chardonnay quite a bit. The current release is the 2010 vintage and runs for about $15 retail. A great value wine.
The second course of the meal featured a Painted Hills tenderloin tartare with caperberries, crispy shallots, white truffle Oil and Toasted Country Bread, paired with the 2008 Monterey County Pinot Noir. The Pinot was one of my favorite wines of the night. It is dark and smokey with a big, brooding nose of blackberry and dark cherry. This is a smooth and easy-drinking Pinot, with a layer of fruit and oak on top, forest floor, mushroomy earth in the middle and a surprising brown-spice caramel at the end. Again, the current retail release is the 2010 vintage which falls in the $15-$20 price range. I'm always looking for a good Pinot Noir under $20, and I'd say this stacks up to the test.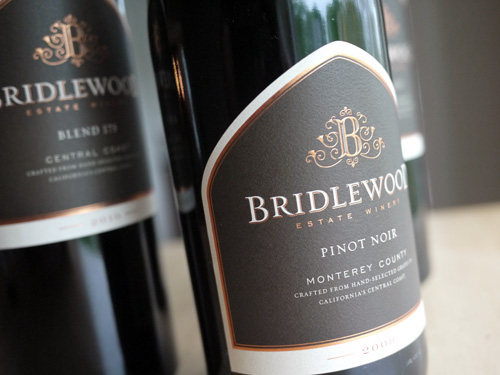 The third course was a Roulade of Giannone Farms Chicken with Wild Mushrooms, Green Garlic, Fava Beans and Vanilla Scented Carrots. This dish jumped from the plate with flavor. Especially the amazing carrot puree. The meal was paired with the 2010 Central Coast Blend 175 – a big red wine made from Syrah, Cabernet, Viognier, Malbec and Grenache.
Blend 175 is one of Bridlewood's most popular releases. The wine is ripe and jammy with a lot of floral and spice notes. A little too much of a concentrated big fruit style for my palate but I can see where those who like this style would go for the 175.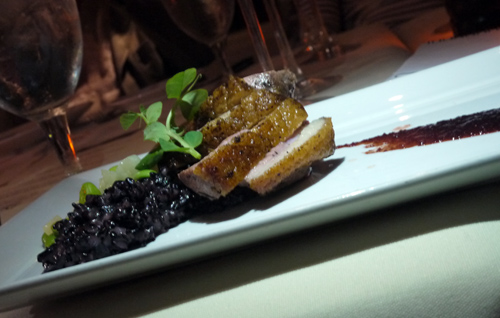 Course four was Rooibos Tea Marinated Pennsylvania Duck Breast with Bing Cherries, Fennel, Soy Beans and Forbidden Black Rice. It was paired with the 2010 Paso Robles Cabernet Sauvignon. This pairing was truly decadent. I'm a sucker for well-cooked duck with rich fruit sauce, and this rendition was stellar. The Cabernet was also quite nice – toasted oak and earth spice with a punchy sweetness of maraschino cherry, cocoa and ripe red fruit.
The final course was a perfect cap to a terrific evening. Toffee Chestnut Cake with Milk Jam, Mead Jelly, Orange and Sheep's Milk Frozen Yogurt, paired with the 2010 Late Harvest Viognier. You could tell that David Hopkins enjoys making this wine. He doesn't make it every year, but this 2010 release was a pleasant surprise. I thought the wine had just the right amount of sweet and sour – highlighted by tangerine peel and apricot and complimented with punchy acidity and a breezy tropical freshness.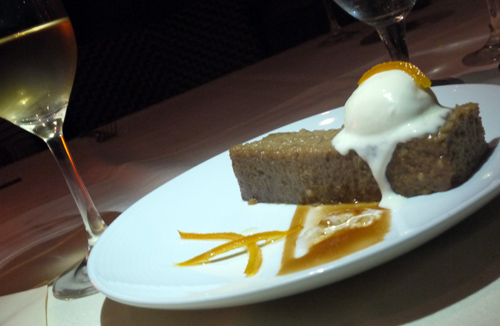 It was all there. Great food and wine that brought out the best in each other. And a storyteller that made it all come to life.
A big thanks to David Hopkins and Bridlewood for sharing this evening with us. And, an equally big thanks to chef Mary Dumont and Harvest for hosting the dinner. If you're in the Boston area and haven't visited Harvest, I highly recommend that you do so. And for those of you around the country – keep an eye out for Bridlewood. I think you'll find them to provide some nice selections at a very reasonable price.