In 2001, shortly after Bruichladdich had just been re-opened by Jim McEwan and team, the first batch of Port Charlotte (PC) was distilled and barreled. Five years later in 2006, PC5 was released. Only 6,000 bottles came to market and if you want to score one of these highly sought-after bottles now-a-days you're going to be dropping somewhere in the range of $800.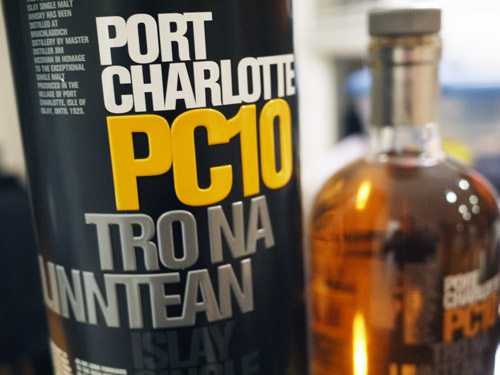 PC6 came out the next year and Jim Murray awarded it the best new whisky of the year with 96.5 points in Whisky Bible and perhaps the first peat-orgasm description ever recorded in the history of professional drink reviews. I picked up a bottle of PC6 in 2010 and nearly had the same reaction.
Over the next few years, Bruichladdich continued to release Port Charlottes – PC7, PC8, PC9, An Turas Mor, The Peat Project… The line expanded all the while working the way up to the next monumental release, number ten. Magic number ten.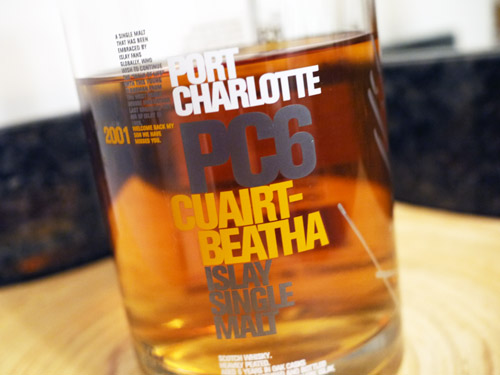 My bottle of PC10 arrived the other day and I gotta tell you, I was pretty damn excited as I took it out of the package realizing that I had actually scored one of these bottles. Here's the thing, all of the Port Charlotte releases have climbed up in production as the series rolled out. PC6 was released with 18,000 bottles, PC7 climbed up to 24,000, PC8 was 30,000 and so on. And then here comes PC10, back to where it all began… 6,000 bottles. Magic number ten.
In its short modern history, Bruichladdich has reached some major milestones. Laddie 10 was the distillery's first 10 year release produced from entirely new stock. And now PC10 is the distillery's first 10 year release from its peated series. For fans of Bruichladdich, I'd venture to say this is a must have.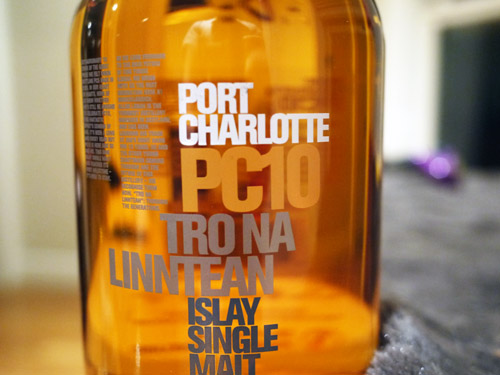 All this build up, eh, and I haven't even got to how the damn whisky tastes!
The first thing I noticed about PC10 was the maturity of the spirit and the effects that the extra time in wood has imparted on the whisky. There's more presence of sherry in this Port Charlotte than I've ever tasted before from a PC release (granted I've missed a few of the latter ones), but the wood notes are quickly followed by a heaping spoonful of smokey peat; not the bombastically charged campfire that some of the younger PC's showed, but this is Bruichladdich Port Charlotte after all, what do you expect? Beyond the peat and wood, I get citrus – lemon and orange – and black pepper along with a medicinal quality and a light touch of chocolate, eucalyptus and beef jerky. Quite an engaging and unique nose.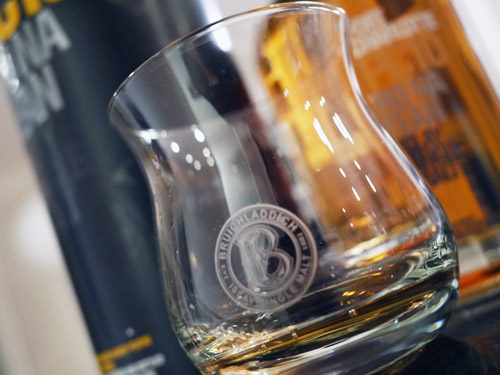 On the palate, the extra aging shows even more with a fair dosing of sherry and vanilla notes up front. But the fiery alcohol and peat bursts through quickly and makes you remember what you're drinking. A few drops of water really mellow this 60% dram out and bring to the surface some nicely integrated sweet notes of orange and toffee, malt and chocolate. This whisky has come a long way from where it started five years ago. There's a nuttiness too, and a constant smokey peat character that seems to hit just at the right levels. At least for me. But, I do like my peat.
I'm admittedly charmed by this whisky. Maybe not as speechless as with PC5 or PC6, but its more mature quality, and the rich sweet notes that balance the smoke makes for one damn fine dram. 90 points.