When the bomb's went off I was at my office in downtown Boston, just about a fifteen minute walk from the Marathon finish line. A few years ago I worked a block away from where the explosions occured. We always hosted a Patriot's Day party and invited friends and clients over to watch the Boston Marathon. We had front row seats on the second floor with big windows – the perfect spot for watching the action.
I heard the news via IM, ironically, through a contact who lives halfway across the world. I had been talking to a colleague about something routine at the time and saw the IM pop up on my screen out of the corner of my eye. I thought it was rather odd, perhaps a joke. But upon further investigation on Twitter it quickly became apparent that there was something big going on. I quickly scrolled through my Facebook feed, jumped to a few news websites, googled "explosions in Boston." It couldn't be… but it was… true. The Boston Marathon had been attacked.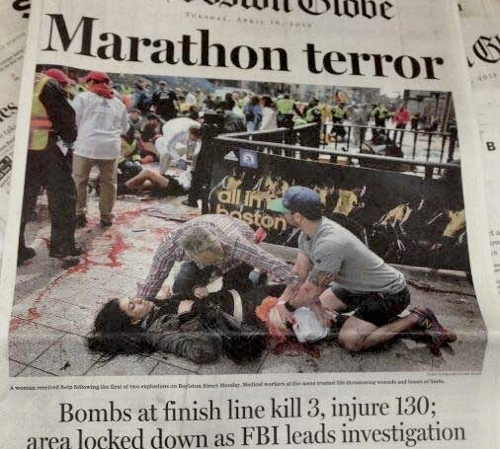 The course of events and the roller coaster of emotions that occurred over the coming days was a new experience for me. And a new experience for the vast majority of Bostonians. On Friday, the Governor put a mandatory lockdown on seven cities around the Boston area, including my own city of Cambridge. It was the first beautiful spring day after a long and snowy winter and the streets were deserted. As were offices, retail shops, bars and restaurants all over the area. It was an eerie site to see.
Looking back at how the city reacted, I'm not sure I can agree with how everything went down. But there's no doubt that the best of Boston's determination and togetherness came out. At the end of the day the suspects were caught, and if nothing else, it was a much needed moment of relief after a week of trying events. A close of a small chapter. But, lives were lost and forever changed, and a red splash across one of Massachusetts' proudest days was scorched in the cement on Boylston Street.
People have stood tall in the aftermath. In particular, I'd like to recognize the efforts of the local craft beer community who has come together to raise money for those that were affected during the events of this past week. Jack's Abby put together a fundraiser event at The Tavern in Framingham to Buy Boston a Beer. Over 20 brewers from across New England chipped in and local retailers and beer enthusiasts donated bottles for raffle. Almost $9,000 was raised. Sam Adams announced that all profits from their 26.2 Marathon beer would be donated to help the cause as well. Craft Beer Cellar, who had recently raised nearly $2,000 to help open their new local-only craft beer shop in Winchester, MA, diverted those funds to Marathon support, in addition to donating a portion of sales during the week.
These are just a few examples of the Massachusetts drink community coming together to help out. Countless other groups, individuals and industries have also banded together to raise money and provide support for the relief efforts. It has truly been a humbling experience to see communities across Massachusetts come together. I've been living in this area for nearly 12 years, and I've never been so proud to call Boston home. And I'm especially proud to be a part of such a great local beer community.
My heartfelt support goes out to all of those individuals, families and friends who were affected by this tragic event. I hope that the Marathon will come back next year, stronger than it ever has been before. And I also hope that we as Americans may take a good look at the events that transpired and keep them in context. Let's build on the good, learn from the bad, and keep moving down the path with our eyes ahead.
Cheers.
Thanks to Mike Johnson at FestPics.com for sharing his photography from the Buy Boston a Beer event.