For those who view Champagne as the sole pinnacle of sparkling wine, may I kindly divert your attention to the Northern Italian wines of Ferrari.
Is your attention diverted? Good.
More on that notion in a minute. First, let me address another thought…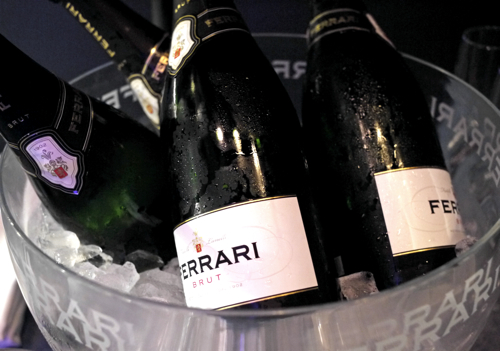 Admittedly, I don't find enough occasions to drink sparkling wine. Does sparkling wine even need an occasion? Many would argue no. I would argue that every drink needs the right occasion to shine. Some occasions are just more frequent than others.But, thinking to myself the other night while at a seafood and sparkling wine event for Cantine Ferrari, I came to the realization that I was in the perfect occasion for sparkling wine. Eating raw oysters and various other shellfish amongst a lively group of people, Italians… perhaps the occasion for sparkling wine is less uncommon than I may have thought. Which leads me to the conclusion that I really should be drinking more sparkling wine.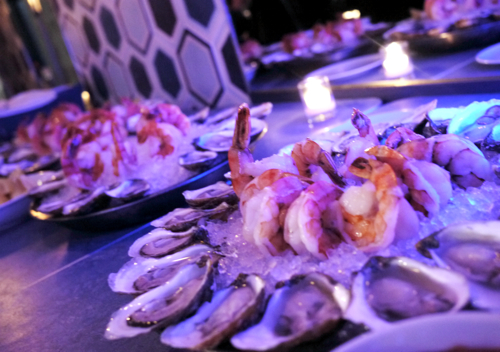 And on top of that conclusion, I'd also assert that quality, interesting, terroir-driven sparkling wine does not have to render you poor. You just may have to look a little outside of France to find it. Like, for instance, on the slopes of the Alps in Italy's Trentino region… which brings me back to my initial point of diverting your attention to the sparkling wines of Ferrari.
To understand this winery, one must look back over a century to 1902 when the first bottles of Ferrari sparkling wines were bottled by the winery's founder Giulio Ferarri (no relation to the car company). After studying winemaking in France, Ferrari was inspired to become one of the first producers of traditional-method sparkling wines in Italy using classic Champagne grapes. Mind you, Chardonnay was not a popular grape to grow in Italy at the time, hence the selection of unique cooler climate northern land. Fifty years in, Giulio passed the winery business to a close friend of the family, Bruno Lunelli, which is still the same lineage which owns the winery today.
A few generations down the line, and another fifty years later, Matteo Lunelli carries on the tradition of metodo classico sparkling wines at Ferarri, and I had the pleasure of meeting Matteo (and his large entourage) in Boston just a few weeks ago. Amongst a sea of raw oysters and shrimp at Boston's B&G Oysters, six of Lunelli's sparkling wines were presented to an eclectic group of individuals, myself included. The lineup started with Ferrari's entry level non-vintage Brut and Rose – both quality sparklers that introduce the assertive character of Ferrari's wines for $25 and $35 respectively.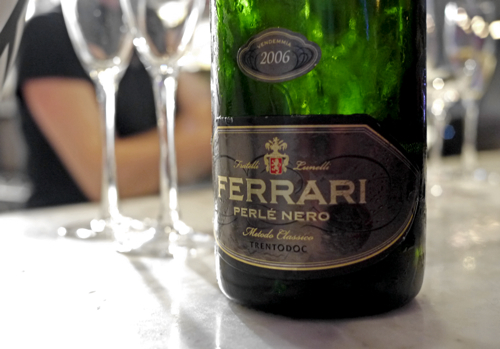 The next level up, however, was where I started to get really excited. Ferrari's Perle, Perle Rose and my personal favorite, Perle Nero were a trio of delightful sparkling wines. The latter of which, a 100% Pinot Noir sparkling wine, was both bright and lively as well as rich and toasty with plenty of minerality to boot. The wine also has punchy fruit paired with bitter citrus and an extra brut dryness making it a fantastic food pairing option as well as a perfect sipper. Of course, at $90 a bottle, this one will tip the scales a bit… but I'd put Ferrari's 90 bucks up against what that'll get you in Champagne any day.
The wine that took my heart was Ferrari's top of the line, $100-a-bottle show piece named after the winery's founder, Giulio Ferrari (2001 Vintage). What can I say about this wine that can convince you of its brilliance? Complex, yeasty and toasty (10 years of aging on the lees!), mature, full and creamy, with vanilla, citrus, honey, rich earth notes and a beautiful floral bouquet. It's not every day that I go around touting the brilliance of a sparkling wine, but wow. This is one hell of a wine.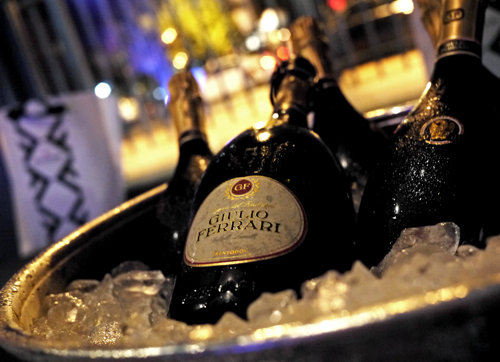 So, will I be dining on expensive raw oysters and $90 Northern Italian sparkling wine every day of the week? No, my life is not that lavish. But, I will absolutely consider sparkling wine as the right choice for a more common occurrence moving forward. And yes, I will absolutely be looking to Ferrari to meet many of my sparkling wine needs. Take that, France.
Thanks to the fine folks at Gregory White PR and Palm Bay International for hosting this wonderful event, and a special thanks to B&G Oysters for the delicious food and swanky South End ambiance.