Seeing how fiercely competitive the market has been this fall for the highly sought-after bourbons solidifies the notion that the world of American whiskey is in explosion mode.
Don't get me wrong, this isn't a bad thing. It's certainly good for whiskey companies and brands. It's great for the industry. Hell, it's good for my blog. But for the love of God, it's making it nearly impossible to seek out the limited release bourbons, like the Buffalo Trace Antiques or the Four Roses Limited Edition Small Batch.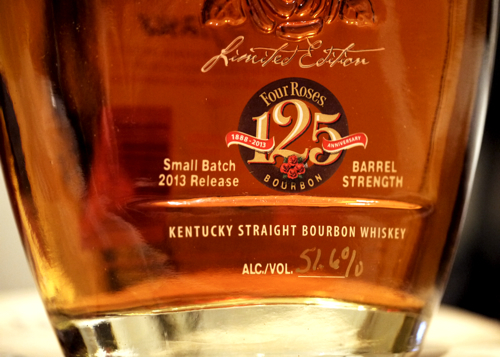 Speaking of Four Roses, I suppose this year's increase in demand for the annual fall Limited Edition release was inevitable. It is, after all, following up on last year's impressive release which took home Whisky Advocate's American Whiskey of the Year honors. But on top of that, the Four Roses 2013 Limited Edition Small Batch is also celebrating the distillery's 125th Anniversary, which is denoted with a nice little insignia on the front of the bottle. Special insignias in bourbon land usually equal more frenzy.
I'm not going to lie, I've been really excited to see what Four Roses was going to pull out to top last year. When Jim Rutledge, Master Distiller of Four Roses, was in Boston a few months ago, he mentioned to me that this 125th Anniversary release was going to be the best yet. I don't take words like that lightly.
Anyway, enough of the hype. Let's dive in and address the very important questions at hand: does it live up to last year's release and should you put on your best army fatigues to find it?
The Whiskey
The 2013 Four Roses Limited Edition Small Batch is bottled at barrel strength, 110 proof, and is a blend of three Four Roses recipes: an 18-year OBSV, a 13-year OBSK and a 13-year OESK. In sum, there's a solid heaping of rye spice and aged wood, along with some of that nice fruity Four Roses juice. On the nose, I get lots of smokey vanilla and burnt sugar, the sharp rye notes are front and center, and there's a subtle dosing of cherry tobacco. I love the aroma of this bourbon, it's deep, complex and intoxicating.
On the palate, the whiskey is sharp and fiery, but impressively drinkable for nearly 52%. There's an incredible balance going on between the spicy, dry rye and the rich sweet notes, culminating in a tannic finish that continues on and on. The fruit and sweet notes open up on the palate with a drop of water; bringing with it apricot and cherry, honey, vanilla and nutmeg. In short, the alcohol is well managed, the wood is well integrated and the finish is long and spicy. It's a completely satisfying dram, front to back.
Frankly, I think this whiskey is fantastic. I love the rye spice and the dry woodiness complimented by the delicate sweetness. It's everything I want from Four Roses, bundled up in a pretty little package with a special 125th Anniversary insignia which, yes, I'm a sucker for. Is it better than last year's monumental release? Yea… it is. 93 Points
The Result
If you don't have a pair of army fatigues and binoculars at the ready, get out to your local army/navy store asap and pick some up. Proceed to put said fatigues on and get out on the hunt immediately. Chances are, if you are reading this post and you don't already have a bottle, it is too late (at least on the regular market). But don't lose faith. Go. Fight. Find that son of a bitch and drink the shit out of it. It will make you happy.
Thanks to The Baddish Group for the sample. And yes, "Run for the Roses" is an homage to the late, great, Jerry Garcia.