If you're a wine kind of gal/guy, or just need a grape escape (see what I did there?) from this ridiculously cold and snowy New England weather, you're in luck because there are a number of great wine events coming up over the next month. Not least of which is the always entertaining and educational Boston Wine Expo, which is hitting the World Trade Center on February 15th and 16th. I've got some free tickets to giveaway below, so keep on reading…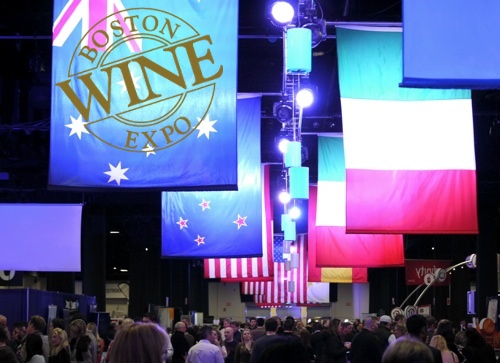 I've been going to the Boston Wine Expo for, let's see, at least five years now and I always have a great time (really, read my write up from last year). Sure it can get a little crowded at points, but the event producers have done a great job finding new ways to maximize the space and give attendees the best possible experience. They also do a hell of a job bringing in great wineries, distributors and seminars. It's literally impossible to walk away from a day at BWE without finding some new wines or regions that you want to explore more.
If you are planning to go this year, I'd recommend checking out the seminar schedule. There are some really interesting talks going on that you probably won't want to miss. And besides… It can be nice to break up the day and bring a little sit-down education into the mix. Here are a few that are on my radar:
Napa Valley Cabernets – Great wines from great years (with Paul Wagner)
Tete de Cuvee Champagne – Tasting the Best of the Best
Duckhorn Three Palms Merlot Vertical Spanning Four Decades
Merroir & Terroir Pairing with Island Creek Oysters
Premier Cru Cote de Beaune vs Cote de Nuits
Give this (Person) a Cigare! (with Randall Grahm of Bonny Doon)
Okay, now for the good stuff… the giveaway (and discount)!
Here's the deal: I've got one pair of tickets (a.k.a. two) to give away to the SUNDAY Grand Tasting at Boston Wine Expo. At $85/ticket, that's $170 worth of free tickets you could win! Not a bad deal if you ask me. All YOU have to do for a chance to win them is leave a comment below or on my Facebook page (Facebook.com/DrinkInsider) stating what country or region you are most looking forward to exploring at the Expo this year. I'll do a random drawing next Wednesday (1/29) to pick the winner. Easy!
If, however, you aren't feeling lucky (or are a baller who likes to spend money), and would rather just buy a pair of tickets, you can do that too! And, you can use the code "SOCIAL" to get 10% off!
Good luck! And I hope to see all of you at Boston Wine Expo this year. No, seriously… find me. Say hi.