There's a reason I don't go to casinos very often…
I have a tendency to loose money at craps tables. And, frankly, I don't like loosing money at craps tables.
Well, let me clarify.
I like spending money at craps tables… and blackjack tables… and those awesome video poker machines that they have built into every cheap whiskey-stained casino bar I've ever been to. I just don't like waking up the next morning realizing I could have bought pretty much anything of tangible value whatsoever with the dough I just dropped and have been better off.
Like a blinged out bottled of wine that says "Sun WineFest," perhaps?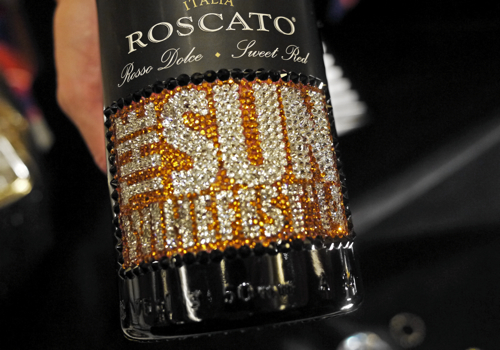 But, you know, sometimes you have to have fun in life. And damn't, the annual Sun WineFest at Mohegan Sun is one hell of a good reason to say, "Screw it… Screw this cold weather and running errands and feeding the cat. I'm going to indulge in a weekend away, and enjoy some great wine, food, beer and yes, a little throw of the 'ol dice." And if you can't say that every once in a while, then… well, you don't need me to tell you what you should or shouldn't be doing in life.
But, perhaps I can tempt your vices by recounting my experience at Connecticut's most fashionable casino, Mohegan Sun, this past weekend for Sun Winefest '14. And just in case you are really, really impatient and want to know if I came out ahead, I'll spare you the wait. I won. Damn straight. My blackjack skills were just too crazy good for the Mohegan to handle.
One of the things I really like about Sun WineFest is the diverse base of activities they offer. There really is something for everyone on the food, wine and beer spectrum.
Of course, with so much to choose from it does make the act of selecting a first pour rather difficult. But, as I always say, when in doubt go with something you know you like. I call that my, "start with a winner" approach. In this case, I christened my glass at the Pine Ridge and Chamisal Vineyards table which was featuring the latest vintage of the Pine Ridge Cabernet – one of my go to Napa cabs. It was also featuring the new vintages of Chamisal Pinot Noir and Unoaked Chardonnay – a couple wines I've been a fan of since visiting their winery in San Luis Obisbo last year.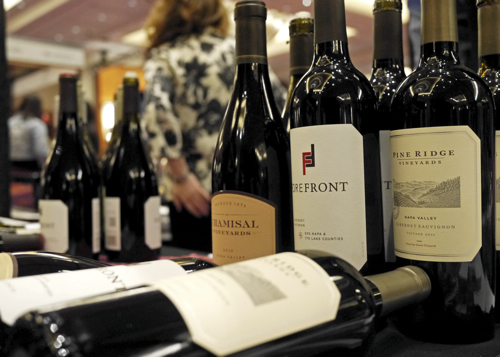 So, besides this first winning group, what else had my attention? Here's a short list of some of my favorite sips: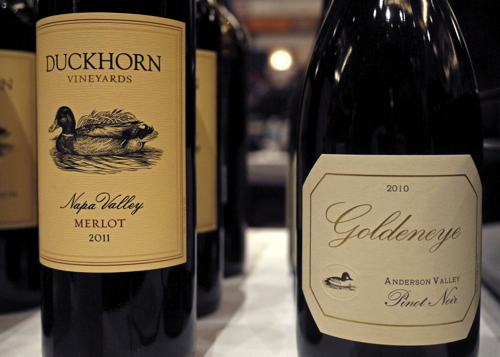 Goldeneye Pinot Noir & Duckhorn Merlot
This was a mighty handsome duo. Goldeneye is my kind of Pinot Noir, and this 2010 was tasting great. Just the right amount of fruit, rich and earthy without being over the top juicy, and plenty of spice on the finish. Duckhorn's 2011 Merlot was also delicious – full of bold red fruit, tobacco, cedar and spice, wonderfully balanced and sophisticated in its drinkability.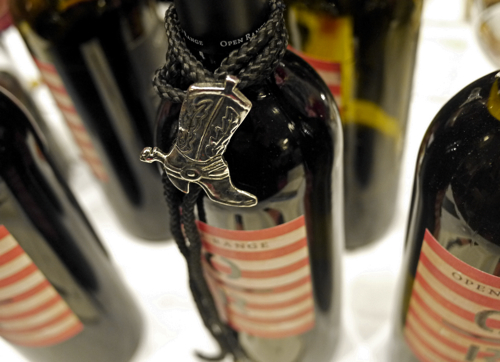 Casey Flat Ranch Vineyards
It's always a pleasant surprise to find unique producers at big fests like this that are doing exciting things in small wine regions. Casey Flat is literally an old cattle ranch in the Capay Valley that was planted to vines about 10 years ago. The Capay Valley, as I was told by the wineries ever-so-charming representative, Brenda, is just a bit east of the Napa border in Yolo County.
I found their wines to be bold and full of character. The CFR Sauvignon Blanc was elegantly mellow, floral and fruity with an amazing dusty quality that made you think of the cattle ranch it once came from. Their estate red – a blend of mostly Cab and Syrah was equally dusty, with earthy fruit, rich blackberry and a bright spicy finish. I will most certainly be taking a trip to the Capay Valley next time I'm in CA.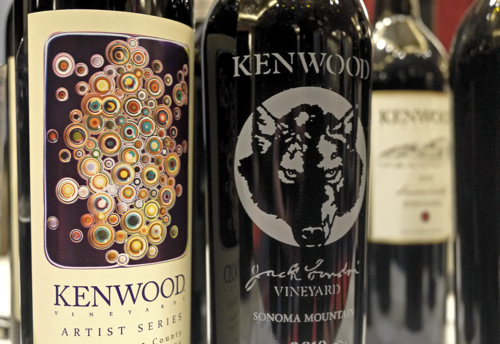 Kenwood Artists Series and Jack London Vineyard Merlot
Kenwood is one of the classic Sonoma wineries that has been around since the early 1970s. You may know them from some of their really high production, entry level wines, which are… well… they are what they are. But, at the upper end of this winery's arsenal are a couple of wines that are really interesting. The Artist Series is a low-production (~1,000 cases) annual release that celebrates the coming together of wine and art. The newest vintage, released late last year, is the 2009 Cabernet Sauvignon. A powerful, boldly structured wine with black berries, foresty earth, cassis and peppermint. I really loved this wine, and the label – a piece by Markus Linnenbrink – is absolutely stunning.
I was also impressed with Kenwood's 2010 Jack London Vineyard Merlot. This is actually the first vintage to carry the Sonoma Mountain label, and at about $20 retail it'd make for a great anytime drinker.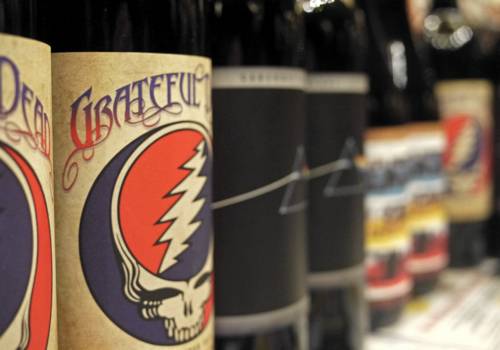 Wines That Rock
Alright, here's the deal with Wines That Rock. Are these the best tasting, most well made wines I had all day. No. Were they good? They were pretty good; certainly quite drinkable for a weekday dinner. But I really love this line. The labels kick ass and for die hard music fans like me, these wines are just… cool. I've got a bottle of the Grateful Dead wine at home and I'm very tempted to pick up one of the Dark Side's. I hear Bowie is a partner, so you know, there's your extra cool factor if you needed any.
The sign of a good wine fest is that people are enjoying themselves and perhaps learning a thing or two. This wasn't more clear than when Food Network star Robert Irvine took the stage to a packed audience. He literally had all of his participants dancing by the end and the entire crowd along with them. All over a piece of fish, I may add, which took back seat to one of the most energetic performances I've ever seen.
At his book signing, I asked Robert if he thought the quality of wine and beer is becoming more important to the success of restaurants. His answer was a resounding yes. "But more importantly," he said, "is the quality of the people serving the wine and beer." "Wine doesn't have to be expensive it just has to be good. And the people serving the wines need to understand the wine and know how to talk to people about them."
As the wine hall filled up (yes, it got a bit over-crowded, I'm not going to lie), I decided to head over to check out Sun WineFest's beer offerings.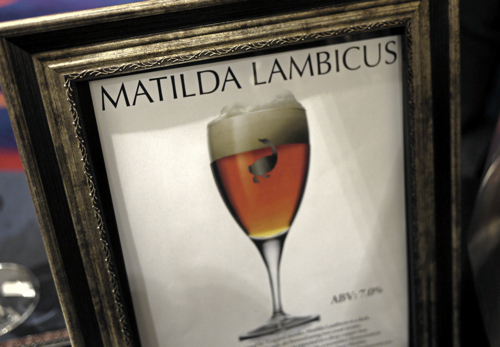 Goose Island had a variation of Matilda called Lambicus that was fantastic. Similar to the regular Matilda (which is a hell of a beer on its own), but way more earthy and funky. Goose was also pouring their double IPA Illinois, which is a very limited production beer that was never distributed in Massachusetts. So I was excited to try that one as well.
Otter Creek was showcasing a bunch of their newer hop-forward releases. They killed it last year with Double Dose – a collaboration they did with Lawson's. Unfortunately, there was no DD on tap, but their relatively new Kind Rye and slightly newer Citra Nation were both being featured. I'm really digging what these guys are doing with their new direction, and I think Kind Rye is one of the best New England IPA's to come out recently. Citra Nation is solid as well.
So… beer, wine, food… all in, it was a fun festival – perhaps a bit crowded at times, perhaps not as extensive on the wine selection as I may have liked – but the kicker was the place. Mohegan Sun is a great casino resort. It could easily fit in on the Vegas Strip. They've got plenty of restaurants, a huge footprint of gaming, shops and surprisingly nice rooms. I hit up Bobby Flay's Bar Americain for dinner that evening, which was extravagant, and really delicious. And as I mentioned above, I took my shot at a number of games into the wee hours of night. In short, what's not to like? All of your vices soothed in one, really enjoyable weekend.
So, next year, when January rolls around and you're cursing the frigidly cold New England winter, you may think about a weekend escape to Sun WineFest. I think you'll enjoy the break.