This is the first post in a three-part series about Willamette Valley wine.
On a hot afternoon in early July, I walked down Third Street in McMinnville, Oregon, toward R. Stuart & Co. Wine Bar. It had been an amazing first day of wine tasting in Willamette Valley and I was looking forward to meeting up with R. Stuart's proprietor, Maria Stuart, to get an insider's glimpse into the area. If there's one way to learn about a wine region fast, it's by sitting down with a local winery/bar owner over a glass of Pinot.
The Willamette Valley has often been called the Burgundy of the U.S., and with that comparison in mind, McMinnville could be justly called our Beaune. Of course, stark differences can be made in the landscape, people and lifestyle, but from a wine perspective, Willamette (and its heart, McMinnville) is giving Burgundy a run for its money for amazing, terroir-driven Pinot Noir. And people are clearly catching on.
According to Maria Stuart, business at her wine bar and tasting room has been up 40% year over last. Which is not to suggest that the Willamette Valley hasn't been one of America's great wine regions for some time. It's just to say that lately, things have gotten a bit hotter. The real estate in the area, both from a residential and vineyard perspective, tells the same story. Over the past few years, major plots of vineyard land have been scooped up by some of the biggest wine producers in the world (i.e. Kendall Jackson, Louis Jadot). And if you don't think that residential real estate investors are starting to plunk down cash in this area, you're crazy.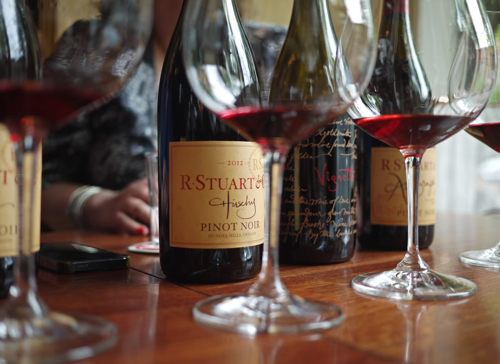 As Maria tasted me through her fantastic lineup of R. Stuart & Co. Pinot Noirs (seriously, check out Autograph!), she and her business partner Trish Rogers, talked about the changes they've witnessed over the last few years and decades living in the area. A once sleepy town where winemakers and their families strolled around with the locals, has started shifting toward a true wine destination. Bigger and more lavish winery facilities have taken over small vineyard-side operations (i.e. Sokol Blosser's stunning new winery). New rental houses and condo complexes have started popping up. And, downtown McMinnville; well, let's just say that it now boasts about 10 tasting rooms, a craft brewery, a brewpub and a handful of top notch restaurants and cafes. Something that, according to Maria and Trish, is due to a fairly recent growth spurt.
But despite the recent growth that has taken place, and despite the fact that Third Street in McMinnville was named the Best Main Street in America by Parade Magazine, this area is still a far cry from the Disney-esque hubbub of Napa or even the swanky rustic downtowns of adjacent Sonoma County. At least for now, this place is still mellow and charming as hell. If small production wineries, quaint towns and unbelievable Pinot Noir are on your wish list of wine destination must-have's, there is no question that this is your kind of place.
My visit to the Willamette Valley introduced me to a whole world of small wine producers that are doing some truly outstanding stuff. R. Stuart & Co. is one example. But out from McMinnville, out toward the small towns of Dundee, Carlton, Amity and Newberg, you'll find dozens upon dozens of amazing wineries, ready to welcome you in.
Want a quick hit list of some of my favorites? Below is a map that will get you started with some must-visit wineries (and two restaurants that I've thrown in for good measure). If you want to dig into these recommendations more, stay tuned for the next few posts as I explore some of my favorite small producers in the area (Brick House, Bergstrom and Ayoub), and some of the truly beautiful sites to be seen (Sokol Blosser, Soter and Anne Amie).