Beyond the glitz and decadent wine estates of Highway 29 in California's Napa Valley, a mountainous landscape emerges on the horizon. You can't miss it, really. Driving toward St. Helena, or even further up toward Calistoga; a landscape of beautiful rolling hillsides and rocky cliffs shoots up in the near distance. They're the ranges of Mayacamas and Vaca, dotted with plush trees and hiding deep within them glorious mountain vineyards that are mostly invisible to the wandering eye.
Some of the best wines in the entirety of Napa Valley come from these high altitude wineries. Wineries like Burgess Cellars and Pride Mountain Vineyards who have been making great mountain wine for decades; very much off the beaten path of Napa's main drags. But, you can easily miss out on these wineries and the mountain wine experience if you never cast your gaze up!
Of course, mountain wine is not unique to this area, or even California. But there's a unique dichotomy here in Napa Valley that can be explored between the wines of the valley floor and those of the mountains above them, especially when it comes to Cabernet Sauvignon. The mountain vineyards have a different rhythm, different weather patterns. They're often harder to farm and produce lower yielding crops. The grapes they bear have thicker, heartier skin that lead to wines that are often more concentrated, structured, and tannic than those of lower elevations. Mountain wines are a special breed, and despite the challenges they pose to the winemakers and growers that work them, the pay off can be well worth the effort.
The same holds true for those who venture out to visit these wineries.
On my most recent trip to Napa, I spent some time in the mountains around the town of St. Helena. To the east, up Howell Mountain, I visited one of the founding mountain wineries in the area. And to the west, up Spring Mountain, I visited a winery that has been a Presidential favorite for two decades.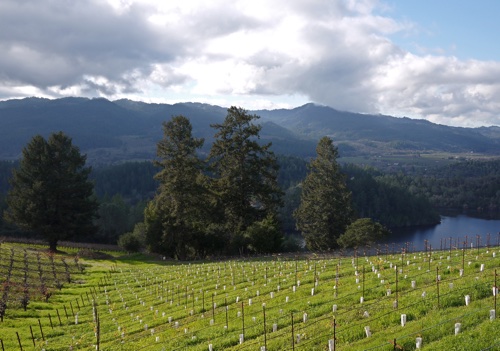 Burgess Cellars
There were only a few dozen wineries in Napa Valley when Tom Burgess started his winery in the early 1970s. His land, a beautiful piece of property that lies about 900 feet up on the western side of Howell Mountain, is idyllic; the quintessential mountain winery with vineyards sloping down into the Bell Canyon Reservoir below. When we arrived on a cool day right before the new year, I stood looking out at the vineyards and reservoir below in awe, only diverting my gaze when we were greeted by the welcoming Burgess staff.
When Tom set his roots here and began Burgess Cellars–after a career as an Air Force and corporate pilot–he established himself as one of the pioneers of mountain side wineries in the area. Three and a half decades later Burgess is still one of the true gems of Napa Valley: a small-production, family-owned winery with passionate people making terrific, terroir-driven wine for a reasonable price.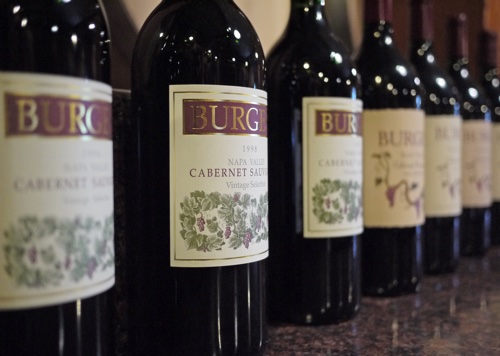 Burgess grows three main varietals, each from a different vineyard site in the area. The estate vineyard, originally planted in the 1870s, is home to the winery's flagship Cabernet Sauvignon. Their Syrah is grown on the eastern side of Howell Mountain and their Merlot (which I instantly fell in love with) is grown in the Oak Knoll District sitting against Mt. Veeder.
In the tasting room, we ran through a lineup of Burgess' current releases along with a few of their library wines (which was an absolute treat). Their 2010 Cabernet is concentrated and tannic, bursting with flavor, black currant, vanilla and mocha. The wine received 92 points from Wine Enthusiast and for about $40 a bottle may be one of the best buys you're going to find for premium mountain-grown Napa Cab. The Merlot was another standout; a single-vineyard 100% Merlot full of earthy character, rich black cherry and well integrated barrel notes. The Merlot is about $30 a bottle at the winery, and again, is a major steal in my book. I wound up finding some of the 2010 Merlot back in Boston for about $22 a bottle and stocked up. Seriously, this wine is absolutely stellar.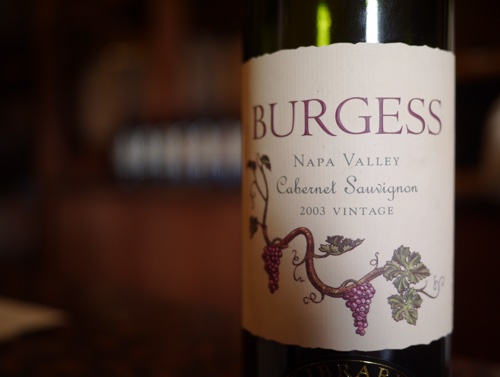 If you visit Burgess, you'll need to book a reservation ahead of time. And, plan a little time to take in the impressive views and enjoy the experience; the staff is engaging, passionate and full of great stories. More info at: burgesscellars.com
Pride Mountain Vineyards
Just to the west of downtown St. Helena, and up a steep road that winds its way into the Mayacamas you'll quickly enter the Spring Mountain AVA. At about 2,100 feet, riding the crest of the range–and where Napa meets Sonoma–you'll come upon Pride Mountain Vineyards; another small production family-owned winery that's producing spectacular mountain wine.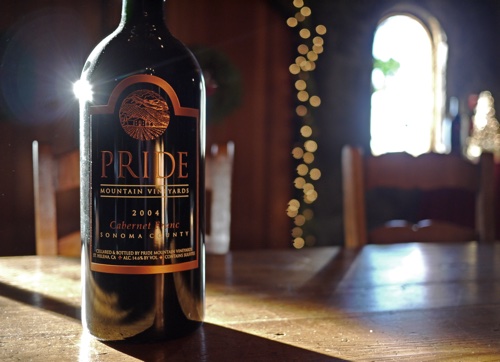 The Pride family has been making wine here since the early 1990s, and has earned the reputation as one of top wineries in the Spring Mountain District, if not all of Napa. Their wines have appeared on Wine Spectator's Top 100 numerous times and have been served at the White House on nearly 30 occasions in the past two decades. Jim and Carolyn Pride, the founders of the winery, originally purchased the land in the early 1980s and began growing grapes to sell to other wineries in the area. But after realizing that the fruit they were growing was going into some of the most elite wines in Napa (and one of the only $100+ wines at the time), they turned their focus to making their own wine under the PMV name. Smart move, I'd say.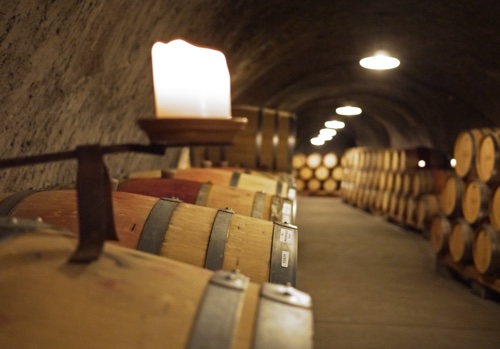 On the day we visited the tasting room, Pride was buzzing. Our host took us for a private tour through the property's caves which wind their way around a tranquil underground lair. Throughout the cave tour, we stopped to try a handful of barrel samples and current releases like the absolutely stellar Pride Mountain Cabernet Sauvignon. The cave tour is an amazing way to experience Pride, getting to taste both unfinished and finished wines, and exiting onto the property's back deck which overlooks a breathtaking view of the mountain vineyards.
Pride's wines are unique in that they list both Sonoma and Napa on the label. The property is literally split between the two counties, and so the wines have to denote it as such. Their current 2012 vintage Cabernet Sauvignon, for instance, comes from 60% Napa fruit and 40% Sonoma. It's an intense wine (even compared to the Burgess), impressively structured and screaming of its mountain roots. The winery also offers a Vintner Select and Reserve Cabernet Sauvignon which see limited production, as well as a host of other wines. Some other standouts include their delicious Merlot (which received the #34 ranking in Spectator's Top 100 of 2010) and a very limited, and absolutely dynamite Cab Franc (which I hear is nearly impossible to get a hold of).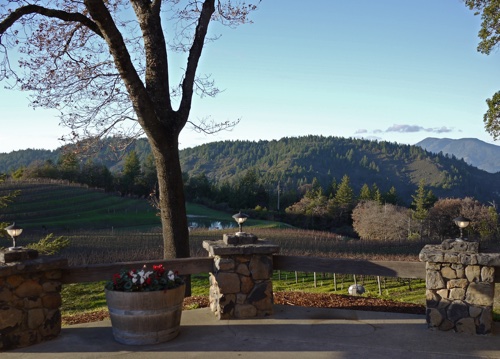 On the whole, Pride's wines are a bit more expensive than Burgess'—their 2012 Cabernet Sauvignon sells for $70 at the winery. But well worth it for fans of this kind of Napa Valley mountain wine. And, similar to Burgess, you'll need to book ahead if you want to visit. But I highly recommend that you do… for those who venture out will be rewarded.
What are some of your favorite mountain wineries in Napa Valley?