When I went to college in Colorado in the late 90s, there was already a burgeoning craft beer culture in the state. Fast-forward 15+ years and Colorado has become a haven for great drinks; featuring a craft beer scene that has now surpassed 200 breweries, a growing number of distilleries and, yes, even 100 or so wineries. And, of course, there are plenty of great restaurants and bottle shops with well-curated drink selections as well. All of this combined, Colorado has easily become one of the best states in the country for drink travel.
On my recent trip to the area I explored Denver, Boulder and Fort Collins, and found some great drink spots. Here are the beer highlights, starting with four must-visit breweries.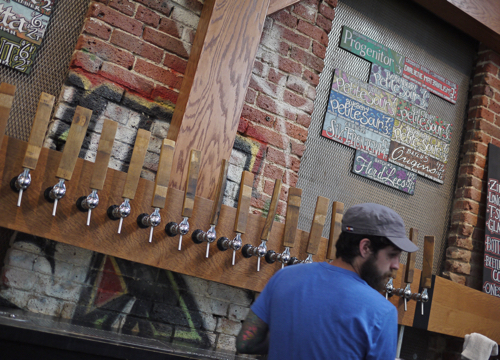 Crooked Stave, Denver
If you had to pick only one brewery to visit in Denver, or perhaps even Colorado (with the caveat that you like sour beer), Crooked Stave may just be my go-to. Although their brewery was under renovation when I visited, their taproom at The Source in Five Points is a great spot to try and buy a broad selection of Crooked Stave's beers. In fact, you'll find about two dozen beers on tap there, including limited edition releases like Origins, a dark and deviously sexy burgundy sour aged in oak, or Sin Frontera, a funky ale aged in Sherry barrels that Crooked Stave did in collaboration with Jester King.
At the taproom, you'll also find a good selection of bottles that you can take to go, including some hard to find releases like Nightmare on Brett, and a small selection of other breweries that Crooked Stave distributes in the area. If you go, I recommend tasting through as many of the beers as you can–this is easily one of the best sour breweries in the country and there's no better place to experience them than right here.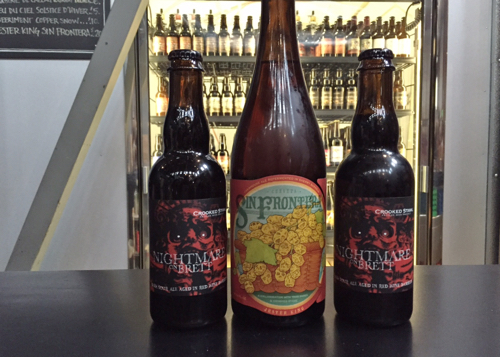 If you are looking to visit Crooked Stave's brewery, I'm told that it should be back open to the public by end of 2015. When it does re-open, the brewery will have double the production capacity that they have currently. Which means we may be seeing expanded distribution nationwide. So if Crooked Stave hasn't reached your state yet (I'm looking at you, Massachusetts), maybe it'll be in the cards for 2016.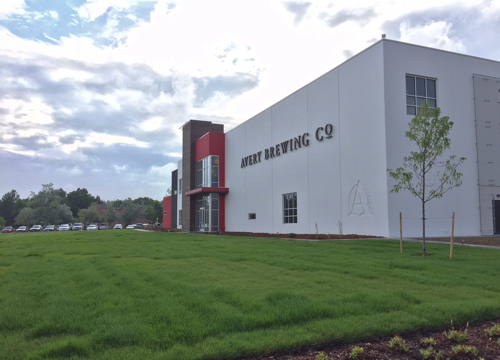 Avery Brewing, Boulder
Avery has a beautiful new brewery about 15 minutes outside of downtown Boulder that features upstairs and downstairs bar/dining rooms, a patio space, and an impressive tap selection of about 30 beers that you can order by the pint or taster. When I visited they had a number of brewery-only releases on tap, including some excellent dry hopped IPA's and a few delicious sours, like Bad Buddha–a Belgian style pale soured in barrels for six months with Buddhas Hand (an Asian citrus fruit).
For those of you who like Avery's big barrel-aged stouts like Tweak and Uncle Jacob's they've got those on tap too, and available for growler fills. Plus they were featuring a 2010 Czar Russian Imperial Stout on tap when I visited which was drinking beautifully. In addition to what's on the draft list, the brewery now features a delicious food menu with smoked meats and BBQ, and a fairly extensive bottle selection including past vintages of some of their best beers. While you're there, give yourself a short self-guided tour on the catwalk that looks down over the brewery operations.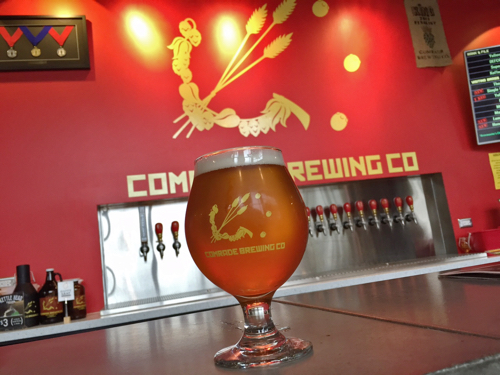 Comrade Brewing, Denver
At just over a year old, Comrade is one of Denver's newest craft breweries, but they're already getting huge praise around town for their flagship IPA, Superpower. In fact, many are calling Superpower the best IPA in Colorado.
When I tried Superpower at the brewery in South Denver I was equally impressed. Not just with this fantastic, fresh hop-forward IPA but with the brewery's lineup as a whole. All of their hoppy beers, including some limited release single-hop IPAs, were all really good. And their Koffee Kream Stout was a coffee-soaked treat. Of course, if you're looking for Comrade's beers, you're either going to have to find them on draft somewhere in the area or come down to the brewery (which you should definitely do). They're not bottling/canning any beers yet and likely won't be for a while. So, if you visit Denver, make sure you get here. Aside from Crooked Stave, this is probably the most exciting brewery on the Denver beer scene.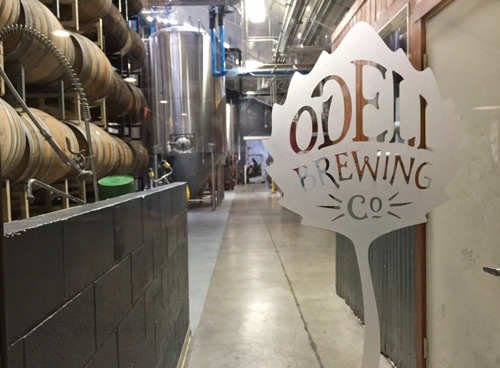 Odell Brewing, Fort Collins
Odell brewing is a little bit of a hike from Denver and Boulder but there are a bunch of breweries in the Fort Collins area making the drive worthwhile (a few more are listed below). Of those breweries, Odell would be my pick of the litter. Their beers are really solid across the board, but in particular their hop forward beers are standouts. In fact, their regular IPA is one of the most well-balanced and enjoyable IPAs I can think of. And their double IPA Mercenary, along with their pale ale St. Lupulin are also both fantastic brews.
Plus, if you go, you'll now be supporting another employee-owned brewery–a development announced this week. With this move, Odell joins fellow Ft. Collins brewery New Belgium in the growing trend of brewery ESOPs.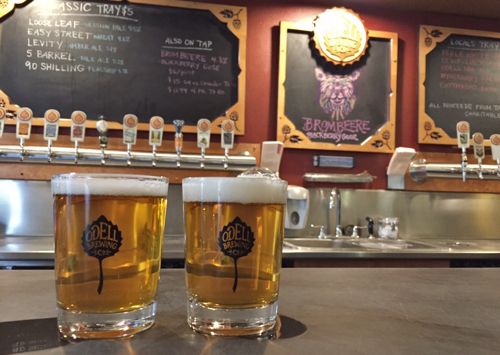 Other Recommended Craft Beer Stops
Aside from these four must-visit breweries listed above, the following are all additional beer spots I recommend checking out.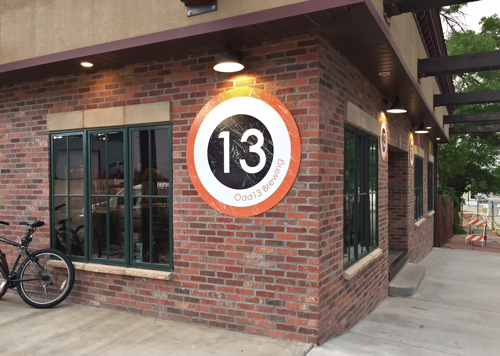 For a really cool young brewery that's doing some solid hop-forward and sour beers with a fresh twist in Lafayette, check out Odd 13 Brewing. You can find their flagship red IPA, Eric the Red, in cans around the area, but you'll have to go to the brewery to find some of their more limited and offbeat releases. Such as Humulus Kalecumber, a sour saison brewed with, yes, kale and cucumber.
For mouth watering sandwiches and a top notch beer list in Fort Collins, check out Choice City Butcher and Deli. A friend turned me onto this spot, and after visiting a few breweries in the area I stopped by for an amazing, drool-worthy buffalo reuben. If the sandwiches weren't enough, Choice City also has a killer craft beer selection with over two dozen beers on tap including both choice local selections and a stellar lineup of other craft beers.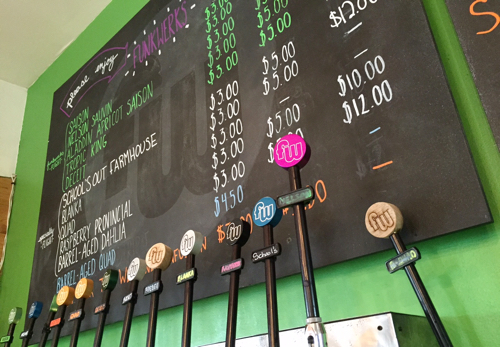 For a brewery that's doing some great Belgian-style beers in Fort Collins, check out Funkwerks. This brewery has been around for just shy of five years, and is distributing their bottles across Colorado and a few nearby states. They've got a really good flagship saison, but I was an even bigger fan of their Nelson Sauvin, a single-hopped saison brewed with Muscat juice. I also really enjoyed their bourbon barrel-aged quad, a delicious quad that kept a balance without getting overly cloying or sweet.
Finally, for a ridiculous selection of taps and craft beer bottles in Denver, check out Falling Rock Tap House. While I'm not sure I'd become a regular at this bar, there's no denying that their selection of beers is top notch. They've got over 75 taps and well over 100 bottles in the cellar. When I visited, I got a Pliny the Elder and Alpine Hoppy Birthday on draft. Not bad for a short stop in between breweries.
That's what's on my list for drinking Colorado, beer edition. Next up, we'll take a look at some of the best spots for spirits and wine. In the meantime, what'd I miss? Please feel free to add comments with other great breweries and bars in Colorado.