As I reported back in November, Laphroaig has a host of new releases planned for their 200th Anniversary this year. According to Laphroaig's Distillery Master John Campbell there are seven new whiskies in total coming out in 2015. Not least of which is the limited edition return of Laphroaig 15.
Yes, you heard that right, Laphroaig 15 is baaaaaaaack! (Okay, maybe just for a short spell, but I'll take it!)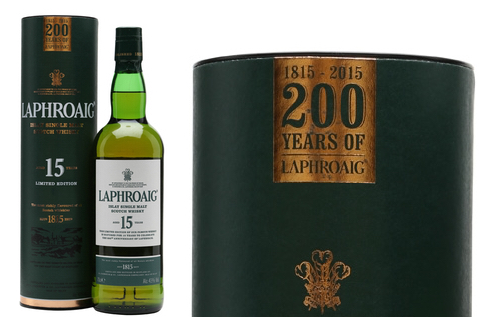 If you couldn't tell by my friendly intro, I've always been a big fan of Laphroaig 15. It was one of the first whiskies I ever purchased and I have more than a few fond memories associated with it. But memories aside, it was some really good juice. A quintessential Laphroaig, and a Scotch classic.
But like many of the classics (I'm looking at you Balvenie 15), Laphroaig 15 was discontinued after its nearly three decade run and replaced in 2009 by the 18 year. A trend we're bound to see even more of as demand increases in the coming years. But, like the great Axl Rose once said, "Nothing lasts forever."
So, how does the new Laphroaig 15 200th Anniversary edition fair? Well, according to Laphroaig, the 200th Anniversary edition has been created in exactly the same way as the original. Of course, my memory is rather bad and I haven't tasted the old version in at least seven or eight years. So, we'll have to judge it on its own merits. Here it is, in all of its bicentennial glory.
Laphroaig 15 Review:
43%, $75
On the nose, I immediately am taken back to that signature Laphroaig Islay peat smoke that I fell in love with so many years ago. In this 200th Anniversary 15-year form, it is soft, calm, graced with hints of citrus, woody caramel, sweet fruit and a delicate medicinal quality.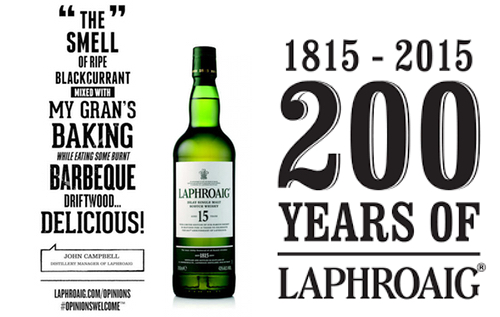 On the mouth, the whisky enters with grace; perhaps a bit light, but nicely dry and dusty. Wafts of peaty island smoke fill the mouth. The whisky builds with spice into a long, smokey, drying finish. There is a delicate sweetness underneath, crushed tobacco leaves and hints of sea salt. 
In sum, Laphroaig 15 still shines; however, it seems more mellow than I remember. Perhaps it was always this way, but compared to the many Laphroaig's I've had since, it seems softer and more delicate than I recall. I like the fierceness of the peat in the 10-year cask strength. It'd be hard to call this Laphroaig 15 fierce by any means. But it seems old and wise, which is rather appropriate for the bicentennial celebration. And at $75, I'd say that it's one of the best priced whiskies to come out lately. So, I'd be hard pressed not to recommend it to any Laphroaig fan. Still some really nice juice, after all these years. 89 Points.