How does the oldest winery in Napa Valley stay relevant and exciting in today's crowded wine market? By staying true to their roots, continuing to put out excellent wine and by focusing on what they're good at. Oh, and the whole wine made by great people thing, yeah that matters too.
This is Charles Krug today. A family-owned winery that is perhaps as synonymous with Napa as Napa itself. A winery that has continued to evolve with the industry, under the vision of Peter Mondavi Sr., now 100 years young. Through the changing consumer landscape of the 60's, 70's and 80's, to the birth of modern Napa over the past few decades, Peter and team have been through it all.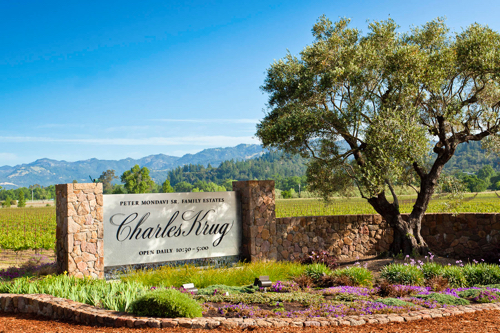 I was fortunate to get some time a few weeks ago with Peter Mondavi Jr., one of Mr. Mondavi's two sons who have taken on much of the winery leadership responsibilities from their father in recent years. I met Peter Jr. in Cambridge, Massachusetts at his hotel and we chatted for the better part of an hour about everything from the winery's recent investments to his father's impact on the industry. 
Seeing that harvest had just recently commenced back in St. Helena, it seemed appropriate to start the conversation there. I asked Peter how things were shaping up for the new vintage.
"So far so good," Peter said with a smile (of, perhaps, relief) on his face. "Harvest is early this year. This is actually the earliest it has been in five years."
According to Peter, the late warm spell that Napa Valley saw over the past few months had offset the cool winter and spring. Yields are turning out lower than expected, but the quality of the fruit is great. "The adverse weather conditions didn't seem to be a problem," he mentioned.
Today, Charles Krug produces eight regularly-released wines, including their flagship Vintage Select Cabernet Sauvignon which has been produced since 1944. They also have their core Napa Valley and Carneros wines as well as an impressive lineup of ultra premium offerings; including their Family Reserves (which are all Cabernet-based) and several Limited Release wines like their Howell Mountain Cold Springs Vineyard Cabernet Sauvignon, which retails for $125. 
"We have a whole series of vineyards," said Peter. "We have our home property which is right across the street from the Culinary Institute of America in St. Helena, the Howell Mountain vineyards, a series of vineyards in the Yountville area, and then we have a vineyard down in Carneros [where they make Pinot and Chardonnay]. So we have a good diversity, but we really focus on Cabernet which probably makes up two-thirds of our volume."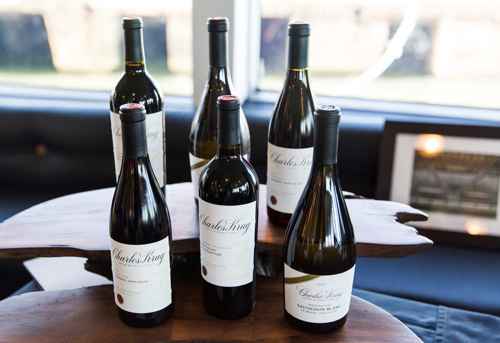 And that is part of the secret recipe for Charles Krug's success these days: knowing what they're good at and focusing. It took the Mondavi family several decades to figure that out, but when you get a solid head-start on almost everyone else in the area, you've got some wiggle room in regards to figuring out where your focus needs to lie.
"If you go back to 1996, we had a legacy portfolio at Charles Krug," said Peter. "We had the Cabernet of course, but we also had Chenin Blanc, Gamay, Gewurtztraminer, Riesling, you name it we had it. I recently found a wine card from 1968, we had 27 SKUs. Today we have eight. Six of those eight are Bordeaux [varietals]. In '96/'97 we just cut out everything other than those eight. We wanted to focus on what we know best, what our vineyards are best at producing, what Napa Valley is best at producing."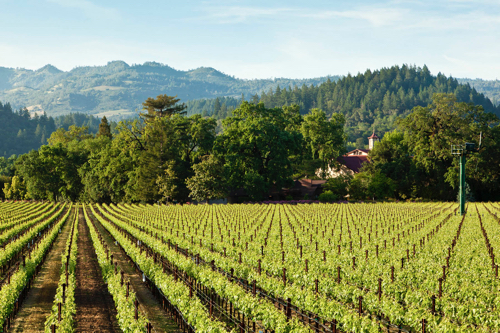 With that refined vision and focus the Mondavi family over the past decade lead the winery through a series of investments and updates. In 2010, they completed a 22 million dollar project that included replanting 850 acres of prime vineyard land in Napa, and bringing in new state-of-the-art equipment for the operation. In 2011 they brought on Stacy Clark as head winemaker. Stacy had previously worked at many acclaimed wineries such as Pine Ridge, Archery Summit and Stag's Leap. Peter says that Stacy has been a fantastic addition. 
"Stylistically we are still really driven by the family," mentioned Peter about the direction of the winemaking operation. "But one of the reasons we hired Stacy is because she likes that style too. It's not the big, overblown, opulent style that Napa Valley has in recent years become known for. Our wines are crafted to be enjoyed around food. That's how we grew up, that's our heritage. It's not about making the biggest statement possible at the table."
The other major part of the investment was the completion of a newly transformed and renovated tasting room. The historic Redwood Cellar building, originally constructed in 1872, was designed by renowned architect Howard Backen and since has gone on to win a number of architecture and design awards. "It's a grand old structure," Peter said. "Five stories tall, two-foot thick walls, gorgeous. Two-thirds of the base was converted into our family reserve barrel room. We really strived to preserve the history, we didn't want to build over that. It's a timeless setting."
Before Peter and I wrapped up our conversation, I asked him about his father. Peter Mondavi Sr. turned 100 years old this past year and is still, according to Peter Jr., coming into the office almost every afternoon. "He's still walking up the stairs, signing checks… he's doing great."
Peter Mondavi Sr. came into the business in the 1940's, and has had a big impact on the industry in the time since. Aside from his work at Charles Krug, he was also instrumental in revolutionizing how white wines were being made, especially in California. His work lead to the advancement of cold fermentation and he developed technologies that allowed wineries to preserve the fruity, aromatic components of their white wines. "He was half winemaker, half scientist," said Peter Jr. about his father. "He did a lot research over the years, and came up with different styles. I'm not sure there's anyone left from his era."
After the interview, I thought about that statement a bit deeper. It's pretty amazing to think back to Napa in the 1940's, or even further back than that to the 1860's when Charles Krug first founded the winery. In the eight decades since Peter Mondavi Sr. began his journey, Napa Valley has invented itself and reinvented itself, multiple times over. But what the Mondavi family has managed to do with the Charles Krug winery over the years is impressive. They've continued to celebrate their heritage, stay true to who they are, and put out great wine; and I think as long as they keep doing that they will continue to stay relevant with the constantly evolving world around them.
Peter Sr. will turn 101 in November this year. And, with a recently updated winery operation running at full speed, a confident winemaker at the helm, and Peter Jr. and team steering the ship, I'd have to imagine that he must look at what he's created with extreme pride. Quite a journey.
Stay tuned for a deeper dive into Charles Krug's current lineup of wines, coming shortly.
A big thank you to Peter Mondavi Jr. for his time and to Amy Constable at The Barn Group for arranging the interview. 
All photos in this article are courtesy of Charles Krug Winery