There are a lot of great drink-worthy "day trips" and getaways for beer, wine and spirits fans in New England. And I decided it was about time to start writing about them. 
If you drive about an hour and a half south of Boston you'll reach the town of Westport, Massachusetts. It's one of these little hidden gem drink destinations that is the perfect summer New England getaway/day-trip. You've got the water (river and bay). You've got beautiful farmland, dotted with farmsteads and quiet country roads with corn and (in the right place, grapes) as far as the eye can see. And you've got two great drink producers in arms reach of each other: Westport Rivers Winery and Buzzards Bay Brewery. If relaxing on the farm or amongst the vineyards while drinking, picnicking and sunning yourself is your idea of the perfect summer day, then this is where you must go.
In a state not particularly known for the quality of its wine, Westport Rivers Winery is a bit of an anomaly. The farm vineyard was first planted by Bob and Carol Russell, along with their oldest son Rob, in 1986. They've grown the vineyard to 80 acres, which crowns Westport Rivers the largest vineyard in New England. The Russell family produces a pretty solid array of wines, all with the philosophy of minimal intervention. As you'd expect from a Massachusetts winery, their primary wines are made from white grapes like Chardonnay, Riesling, Gruner Veltiner, Rkatsiteli and Pinot Blanc, but they also do a Pinot Noir and Rose of Pinot Noir which are both quite respectable for the region.
Where Westport Rivers stands out, though, is with their sparkling wines. These guys are doing some seriously delicious, and well-priced sparklers that have not only earned my respect, but plenty of other critics as well. I'd recommend their Westport Brut RJR and Blanc de Blancs all day long. Especially at their current end of season prices ($25).
Head down the road a couple of minutes from Westport Rivers, past a few corn fields, and down a dirt road, and you'll pull up at Buzzards Bay Brewing. It took me a couple years of visiting Westport Rivers to realize that not only was Buzzards Bay right around the corner, but they were also producing some good beer and had an amazing location for some killer summertime sipping. From a beer perspective, you'll find a handful of easy drinking beers that are straight-forward and low key. These guys aren't trying to kill you with hops or make the baddest barrel-aged imperial stout in town, but you'll enjoy their beers; especially the Buzzards Bay IPA which is the clear standout. Although the brewery was founded in 1998, they keep production pretty small and local (they do a little self-distribution, but it's light). Buzzards also serves as a contract brewer for a few other breweries you've likely heard about—Pretty Things and Naragansett.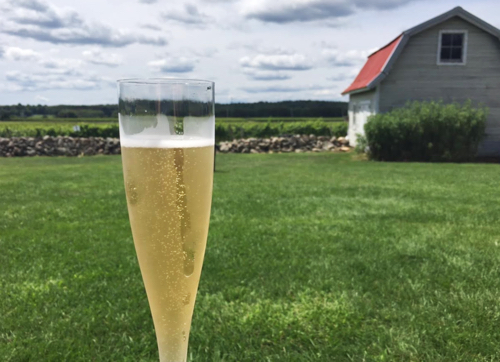 But, I digress. This post is all about summertime farm sipping, and the reason to spend a day in Westport comes back to the experience. Sure, the drinks are good at these two local producers, but this is about enjoying summer in New England the way it should be enjoyed—lounging outside, in a quintessential New England seaside farm town locale, with a beer or wine in hand (perhaps even a full bottle of wine and picnic in front of you) and enjoying the outdoors before mother nature comes rearing back and slaps you in the face with snow and cold. Honestly, these two farm drinkeries are about as close as you get in Massachusetts to outdoor drinking heaven. 
At Westport it's all about hanging out on the lawn overlooking the vineyards while drinking sparkling wine or rosé from a plastic glass—or, hell, bring your own glass if you want. This exists in Massachusetts, I swear. On Saturdays in the summer they have food trucks and music. And check their website for plenty of other events all summer long.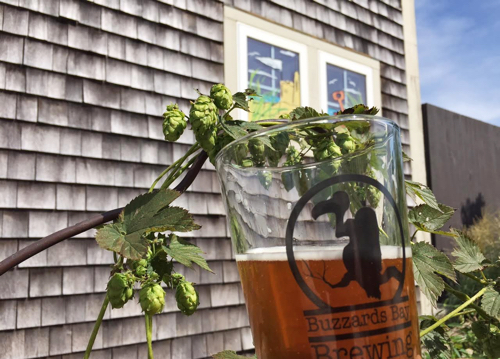 At Buzzards Bay you can lounge about on the grass or on the rocks or on the many picnic tables, or play cornhole and teatherball while carrying your beer glass around and soaking in the farm breeze. On Saturdays they have farm stands and food trucks. It's amazing.
So, fellow New Englanders and travelers to the great Northeast, find this place before the summer ends. You've got a few weeks left to enjoy.